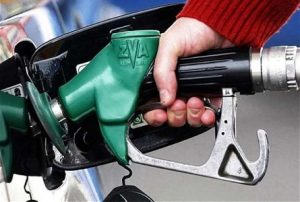 North Dakota  (CSi)  November 13, 2017 –  Average retail gasoline prices in North Dakota have risen 4.8 cents per gallon in the past week, averaging $2.54/g Sunday, according to GasBuddy's daily survey of 493 gas outlets in North Dakota. This compares with the national average that has increased 1.5 cents per gallon in the last week to $2.55/g, according to gasoline price website GasBuddy.com.
Including the change in gas prices in North Dakota during the past week, prices Sunday were 40.4 cents per gallon higher than the same day one year ago and are 11.7 cents per gallon higher than a month ago. The national average has increased 8.6 cents per gallon during the last month and stands 39.8 cents per gallon higher than this day one year ago.
According to GasBuddy historical data, gasoline prices on November 13 in North Dakota have ranged widely over the last five years:
$2.14/g in 2016, $2.26/g in 2015, $3.04/g in 2014, $3.16/g in 2013 and $3.46/g in 2012.
Areas near North Dakota and their current gas price climate:
Sioux Falls- $2.52/g, up 4.7 cents per gallon from last week's $2.47/g.
Fargo- $2.35/g, up 2.9 cents per gallon from last week's $2.32/g.
South Dakota- $2.48/g, down 1.3 cents per gallon from last week's $2.49/g.
"If you use gas prices to figure out the time of year it is, you'd probably think it's spring based on the continued upward trend showing up in much of the country," said Patrick DeHaan, head of petroleum analysis for GasBuddy. "Absent is the beloved fall at the pump that we're used to that accompanies the fall weather, but apparently this year is playing a trick on motorists. The cheapest price this year was in July while the most expensive showed up after the driving season concluded as Harvey hit, and we may get closer to that mark as gasoline inventories continue to drift to new multi-year lows. It's been a lousy time for motorists, and I'd expect to see some cut their spending during the holidays as gas prices are up."
For LIVE fuel price averages, visit http://FuelInsights.GasBuddy.com.
About GasBuddy
GasBuddy is the technology company changing the way more than 70 million consumers find, purchase, and save money on gasoline. Founded in 2000, the original GasBuddy website was a pioneer in crowd-sourced information, leveraging technology, big data, and a passionate community that now connects more than 70 million users with real-time, accurate fuel pricing information as well as reliable reviews of gas station amenities and services. The app and website have the most accurate and real-time fuel prices at over 140,000 unique stations in the United States, Canada, and Australia and is the most comprehensive money-saving companion while on the road. GasBuddy is available on all mobile platforms. For more information, visit www.gasbuddy.com.