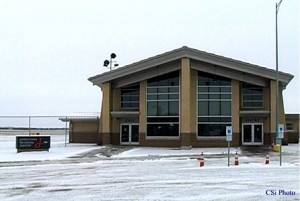 Jamestown  (CSi)  The North Dakota Aeronautics Commission reports Jamestown boardings for October this year increased over October 2016 numbers.
In October 2017 Jamestown Regional Airport boarded 1,042 passengers, compared to 991 in October 2016, and increase of 5.15%.
Year to date, through October 2017, Jamestown boardings were at 10,980, an increase of over 16-percent from the 9,351 through the first 10 months of 2016.
(AP) — Airline passenger numbers declined in North Dakota in October.
State Aeronautics Commission data show that boardings at the eight commercial service airports in the state dropped nearly 5 percent from the previous year. Year-to-date boardings were down a little less than 2 percent.
Airports in the state's four largest cities all saw decreases in boardings in October — Fargo down 3 percent, Minot down 5 percent, Grand Forks down 7 percent and Bismarck down 11 percent.
Devils Lake also saw a decrease, of 4 percent, while Williston and Jamestown both saw 5 percent increases and Dickinson had a 20 percent rise.