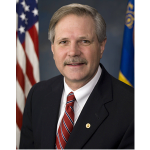 Jamestown (CSi)  U.S. Senator John Hoeven will be in Jamestown on Tues Nov 21 to speak at a noon luncheon at the Gladstone Inn & Suites in Jamestown.
The luncheon is open to the public as Hoeven will give a legislative update.
To make a reservation call Delores Rath an 701-952-7170.
Prior to the noon luncheon, on Tuesday, November 21, 2017,  Senator Hoeven will meet the Stutsman County Park Board and homeowners from the Jamestown Reservoir about his legislation to allow the homeowners to purchase their lots from the federal government. The legislation would also transfer all remaining Bureau of Reclamation (BOR) lands around the reservoir to state and local public ownership.