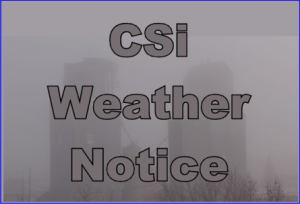 CSi Weather…
…DENSE FOG ADVISORY IN EFFECT UNTIL 3 PM CST TUESDAY AFTERNOON…
The National Weather Service in Bismarck has issued a Dense Fog Advisory, which is in effect until 3 PM CST this afternoon, includes the Jamestown and Valley City areas.
* VISIBILITY…One quarter mile or less.
* IMPACTS…Travel will be hazardous.
PRECAUTIONARY/PREPAREDNESS ACTIONS…
A Dense Fog Advisory means visibilities will frequently be
reduced to less than one quarter mile. Use caution, especially at
uncontrolled intersections, railroad crossings and truck entry
points as other vehicles will be difficult to see.
Forecast…
. REST OF TODAY…Cloudy.  Patchy fog all day with slight chance of drizzle  this afternoon. Highs in the mid 40s. Southwest winds 5 to 15 mph. Chance of precipitation 20 percent.
.TONIGHT…Mostly cloudy. Patchy fog in the evening. A slight
chance of drizzle in the evening. Lows in the mid 20s. Northwest
winds around 10 mph increasing to around 20 mph after midnight.
Chance of precipitation 20 percent.
.WEDNESDAY…Partly sunny. Highs in the mid 20s. Northwest winds
15 to 25 mph.
.WEDNESDAY NIGHT…Mostly cloudy. Lows 10 to 15.
.THURSDAY…Mostly cloudy. Windy. Highs in the mid 30s.
.THURSDAY NIGHT…Mostly cloudy. Lows in the mid 20s.
.FRIDAY…Partly sunny. Highs in the mid 30s.
.FRIDAY NIGHT…Mostly cloudy. A slight chance of light snow.
Lows 10 to 15.
.SATURDAY…Mostly sunny. Highs in the mid 20s.
.SATURDAY NIGHT…Mostly clear. Lows 5 to 10.
.SUNDAY…Sunny. Highs 30 to 35.
.SUNDAY NIGHT…Partly cloudy. Lows 15 to 20.
.MONDAY…Mostly sunny. Highs 30 to 35.
This Day In History, November 14, 1881 ….The Opening of the Northwestern House Hotel.
More information on line at CSiNewsNow.com  from the 125th Anniversary Calendar of Jamestown History
Jamestown  (CSi)  The North Dakota Aeronautics Commission reports Jamestown boardings for October this year increased over October 2016 numbers.
In October 2017 Jamestown Regional Airport boarded 1,042 passengers, compared to 991 in October 2016, and increase of 5.15%.
Year to date, through October 2017, Jamestown boardings were at 10,980, an increase of over 16-percent from the 9,351 through the first 10 months of 2016.
Jamestown (CSi)  U.S. Senator John Hoeven will be in Jamestown on Tuesday November 21, 2017, to speak at a noon luncheon at the Gladstone Inn & Suites in Jamestown.
The luncheon is open to the public as Hoeven will give a legislative update.
To make a reservation call Delores Rath an 701-952-7170
Jamestown  (CSi) The  Jamestown Community Roundtable, with the Main Street Initiative Program will be held at Harold Newman Arena,  on Tuesday November 21, 2017 from 11-a.m., to 12:30-p.m.
Governor Doug Burgum has been invited to participate along with other state agency officials.
The Roundtable opens with a Questions Answer session followed by Open Discussion
Topics to be discussed include:
HEALTHY, VIBRANT COMMUNITIES
What makes your town unique?
21ST CENTURY WORKFORCE
How could your community attract more people to move here?
SMART, EFFICIENT INFRASTRUCTURE
What would your community need to do to reduce property taxes?
Valley City  (CSi)  Ole's Attic will host the first ever "Junk in the Valley" at the North Dakota Winter Show Event Center on Saturday November 19, 2017 from 9-a.m. to 6-p.m.
Early Bird shopping goes from 7am to 9am and the admission is $10 per person, with a limited number of tickets available.  (Must be 21 or older with a valid ID for complimentary alcoholic beverages served.)
Regular admission is $3 per person or $10 for family limited to four family members.
There will be Antiques, Artwork, Farm Décor, Handmade items, Jewelry, Repurposed Junk, Upcycled, Vintage, and Raw Junk for sale.
For more information E-Mail olesattic@gmail.com or call 701-840-2410.
Harwood  (WDAY)  One man has been taken into custody after shots were fired at a Harwood residence.
WDAY reports,  police arrived at the home after an incident at a West Fargo bar where they heard multiple gunshots at 1:30 a.m. Tuesday.
Law Enforcement say they heard 6 or 7 gunshots at 9211 56th Ave N in Harwood.
There is no word on if the shots were directed at Deputies or not. No one was injured.
Steven Sorenson has been taken into custody by the Cass County Sheriff's Office.
He is being held on charges of criminal reckless endangerment and felony terrorizing.
Police were in contact with the man's wife. No one else was inside the home.
BISMARCK, N.D. (AP) — Hate crimes in North Dakota appeared to drop for the second straight year in 2016, but authorities warn against making year-by-year comparisons because the number of participating agencies changes each year.
The FBI released its 2016 hate crime statistics report Monday.
North Dakota reported eight hate crimes last year. The figures come from just six — roughly 3 percent — of the 180 agencies that participated in the hate crime statistics program.
The figures are a big drop from 2015, when the state reported 36 hate crimes. That year, nearly 17 percent of participating police agencies reported incidents.
The yearly report is the most comprehensive accounting of hate crimes in the U.S. But authorities warn it's incomplete, partly because it's based on voluntary reporting by police agencies.
BISMARCK, N.D. (AP) — The state-owned Bank of North Dakota is getting out of the federal student loan business.
Bank President Eric Hardmeyer says the move will enable the bank to focus on its own student loan program, and possibly update software to improve customer service.
The bank had been making federally guaranteed student loans for nearly half a century when the U.S. Department of Education took over the program in 2010. After that, the bank continued to service the federal loans it already had made.
The bank's federal portfolio has since shrunk to less than a third of its former size. The bank is selling it to the nonprofit North Texas Higher Education Authority.
The sale will be complete early next year. It won't affect borrowers' interest rates, payment amounts or due dates.
BISMARCK, N.D. (AP) — North Dakota's Agriculture Department is extending for a second time the application deadline for a hay transportation aid program.
Monday was the deadline for the program approved by the state Emergency Commission in late August in response to summer-long drought. The group made $1.5 million available to reimburse eligible ranchers for personal and commercial hay-hauling expenses.
Initially, the program was for expenses incurred between June 1 and Oct. 20, and the application deadline was Nov. 3. Late last month the Agriculture Department extended the hauling cutoff date to Nov. 6 and the application deadline to Nov. 13.
Both the application deadline and the hauling cutoff date have now been extended to Friday. State Agriculture Commissioner Doug Goehring says many ranchers are still transporting hay from long distances.
MINOT, N.D. (AP) — Voters in the Des Lacs-Burlington school district on Tuesday will decide whether to approve an $11.9 million bond issue for school construction and renovation.
Voters narrowly defeated a $15.4 million bond referendum in April. Superintendent Christopher Bachmeier tells the Minot Daily News that officials listened to taxpayers and scaled back the plans.
The bond issue would pay for a junior high school wing for the high school in Des Lacs. Seventh- and eighth-graders who currently attend school in Burlington would be moved to Des Las in the fall of 2019. That would enable the district to offer them more classes, such as art and vocational agriculture.
The district also would renovate classrooms at the elementary in Burlington and build a kindergarten wing.
The district has 675 students in grades K-12.
In sports…
Jamestown  (UJ Sports)  — The Jimmie volleyball team has received an automatic berth to the 2017 NAIA Volleyball National Championship in Sioux City, Iowa.
The top 19 seeds and host team Morningside (Iowa) advance to the final site in Sioux City, starting with three days of pool play November 28-30. The top two teams from each pool advance to the elimination bracket on December 1. The championship match will be played December 2.
Twelve National Championship Opening Round matches at campus sites will determine the remainder of the 32-team final site field. The pools will be released Sunday, November 19 by 5 p.m. CST.
Jamestown is currently 21-8 overall and ranked 19th in the Coaches' Top 25 final regular season poll released Monday.
College Men's Basketball…
Update…
Exhibition…
NCAA Division II University of Mary
Jamestown 86 University of Mary 76
BISMARCK, N.D. (UJ)– Kevin Oberweiser (JR/Drummond, Mont.) scored a game-high 23 points and was one of three UJ players with 20 or more points as the Jimmie men's basketball team defeated the University of Mary 86-76 in an exhibition game Monday night.
Sam Johnson (SR/Mora, Minn.) scored 21 and pulled down five rebounds while Leighton Sampson (SR/Worthington, Minn.) added 20 points and six rebounds as Jamestown handed the Marauders a loss in their season debut.
Jon Purintun (JR/Linton, N.D.) filled the stat sheet with nine points, eight assists, and five rebounds. Ben Weisbeck (SR/Bismarck, N.D.) grabbed a team-high seven rebounds to go along with seven points.
LOS ANGELES (AP) — Bennie Boatwright scored a career-high 28 points, and No. 10 Southern California closed on a 13-5 run to hold off pesky North Dakota State 75-65. The Trojans (2-0) twice trailed by 10 points in the first half and were down five in the second half before rallying.
NATIONAL BASKETBALL ASSOCIATION
SALT LAKE CITY (AP) — Karl-Anthony Towns had 24 points and 13 rebounds, and Jimmy Butler added 21 points and 10 assists to help the Minnesota Timberwolves beat the Utah Jazz 109-98. Jeff Teague scored 22 points for the Timberwolves, and Taj Gibson had 15 points and 10 rebounds.
Final Washington 110 Sacramento 92
Final Cleveland 104 N-Y Knicks 101
Final Milwaukee 110 Memphis 103
Final New Orleans 106 Atlanta 105
Final L.A. Lakers 100 Phoenix 93
Final Portland 99 Denver 82
Final Golden State 110 Orlando 100
Final Philadelphia 109 L.A. Clippers 105
NATIONAL HOCKEY LEAGUE
Final Carolina 5 Dallas 1
Final Calgary 7 St. Louis 4
NATIONAL FOOTBALL LEAGUE
CHARLOTTE, N.C. (AP) — The Carolina Panthers are heading into their bye week just a half-game behind the first-place New Orleans Saints in the NFC South.
The Panthers rolled up a team-record 548 total yards in a 45-21 pounding of the Miami Dolphins. Cam Newton provided much of that yardage by providing 254 yards through the air and 95 on the ground. Newton also threw two of his four scoring passes to Devin Funchess, who had five receptions for 92 yards.
Rookie Christian McCaffrey scored touchdowns rushing and receiving as the Panthers improved to 7-3.
Jay Cutler had 213 yards passing with two touchdowns and one interception for the 4-5 Dolphins.
TOP-25 COLLEGE BASKETBALL
PROVIDENCE, R.I. (AP) — Jordan Murphy had 23 points and 14 rebounds, and No. 14 Minnesota outlasted Providence 86-74. Murphy scored 15 points in the second half, leading the Gophers back from a three-point halftime deficit. Nate Mason added 17 points and Amir Coffey finished with 15. The Gophers tied it up 55-55 in the second half, then used a 23-11 run to take control.
Final (6) Wichita St. 81 Coll. of Charleston 63
Final (8) Florida 116 Gardner-Webb 74
Final (10) Southern Cal 75 N. Dakota St. 65
Final (12) Cincinnati 102 W. Carolina 51
Final (13) Notre Dame 88 Mount St. Mary's 62
Final (15) Xavier 101 Rider 75
Final (20) Northwestern 75 St. Peter's 66
Final (21) Saint Mary's (Cal) 92 New Mexico St. 74
Final (25) Baylor 70 Texas A&M-CC 46
MLB-ROOKIES OF THE YEAR
UNDATED (AP) — Major League Baseball has announced its American and National League rookies of the year, and both were unanimous decisions.
Aaron Judge is the first New York Yankee since Derek Jeter in 1996 to win the AL Rookie of the Year Award in voting by the Baseball Writers' Association of America. Judge led the AL with a rookie-record 52 home runs last season while batting .284 with 114 RBIs and league highs of 128 runs scored, 127 walks and 208 strikeouts.
Red Sox outfielder Andrew Benintendi finished second in the balloting, followed by Orioles slugger Trey Mancini.
Los Angeles Dodgers first baseman Cody Bellinger came away with the NL Rookie of the Year Award after batting .267 with 39 home runs and 97 RBIs last season. Bellinger is the second consecutive Dodger to receive the honor and the 18th since Jackie Robinson won the first award in 1947.
Cardinals middle infielder Paul DeJong (deh-YUHNG') finished second and Pirates first baseman Josh Bell was third in the voting.
Meanwhile, a former Rookie of the Year has called it quits.
Houston Astros outfielder and designated hitter Carlos Beltran has announced his retirement just 12 days after winning his first World Series. The nine-time All-Star revealed his decision in an essay written for The Players' Tribune website, ending a 20-year career in which he batted .279 with 435 home runs, 1,587 RBIs and 312 stolen bases.
Beltran captured the AL Rookie of the Year Award in 1999 and won three Gold Glove and two Silver Slugger awards.
COLLEGE BASKETBALL-POLL
NEW YORK (AP) — Duke is still the top team in the first men's basketball poll of the regular season.
The Blue Devils have won their first two games since being installed as the No. 1 team in the preseason poll.
Duke picked up 34 of 65 first-place votes, second-ranked Michigan State claimed 13, No. 3 Arizona received 16 and No. 4 Kansas took two.
Fifth-ranked Villanova is followed by Wichita State, Kentucky, Florida, North Carolina and Southern California.
The UConn Huskies continue their run at No. 1 in the AP women's basketball poll following their rout of Stanford on Sunday. Texas is second, ahead of Baylor, South Carolina and Louisville.
In world and national news…
WASHINGTON (AP) — In a move that could intensify the government's investigation of Russian meddling in the U.S. presidential election, Donald Trump Jr. has made public several Twitter exchanges he had with the anti-secrecy group WikiLeaks during and after the 2016 election. These documents include requests from Wikileaks to publicize its information drop. Trump Jr.'s release came hours after The Atlantic first reported the messages. Trump Jr. sought to minimize the impact of the exchanges
TEHRAN, Iran (AP) — Iran's state-run news agency says the country's death toll from the powerful earthquake that struck the Iran-Iraq border has risen to 530. The report Tuesday afternoon by the IRNA news agency said the number of injured in the temblor now stood at 7,460. The magnitude 7.3 earthquake struck Sunday night Iran time, just as people were going to bed. The worst damage appeared to be in the Kurdish town of Sarpol-e-Zahab in the western Iranian province of Kermanshah.
MANILA, Philippines (AP) — President Donald Trump is heading home following an extensive tour of Asia that he says has been "tremendously successful." The president says he has put the world on notice that the "rules have changed" for countries that want to trade with the U.S. Trump is teasing a "major statement" on trade and the overseas trip later this week at the White House, where he is expected to promote congressional Republicans' plan to overhaul the nation's tax code.
WASHINGTON (AP) — Roy Moore's support from his fellow Republicans is hemorrhaging after a second woman accused the Alabaman of groping her when she was a teenager in the late 1970s. It's the latest blows to his effort to win an open Senate seat that suddenly seems up for grabs. Moore denied the newest allegations at a news conference after a tearful Beverly Young Nelson said she thought he would rape her.
UNDATED (AP) — The explosive revelations about Harvey Weinstein that rocked Hollywood and sparked a flurry of sexual harassment, assault or misconduct allegations in other American industries, as well as the political arena, are reaching far beyond just the United States borders. Emboldened by the women, and men, who have spoken up in America, the "Weinstein Effect" is rippling across the globe.