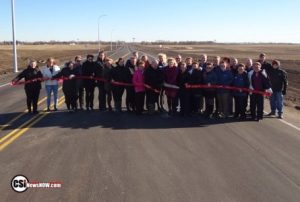 Jamestown (CSi)  The official ribbon cutting for the roadway between Menards and the Jamestown Regional Medical Center was held Tuesday November 28, 2017 at the west end.
Participants included the City of Jamestown, with Mayor Andersen, along with Interstate Engineering, Border States Paving and the Jamestown Area Chamber of Commerce Ambassadors providing the ribbon.
The Jamestown Regional Medical Center provided refreshments along with some hot drinks after the event, and the mayor and Mr. DeBoer shared thanks to the various contractors, engineers, etc. who were present and had worked on the project.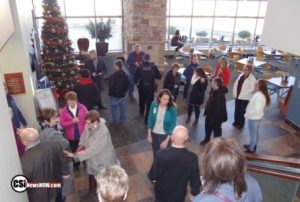 The  newly installed road between Menard's and Jamestown Regional Medical opened for traffic on Thursday morning, November 16, 2017, at 8-a.m.
The project has lighting along with  the first two lifts of pavement which have been striped.
The remaining asphalt lifts will be installed next spring, and then restriped.
The project included installing infrastructure to a portion of the area, for future development in the area.
Menards officials are offering a portion of their property for sale to interested developers.