This Day In History, December 15, 1915 – Movies come to the Opera House in Jamestown *** from the 125th Anniversary Calendar of Jamestown History ***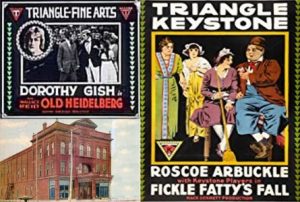 Movies come to Jamestown. Dorothy Gish in "Old Heidelberg"  and Roscoe "Fatty" Arbuckle in "Fickle Fatty's Fall" are shown on the screen on the stage at the Opera House in 1915.
"Old Heidelberg" –  Karl Heinrich is the heir to the throne of the small European principality of Rutania, but he's a lonely child, not allowed to play with other children and knowing little about life outside the castle. When he reaches college age he is sent to attend the University of Heidelberg, and really starts to enjoy himself for the first time, even falling in love with Kathie, his only friend during childhood and the niece of an innkeeper. However, political turmoil in Rutania forces him to return. He finds that the only way out of declaring war on a neighboring country would be to marry the daughter of its king–but that would require giving up Kathie, the only woman he's ever loved.
Fickle Fatty's Fall is a 1915 short comedy film directed by and starring Fatty Arbuckle, Phyllis Allen, Glen Cavender, Ivy Crosthwaite, Alice Davenport,  Bobby Dunn,  Minta Durfee,  May Emory, Edgar Kennedy, Fritz Schade, Al St. JohnBobby Verno, Guy Woodward.
Information on the movies come from website IMBD.