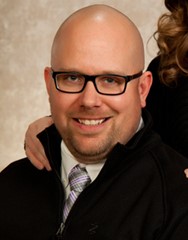 University of Jamestown Alumnus and former employee, Dustin Jensen, has been named Associate Dean of Student Engagement at the University. Jensen will be responsible for overseeing and assisting in the development of co-curricular programs, activities, and events designed to enhance students' experiences.
UJ President Elect Dr. Polly Peterson  says, "I am looking forward to welcoming Dustin back to the University of Jamestown. The University is committed to supporting students both in and out of the classroom through programs and activities that contribute to their success. Dustin's leadership and passion for students will be a tremendous asset as we continue to build programs of distinction for future Jimmies."
Before beginning his current role as the Managing Director of Golf and Association Operation for the Colorado Golf Association, Jensen built a rich history with the University of Jamestown. He served as the Head Coach for the Golf teams, the Director of Alumni Relations, and the Executive Director of the Jimmie Booster Club.
For more information, please visit uj.edu.