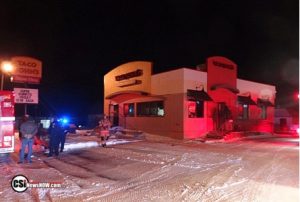 Jamestown  (CSi)  The Jamestown City Fire Department was called to Taco John's at 10th Street Southeast on Tuesday morning about 5:44.
Lt. Sheldon Mohr says just smoke was reported by an employee, which was extracted by fire fighters.
No fire source was found.
No damage and the business will be open Tuesday.
Five City Fire Units and 27 fire fighters were on the scene about 40 minutes.