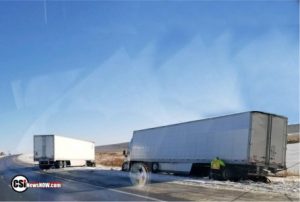 Bismarck (NDHP)  The North Dakota Highway Patrol (NDHP) responded to 35 crashes along I-94 and 1-29 in Barnes, Stutsman and Cass counties on Monday, December 4, 2017.  The majority of the crashes in Barnes and Stutsman counties involved commercial motor vehicles which were unable to maintain their lane of travel.
A travel alert was issued at 9:46 a.m. which became a no travel advisory in the south central part of the state at 2:33 p.m. and extended to the northeast region at 4:18 p.m.  The travel advisory was lifted Tuesday morning at 7:00 a.m., however difficult driving conditions still exist. These conditions include ice covered roads and strong winds blowing snow over roadways.
Motorists are encouraged to check road conditions before traveling and to drive appropriate speeds for road conditions. In addition, please do not use your vehicle's cruise control on ice and snow covered roads and always wear your seat belt.
The Minnesota Department of Transportation says blowing snow and whiteout conditions made travel treacherous. The Minnesota State Patrol says it responded to 410 crashes statewide, including one on Highway 12 near Benson that killed an 87-year-old woman and 36 others that resulted in injuries.