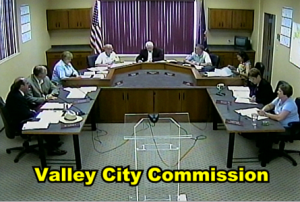 Valley City (CSi)  The Valley City Commission met in Regular Session Tuesday evening at City Hall.
All members were present.
APPROVAL OF CONSENT AGENDA ITEMS:
Approved Monthly Reports from the Fire Chief, Building Inspector, Auditor, Municipal Judge and Public Works Accountant.
Approved Monthly Bills for the City and Public Works in the Amount of $2,260,908.40
Approved Raffle Permit for ND Appaloosa Horse Club
Approval House moving license, Schmidt, Inc.
PUBLIC COMMENTS  No one spoke
ORDINANCES:
The City Commission approved the second and final reading of an Ordinance, repealing, amending, and re-enacting Title Four, Alcoholic Beverages.  City Attorney Mertins said the Ordinance is part of the recodification process.
Approved the second and final reading of an Ordinance creating a perpetual restrictive covenant for structures to be removed in accordance with the State Water Commission.
Approved the second and final reading of an Ordinance amending and reenacting Chapter 8-6, Businesses and Occupations—Tree trimming, Tree preservation, and Protection.  City Attorney Mertins  fees and administrative costs for non compliance was added.
RESOLUTIONS:
City Commissioners approved a Resolution accepting the bid and Awarding Contract for a  Paving Improvement District to Border States Paving.
Approved a Resolution Accepting Bid and Awarding Contract for Paving Improvement District No. 116 to Strata of Grand Forks.
The City Commission approved a Resolution creating Paving Improvement District No. 117, 2018 Mill & Overlay and Patch, Level & Seal Coat.  The area includes one block near the water shoot plant, and by Airport Road, to the city/county line.
NEW BUSINESS:
The City Commission approved a Preliminary and Design Engineering Agreement for 2018 Mill & Overlay and Patch, Level & Seal Coat Project (The same Paving Imp. Dist. 117) in an amount not to exceed $40,500.
The City Commission approved a Recommendation from Renaissance Zone Board for 754 8½ Ave NW.
The Renaissance Zone Committee recommends approval of the application for a 5 year property tax and 5 year income tax exemption up to $250,00 to purchase a new home.
The City Commission awarded a bid  for a 2018 police patrol vehicle with delivery in 2018.  Police Chief Hatcher, said the 2018 Dodge Charger's bid was from Miller Motors of $26,482, with delivery in eight weeks.
CITY ADMINISTRATOR'S REPORT:
David Schelkoph said the 2018 Public Works Budget has been introduced.
He said the second Transportation Plan meeting is set for Thursday December 7, 2017, with public input encouraged.
The next Streetscape meeting is Wednesday at the HAC. A listing of the meetings posted on line a CSiNewsNow.com
He added employee evaluations for 2018 will be performed.
He said throwing snow into city streets is a violation of the City Code, and a finable offensive and subject to a clean up by the offender.
CITY UPDATES & COMMISSION REPORTS:
Fire Chief Retterath reminded residents to service furnaces  and smoke and carbon monoxide detectors.
New airpacks have been purchased through a grant applied for from the fire department.
KLJ gave an update on work on the Permanent Flood Protection project with Main Street expected to be open by Christmas.
Commissioner Pedersen said Valley City is on the next State Water Commission agenda.
Mayor Carlsrud repeated the upcoming meetings this week.
The meeting was shown live on CSi Cable 68 followed by replays.