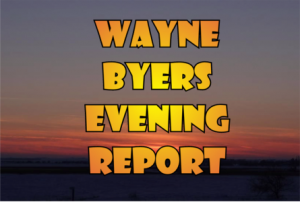 CSi Weather…
.TONIGHT…Mostly clear. Lows zero to 5 above. Northwest winds 10 to 20 mph.
.THURSDAY…Partly sunny. Highs in the mid 20s. West winds 5 to 15 mph.
.THURSDAY NIGHT…Mostly cloudy. A 20 percent chance of snow after midnight. Not as cold. Lows in the lower 20s. Northwest winds around 10 mph.
.FRIDAY…Mostly cloudy. Highs 25 to 30.
.FRIDAY NIGHT…Mostly cloudy. Lows 15 to 20.
.SATURDAY…Partly sunny. Highs 25 to 30.
.SATURDAY NIGHT…Partly cloudy. Lows 15 to 20.
.SUNDAY…Mostly sunny. Highs in the mid 30s.
.SUNDAY NIGHT…Mostly cloudy. A slight chance of light snow.
Lows 20 to 25.
.MONDAY…Mostly cloudy. A slight chance of light snow. Highs
25 to 30.
.MONDAY NIGHT…Mostly cloudy. A slight chance of light snow.
Lows 10 to 15.
.TUESDAY…Partly sunny. Highs in the mid 20s.
The long term appears rather quiet and mild as the main storm
track shifts east. We`ll see temperatures back in the 30s and 40s
by the weekend. Next week could be more active with the return of
several clippers.
Update…
Jamestown  (CSi)  Jamestown City crews will begin snow removal in the residential areas during normal working hours starting tomorrow, Thursday, December 7, 2017.
PLEASE NOTE:
The above schedule is contingent upon changing weather conditions and snow accumulation totals.
Jamestown  (CSi)   The South Central Homeless Coalition will be ringing bells for the Salvation Army Red Kettle Campaign December 11 and 12, 2017, at Cash Wise Foods, in Jamestown.  Members and friends of the Coalition will be ringing bells from 10 a.m. to 8 p.m. both of those days to help with the Salvation Army Fundraiser.
The Salvation Army has a goal of $140,000 to raise during its Red Kettle Campaign. Residents, businesses, organizations and more can volunteer to ring bells at the six different locations in Jamestown. To register, visit registertoring.com, call the Jamestown Salvation Army at 701-252-0290 or visit their office at 320 1st Avenue North.
In 2016 it was estimated that over 10,000 people across North Dakota were expected to experience homelessness. The need to actively care for people experiencing homelessness is growing. Per the 2016 annual Point in Time Survey, in January 2016 alone, 923 persons were documented as experiencing homelessness with 154 of those persons being under the age of 18.
The South Central Homeless Coalition's purpose shall be to advocate, coordinate, and optimize services for homeless men, women and children within Region 6 of the South Central Human Service Center. Those counties are: Barnes, Dickey, Foster, Griggs, LaMoure, Logan, McIntosh, Stutsman, and Wells.
Valley City  (CSi)  Winners have been announced in the 2017 Christmas in Valley Parade of Lights, held in Downtown Valley City on Friday, December 1st, including holiday prize drawings through participating businesses.
The Parade of Lights Winnerwas RKS Sales & Service.
Tour of Snowmen "TheBest Decorated Snowman" was Dacotah Bank.
Tour of Snowmen Participation Award including $100 in Valley CityChamber Bucks was presented to Peggy Murray.
With the Week One Button Drawings…
Turkey a day, goes to Arlene Andres, Kim Haman, Colleen Clancy, Mary Berntson, and Nick Jackson.
The Brothers III $25 Gift Card went to Lindy Roe.
The Riverside Gardens $25 Gift Certificate winner was Cheryl Storhoff.
The Unique Antiques $25 Gift Certificate went to Deb Ross.
The Barnes County Historical Society Valley City Sweatshirt winner was Marcia Pritchert.
TheMiller Motors Oil Change winner was Nancy Sorenson.
Pick up prizes at the Valley City Area Chamber of Commerce Office at the Rosebud Visitors Center in Valley City.
Additional drawings coming up December 8, 15, 22.
Be watching CSi Cable 10 The Replay Channel for additional Showings of the Parade of Lights throughout the Christmas holiday season.
MANDAN, N.D. (AP) — Morton County sheriff's officials say a 13-year-old female student is responsible for two threats of a shooting at the high school in New Salem.
The sheriff's office says the girl has been cited for terrorizing and has been suspended from New Salem-Almont High School. Authorities say the latest threat came Tuesday afternoon when a graffiti message of a school shooting was found on a bathroom wall. Students were evacuated. The school was secured and searched. No weapons were found.
The message was similar to one found last Friday, Dec. 1. Officials say a message left on a bathroom wall said there would be a shooting during sixth period. The incident resulted in a lockdown. No weapons were found.
BISMARCK, N.D. (AP) — A newly released draft legislative bill sets the framework for American Indian tribes in North Dakota to levy state sales taxes on their reservations and keep a share of the collections.
State Tax Commissioner Ryan Rauschenberger says the legislation comes largely in response to tribes' concerns about dwindling federal dollars.
It also comes after Three Affiliated tribal officials doubled taxes on non-American Indian retail businesses that sell liquor — leading some to halt sales.
The draft legislation would forbid tribal governments that reach an accord with the state on sales tax collections to impose such taxes.
The bill is the work of the Legislature's newly formed Tribal Taxation Issues Committee, headed by Gov. Doug Burgum. The Republican governor called the draft legislation "a good starting point for conversation."
TIOGA, N.D. (AP) — Montana-Dakota Utilities says it has restored natural gas service to the majority of customers who lost it in Tioga.
A team of utility workers was sent to Tioga Tuesday after natural gas service was disrupted for about 900 customers in the northwestern North Dakota community of 1,600. MDU spokesman Mark Hanson says about 150 customers are still without service at mid-morning Wednesday, which will be restored as soon as workers can access their home or business.
Hanson says the utility's natural gas supplier was doing work on their system near the town border station Tuesday and brought in a secondary fuel source while the work was being done. He says it appears there was a failure in the backup supply system, but that it's still under investigation.
BISMARCK, N.D. (AP) — North Dakota health officials say a proposed oil refinery near the Theodore Roosevelt National Park complies with federal and state air pollution rules, but that a draft permit is still subject to public comment.
Meridian Energy Group Inc. officials say the Davis Refinery near Belfield, North Dakota, would be the "cleanest refinery on the planet." But opponents worry about pollution in the park named for a former president revered for his conservation advocacy.
The refinery would process up to 49,500 barrels of Bakken crude per day.
The state Health Department says a public comment period on a draft air pollution control permit will begin Friday and end Jan. 26, with a public hearing set for Jan. 17 at Dickinson State University.
The company still needs a state water permit.
In sports…
BISMARCK, N.D. (AP) — North Dakota's Game and Fish Department has closed the state's inaugural otter trapping season, after the limit of 15 otters was reached.
The agency said earlier this year that enough otters had moved into eastern North Dakota from Minnesota to warrant a trapping season. Gov. Doug Burgum signed off on the idea last summer.
The season opened Nov. 27 and was closed Monday, a week later.
Experts say the U.S. otter population is thriving thanks to improvements in water quality, reintroduction programs in many states and regulated harvests. Animal welfare groups worry the expansion of otter trapping in the U.S. and Canada in recent decades isn't sustainable. But there was no organized effort to oppose North Dakota's season, as there has been in other states.
In world and national news…
WASHINGTON (AP) — Egypt has denounced President Donald Trump's decision to recognize Jerusalem as the capital of the Jewish state. Egypt was the first Arab nation to sign a peace treaty with Israel _ in 1979. A Foreign Ministry statement says Trump's decision is a violation of international resolutions on the city's status. The statement says Egypt is worried about the impact of the U.S. move on the stability of the region and about its "extremely negative" impact on the Israeli-Palestinian peace process.
WASHINGTON (AP) — A top Senate Democrat says he expects Sen. Al Franken to resign on Thursday over allegations of sexual misconduct. In a tweet Wednesday, Sen. Ron Wyden of Oregon said that Franken is expected to announce his resignation on Thursday. Wyden tweeted that "It is the right thing to do given this series of serious allegations."
NEW YORK (AP) — A lawsuit seeking class-action status on behalf of hundreds of actresses was brought against Harvey Weinstein and others, alleging he used his power in the entertainment industry to abuse them. The lawsuit filed Wednesday in Manhattan federal court claims Weinstein's predatory behavior was designed to provide him with personal gratification at the expense of scores of women who suffered sexual assault, false imprisonment and other abuse. A lawyer for Weinstein declined comment.
WASHINGTON (AP) — The top House Democrat says President Donald Trump is the "only person talking about a government shutdown." Minority Leader Nancy Pelosi, in a tweet, responded on Wednesday to Trump's claim that a government shutdown "could happen" Saturday, and he blamed it on Democrats' stance on immigration. On Capitol Hill, chances of a shutdown were diminishing as Republicans were talking about passing a two-week extension to avoid a shutdown at midnight on Friday.
WASHINGTON (AP) — Senate Majority Leader Mitch McConnell says he favors expanding a deduction for state and local taxes to enable people to deduct local income taxes as well as property taxes. It's a concession to Republicans from high-tax states. Both the House and Senate tax bills initially repealed the entire deduction for state and local taxes. Both bills have since been amended to allow homeowners to deduct up to $10,000 in property taxes.