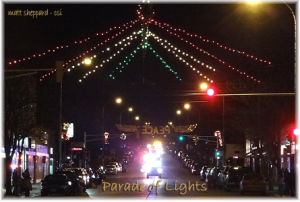 Valley City  (CSi)  Winners have been announced in the 2017 Christmas in Valley Parade of Lights, held in Downtown Valley City on Friday, December 1st, including holiday prize drawings through participating businesses.
The Parade of Lights Winnerwas RKS Sales & Service.
Tour of Snowmen "TheBest Decorated Snowman" was Dacotah Bank.
Tour of Snowmen Participation Award including $100 in Valley CityChamber Bucks was presented to Peggy Murray.
With the Week One Button Drawings…
Turkey a day, goes to Arlene Andres, Kim Haman, Colleen Clancy, Mary Berntson, and Nick Jackson.
The Brothers III $25 Gift Card went to Lindy Roe.
The Riverside Gardens $25 Gift Certificate winner was Cheryl Storhoff.
The Unique Antiques $25 Gift Certificate went to Deb Ross.
The Barnes County Historical Society Valley City Sweatshirt winner was Marcia Pritchert.
TheMiller Motors Oil Change winner was Nancy Sorenson.
Pick up prizes at the Valley City Area Chamber of Commerce Office at the Rosebud Visitors Center in Valley City.
Additional drawings coming up December 8, 15, 22.
Be watching CSi Cable 10 The Replay Channel for additional Showings of the Parade of Lights throughout the Christmas holiday season.
This year's parade video also posted on line at CSiNewsNow.com