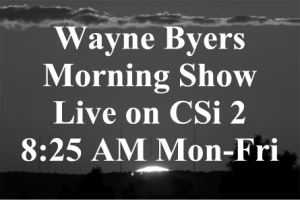 CSi Weather…
.REST OF TODAY…Mostly cloudy. Highs in the mid 20s. West winds around 10 mph.
.TONIGHT…Cloudy. Not as cold. Lows in the lower 20s. Northwest
winds around 10 mph.
.FRIDAY…Partly sunny. Patchy blowing and drifting snow in the
afternoon. Highs in the lower 30s. Northwest winds 10 to 20 mph.
Gusts up to 35 mph in the afternoon.
.FRIDAY NIGHT…Mostly cloudy. Lows 15 to 20. Northwest winds
10 to 20 mph.
.SATURDAY…Mostly sunny. Highs in the upper 20s. Northwest winds
5 to 10 mph shifting to the west in the afternoon.
.SATURDAY NIGHT AND SUNDAY…Partly cloudy. Lows around 20. Highs
in the upper 20s to lower 40s.
.SUNDAY NIGHT…Mostly cloudy. Chance of snow possibly mixed with
rain in the evening, then chance of snow after midnight. Lows in
the mid 20s. Chance of precipitation 40 percent.
.MONDAY AND MONDAY NIGHT…Mostly cloudy with a 20 percent chance
of snow. Highs around 30. Lows 18 to 24.
.TUESDAY…Partly sunny. Highs in the lower 30s.
.TUESDAY NIGHT…Increasing clouds. Lows around 20.
.WEDNESDAY…Partly sunny. A 20 percent chance of snow in the
afternoon. Highs in the lower 30s.
A clipper may move through Sunday night into Monday morning bringing a chance for some light precipitation. Temperatures should generally range
from the low 30s east to low 40s west.
This Day In History, December 7, 1941 – Japan bombs Pearl Harbor, Hawaii *** from the 125th Anniversary Calendar of Jamestown History ***  
Japanese Planes attack Pearl Harbor, Hawaii. President Roosevelt call December 7, 1941 a date that will live in infamy.
Pearl Harbor Remembrance Day occurs on December 7 of each year, designated in memory of the lives lost in the 1941 attack and to remember that we enjoy freedom thanks to their sacrifice. The attack claimed the lives of 2,334 servicemen and servicewomen and wounded another 1,143.
On this day, the President directs that the flag of the United States be flown at half-staff and displayed from individual American homes, at the White House, and on all U.S. government buildings and establishments, home and abroad.
More information and historic photos on line at CSiNewsNow.com
Update…
Jamestown  (CSi)  Jamestown City crews will begin snow removal in the residential areas during normal working hours starting today, Thursday, December 7, 2017.
PLEASE NOTE:
The above schedule is contingent upon changing weather conditions and snow accumulation totals.
Valley City  (CSi) Valley City is developing a Comprehensive and Transportation Plan to serve as a guide for the City's growth and development through the year 2045.
Valley City Public Works inform residents that  Open House Number two with the  ND Department of Transportation and Stantec Consulting, is planned for a Public Meeting on December 7, 2017  from 5:30-p.m., to 8-p.m., at the Valley City Eagles Club, with the formal presentation at 6:30-p.m.
Valley City Public Works Adminstrative Assistant, Jenn Stipe says, the presentation will be reviewing Alternatives and a Concepts Workshop.
Questions and concerns will be taken.
At the meeting, discussion will be held on the community survey results and future alternatives.
Written statements or comments about the project must be mailed by December 22, 2017 to:
David Schelkoph
City Administrator
254 2nd Avenue, NE
PO Box 390
Valley City, ND 58072
Jamestown  (CSi)   The South Central Homeless Coalition will be ringing bells for the Salvation Army Red Kettle Campaign December 11 and 12, 2017, at Cash Wise Foods, in Jamestown.  Members and friends of the Coalition will be ringing bells from 10 a.m. to 8 p.m. both of those days to help with the Salvation Army Fundraiser.
The Salvation Army has a goal of $140,000 to raise during its Red Kettle Campaign. Residents, businesses, organizations and more can volunteer to ring bells at the six different locations in Jamestown. To register, visit registertoring.com, call the Jamestown Salvation Army at 701-252-0290 or visit their office at 320 1st Avenue North.
In 2016 it was estimated that over 10,000 people across North Dakota were expected to experience homelessness. The need to actively care for people experiencing homelessness is growing. Per the 2016 annual Point in Time Survey, in January 2016 alone, 923 persons were documented as experiencing homelessness with 154 of those persons being under the age of 18.
The South Central Homeless Coalition's purpose shall be to advocate, coordinate, and optimize services for homeless men, women and children within Region 6 of the South Central Human Service Center. Those counties are: Barnes, Dickey, Foster, Griggs, LaMoure, Logan, McIntosh, Stutsman, and Wells.
FARGO, N.D. (AP) — Trial is scheduled in March for a North Dakota man accused of killing a pregnant neighbor so he and his girlfriend could keep the baby.
William Hoehn (HAYN') appeared Wednesday in Cass County Court in Fargo. The 32-year-old and his girlfriend, 38-year-old Brooke Crews, are charged with conspiracy to commit murder and kidnapping in the death of 22-year-old Savanna Greywind, of Fargo.
A change of plea hearing for Crews is scheduled for Dec. 11. She and Hoehn pleaded not guilty earlier.
Greywind's family attended the hearing for Hoehn and glared at him after he entered the courtroom. Hoehn looked in their direction but showed no emotion.
Greywind was eight months pregnant when she disappeared Aug. 19. The baby was found alive in a neighboring apartment where Crews and Hoehn lived.
MANDAN, N.D. (AP) — Morton County sheriff's officials say a 13-year-old female student is responsible for two threats of a shooting at the high school in New Salem.
The sheriff's office says the girl has been cited for terrorizing and has been suspended from New Salem-Almont High School. Authorities say the latest threat came Tuesday afternoon when a graffiti message of a school shooting was found on a bathroom wall. Students were evacuated. The school was secured and searched. No weapons were found.
The message was similar to one found last Friday, Dec. 1. Officials say a message left on a bathroom wall said there would be a shooting during sixth period. The incident resulted in a lockdown. No weapons were found.
BISMARCK, N.D. (AP) — A newly released draft legislative bill sets the framework for American Indian tribes in North Dakota to levy state sales taxes on their reservations and keep a share of the collections.
State Tax Commissioner Ryan Rauschenberger says the legislation comes largely in response to tribes' concerns about dwindling federal dollars.
It also comes after Three Affiliated tribal officials doubled taxes on non-American Indian retail businesses that sell liquor — leading some to halt sales.
The draft legislation would forbid tribal governments that reach an accord with the state on sales tax collections to impose such taxes.
The bill is the work of the Legislature's newly formed Tribal Taxation Issues Committee, headed by Gov. Doug Burgum. The Republican governor called the draft legislation "a good starting point for conversation."
BISMARCK, N.D. (AP) — North Dakota health officials say a proposed oil refinery near the Theodore Roosevelt National Park complies with federal and state air pollution rules, but that a draft permit is still subject to public comment.
Meridian Energy Group Inc. officials say the Davis Refinery near Belfield, North Dakota, would be the "cleanest refinery on the planet." But opponents worry about pollution in the park named for a former president revered for his conservation advocacy.
The refinery would process up to 49,500 barrels of Bakken crude per day.
The state Health Department says a public comment period on a draft air pollution control permit will begin Friday and end Jan. 26, with a public hearing set for Jan. 17 at Dickinson State University.
The company still needs a state water permit.
Update….
TIOGA, N.D. (AP) — Montana-Dakota Utilities says it has restored natural gas service to the majority of customers who lost it in Tioga.
A team of utility workers was sent to Tioga Tuesday after natural gas service was disrupted for about 900 customers in the northwestern North Dakota community of 1,600. MDU spokesman Mark Hanson says about 150 customers are still without service at mid-morning Wednesday, which will be restored as soon as workers can access their home or business.
Hanson says the utility's natural gas supplier was doing work on their system near the town border station Tuesday and brought in a secondary fuel source while the work was being done. He says it appears there was a failure in the backup supply system, but that it's still under investigation.
ST. PAUL, Minn. (AP) — Garrison Keillor says Minnesota Public Radio shouldn't have dismissed him last week without fully investigating what the radio station has called "multiple allegations."
Jon McTaggart, CEO of MPR's parent company APMG, told employees Wednesday that the allegations against the 75-year-old former "A Prairie Home Companion" host covered an extended period of time. He provided no details.
In an email late Wednesday, Keillor told the Associated Press MPR has made an "enormous mistake … by not conducting a full and fair investigation."
An MPR spokeswoman told AP last week that two people made complaints against Keillor, though only one claimed his behavior was directed at her.
Keillor's attorney, Eric Nilsson, said Thursday that he knows of only one person making allegations against Keillor. Nilsson says McTaggart must "set the record straight."
In sports…
Valley City  (VCSU)- Valley City State University volleyball's Clarissa Olson has been named Honorable Mention All American, the NAIA National Office announced Monday.
A junior middle hitter from Valley City, N.D., Olson is the first Viking to earn that honor since Heidi Larson was named 1st Team All American in 2009.
Olson was also named All North Central Region by the American Volleyball Coaches' Association this week. In November, Olson earned 1st Team All Conference honors for the second straight season. She helped the Vikings to a 15-14 overall record in 2017 and a fourth-place finish in the NSAA regular season standings.
Olson led the Vikings with 237 kills, 59 blocks and a .324 hitting percentage this season. Her .324 hitting percentage ranked Olson third in the North Star Athletic Association. She was named the NSAA Attacker of the Week on Oct. 23.
Class A High School Basketball Polls…
Minot High boys and Bismarck Century girls topped the first Class A basketball polls of the season Wednesday.
The Magicians are off to a 2-0 start and received nine first-place votes, while the Century girls are 1-0 and received 11 first-place votes.
Class A Basketball Polls
(First-place votes in parenthesis)
Boys
Team Rec. Pts.
1. Minot (9) 2-0 69
2. Fargo Davies (5) 1-0 61
3. Mandan (1) 1-0 37
4. Fargo Shanley 1-0 31
5. West Fargo 1-0 15
Others receiving votes: Bismarck Century (0-1).
Girls
Team Rec. Pts.
1. Bismarck Century (11) 1-0 67
2. Fargo Davies (3) 0-1 48
3. Fargo Shanley 1-0 44
4. Devils Lake 1-0 20
5. Mandan 0-1 17
Others receiving votes: Bismarck St. Mary's 1-0, Bismarck High 1-0 and Grand Forks Red River 2-0.
BISMARCK, N.D. (AP) — North Dakota's Game and Fish Department has closed the state's inaugural otter trapping season, after the limit of 15 otters was reached.
The agency said earlier this year that enough otters had moved into eastern North Dakota from Minnesota to warrant a trapping season. Gov. Doug Burgum signed off on the idea last summer.
The season opened Nov. 27 and was closed Monday, a week later.
Experts say the U.S. otter population is thriving thanks to improvements in water quality, reintroduction programs in many states and regulated harvests. Animal welfare groups worry the expansion of otter trapping in the U.S. and Canada in recent decades isn't sustainable. But there was no organized effort to oppose North Dakota's season, as there has been in other states.
NATIONAL BASKETBALL ASSOCIATION
LOS ANGELES (AP) — Karl-Anthony Towns had 21 points and 12 rebounds, and the Minnesota Timberwolves beat the sliding Los Angeles Clippers 113-107. Jimmy Butler and Jeff Teague each scored 19 points for the Timberwolves (15-11), who placed six players in double figures. Andrew Wiggins and Taj Gibson had 16 apiece, and Jamal Crawford finished with 11 points.
Final OT Orlando 110 Atlanta 106
Final Cleveland 101 Sacramento 95
Final Indiana 98 Chicago 96
Final Boston 97 Dallas 90
Final N-Y Knicks 99 Memphis 88
Final Milwaukee 104 Detroit 100
Final New Orleans 123 Denver 114
Final Golden State 101 Charlotte 87
Final San Antonio 117 Miami 105
NATIONAL HOCKEY LEAGUE
Final SO Toronto 2 Calgary 1
Final Washington 6 Chicago 2
Final Philadelphia 4 Edmonton 2
Final Anaheim 3 Ottawa 0
TOP-25 COLLEGE BASKETBALL
Final Washington 74 (2) Kansas 65
Final Loyola of Chicago 65 (5) Florida 59
Final (11) North Carolina 104 W. Carolina 61
Final (13) Xavier 96 Kent St. 70
NBA…
UNDATED (AP) — The defending NBA champs will be spending a few games without their two-time NBA most valuable player.
Warriors guard Stephen (STEH'-fehn) Curry will miss a minimum of two weeks after an MRI exam revealed a sprained right ankle. Curry was injured while scoring 31 points in Monday's win at New Orleans.
Curry is averaging 26.3 points, 6.6 assists and 5.1 rebounds per game this season.
Golden State says its leading scorer will be re-evaluated in two weeks.
Grizzlies center Marc Gasol (gah-SAHL') has been fined $15,000 by the NBA for using a profanity during a live television interview. Gasol cursed during the interview after Memphis beat Minnesota on Monday to snap an 11-game skid.
— Brooklyn's Allen Crabbe has been fined $15,000 by the NBA for violating the rule prohibiting players from throwing any item at the basket stanchion. Crabbe heaved the basketball and hit the Hawks' shot clock from the Nets' end of the court in Monday's win over Atlanta.
NFL…
PITTSBURGH (AP) — The Pittsburgh Steelers say linebacker Ryan Shazier has been transferred from a Cincinnati hospital to Pittsburgh medical facility to continue treatment for a spinal injury suffered during Monday night's game against the Bengals.
The Steelers added that Shazier will continue to undergo tests before the team offers an update on his status. Shazier left Paul Brown Stadium on a stretcher following a tackle that left the 25-year-old writhing on the turf, his legs motionless.
In other NFL news:
— Two-time Super Bowl MVP Eli Manning is back as the Giants' starting quarterback. He was benched last week by former coach Ben McAdoo, who along with general manager Jerry Reese, was canned Monday.
— The Chiefs have suspended cornerback Marcus Peters for Sunday's game against Oakland for his embarrassing tantrum during a last-minute loss to the Jets last weekend. Peters threw an official's flag into the stands, stalked off the field wearing a smile, then ran back onto it without wearing socks when he realized he hadn't been ejected.
In world and national news…
ERUSALEM (AP) — The al-Qaida-linked extremist group al-Shabab is urging Muslims to take up weapons in response to President Donald Trump's recognition of Jerusalem as Israel's capital. The group's spokesman Sheikh Ali Mohamud says it calls "on all Muslims to raise arms and defend the blessed al-Aqsa from the Zionist occupiers supported by America, because what was taken by force can only be restored by force." His message was carried by the Somalia-based group's news agency.
WASHINGTON (AP) — President Donald Trump's move to recognize the divided city of Jerusalem as Israel's capital triggered a worldwide chorus of critics but the president had his ears more closely tuned to his supporters at home. For Trump, the proclamation was an important way to make good on a promise to his political base, which includes evangelical Christians and pro-Israel Republicans eager for such a move.
WASHINGTON (AP) — Minnesota Democrat Al Franken, facing fresh allegations of sexual misconduct and vanishing support from fellow Democrats, appears to be on the brink of resigning from the Senate. Franken scheduled an announcement for Thursday, though his office tweeted Wednesday evening that he had not made "a final decision" on resigning.
UNDATED (AP) — He wandered the streets of Mosul under the harsh rule of Islamic State, chatting up extremist fighters, merchants, doctors and many others to gather scraps of information for the world. His motto: Trust no one, document everything. Protected by anonymity, Mosul Eye became one of the outside world's main sources of news about life under Islamic State. Now in Europe, his secret double life weighs on him and he is ready to come forward.
VENTURA, Calif. (AP) — Southern California has felt orange wind and red wind. But never purple wind. Until now. The color-coded system showing the expected strength of the winds driving the region's wildfires his in new territory. It has pushed past red, which means "high," into purple, meaning "extreme." Officials said Wednesday that purple is unprecedented. The blazes have already brought tens of thousands of evacuation and destroyed dozens of homes, and authorities are hoping the winds don't make it worse.