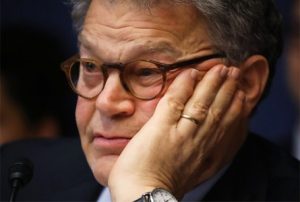 WASHINGTON  (AP)  Minnesota U.S. Senator, Al Franken, Thursday announced he will resign his Senate seat, amid multiple sexual misconduct allegations.
Once a rising star in the Democratic Party, Franken made the announcement in a speech Thursday on the Senate floor.
The two-term lawmaker has repeatedly apologized as several women stepped forward to accuse him of sexually inappropriate behavior, from groping to forcibly trying to kiss them.
But a fresh allegation on Wednesday unleashed a torrent of Democratic demands that Franken step aside. Female senators led the chorus.
Franken is an actor who appeared on "Saturday Night Live" and an author who narrowly won his Senate seat in 2008 after a prolonged vote count. He has been a fierce opponent of the Trump administration.
His political fall has been swift by congressional standards. The first allegation surfaced on Nov. 16.
Minnesota Gov. Mark Dayton says he hasn't decided on a replacement for Al Franken.
Franken says he'll step down in the coming weeks. He's facing allegations of sexual misconduct from several women.
The Democratic governor says he expects to make and announce his decision in the next couple of days. Whomever he names will serve until a special the election in November to complete the remainder of Franken's term through 2020.
Democratic senators, staff and family members were somber yet emotional as they watched Minnesota Sen. Al Franken say he would resign.
Franken's family members sat in the Senate gallery, some of them crying. Staff lined up in the back of the chamber, stone faced. And around 18 Democratic senators quietly listened to his speech on the floor. No Republicans were present except the chamber's presiding officer, Alaska Sen. Dan Sullivan.
Democrats who sat and listened to Franken's speech included Senate Minority Leader Chuck Schumer of New York, Minnesota Sen. Amy Klobuchar and New York Sen. Kirsten Gillibrand, the first to call Wednesday for Franken to resign.
Franken was facing multiple sexual misconduct allegations. After his 11 minute speech, Democrats lined up to hug him.