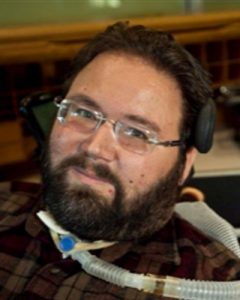 Mark Boatman, 42, of Lolo, MT, left the earthly world on December 8, 2017.
Mark James Boatman was born on August 16, 1975, In Jamestown, ND, to Jim and Linda Boatman. He was diagnosed with Duchenne Muscular Dystrophy in 1980.
Mark Attended Gussner Elementary followed by Jamestown Junior High School. He graduated from Jamestown High School in 1993. Mark was one of the first students with a significant disability to attend all 12 years in the Jamestown school system.
After graduating, Mark moved into the Dewey Apartments in Jamestown in 1994. He enjoyed his independence and visiting the many friends he made there. Mark lived in his own apartment until 2003 when his need for a fulltime ventilator forced him into a local nursing home. That began his fight to regain his independence and life outside the care facility.
In 2005, Mark met Dustin Hankinson and Theresa Martinosky through a ventilator support group. After nearly a year of planning he moved to Missoula, MT to live with them. Living in Missoula offered Mark opportunities that were unavailable to him while living in North Dakota. He enrolled at the University of Montana in 2007, and graduated with high honors from the School of Journalism in 2012.
Soon after graduation Mark freelanced for New Mobility magazine, one of the largest disability publications in the country. He also contributed articles for Quest magazine and maintained a blog.
Mark was a tireless advocate for people with disabilities especially in the areas of deinstitutionalization, voting rights and Medicaid/Healthcare. He sat on various committees, participated in organized actions, wrote many letters to elected officials and testified before the Montana State legislature.
Mark is survived by his parents, Jim and Linda Boatman, Jamestown, ND; one sister, Becky (Jason) Faller, Casselton, ND; two nieces, Mallory and Lucy; and special friends, Theresa Martinosky, Susan Ferrara, and his beloved Pug, Frankie all of Lolo, MT.
He was preceded in death by his grandparents and aunt, Lori Schatz.
In lieu of flowers, donations may be made to the UM School of Journalism Don Anderson Hall, 32 Campus Drive, Missoula, MT 59812 or the Parent Project Muscular Dystrophy, 401 Hackensack Avenue, 9th Floor, Hackensack, NJ 07601.
A Celebration of Life will be held at 2:00 p.m., Wednesday, December 20, 2017 at New Hope Free Lutheran Church, Jamestown, ND with Pastor Steve Berntson officiating. Mark requests that those attending wear casual, bright colored clothing, Vikings or Cubs apparel.
Cremation has taken place by Cremation and Burial Society of the Rockies, Missoula, MT. Inturnment will take place next spring at Highland Home Cemetery, Jamestown.