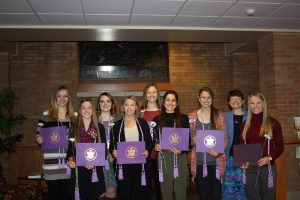 Jamestown  (CSi)   The Xi Kappa-at-Large Chapter of Sigma Theta Tau International Honor Society for Nursing inducted several University of Jamestown students on November 4, 2017.
The ceremony recognizes senior nursing students and community nurse leaders who have demonstrated achievements in nursing, leadership qualities and high professional standards. Inductees include: Marlee Pierson, Alyssa Skrove, Courtney Bunn, Alexis Madcke, Whitney King, Rachel Jahner, Brenna Thoele, Bryn Woodside, Austin Schwandt, Julia Snedaker, and Thomas Ugelstad.
Alyssa Skrove also was chosen to receive the Martha Vorvick Berge Scholarship for demonstrating a passion for nursing and extensive involvement in community service.
Established in 1883, the University of Jamestown is a private, liberal arts university granting Bachelor of Arts, Bachelor of Science and Science in Nursing degrees, as well as Master's Degrees in Education, Leadership, Clinical Counseling, and a Fargo-based Doctor of Physical Therapy degree. With the Jamestown Journey to Success, emphasis is placed not only on preparing students academically in their chosen areas of study, but also on preparing them through a student-centered experience. For more information, please visit uj.edu.