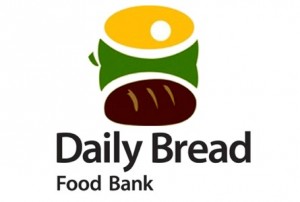 Jamestown (CSi)  The Daily Bread-Jamestown (DB-J) program is dedicated to "Feeding those in need."
On a recent Wayne Byers Show on CSi Cable 2, Co-Founder, and Board Member, Deacon Tom Geffre, reminded listeners and viewers that the
Daily Bread – Jamestown program established in Nov, 2012 at Ave Maria Village, that rescues prepared meals and freezes these meals – emphasis on starch and protein products – "fill the stomach."
Nov., 2014:  A Board of Directors was  established to help over see the program. Because of the success of the program at Ave Maria Village, it was determined that the program should be expanded.  Several meal-serving entities were
contacted, such as JRMC, among others that serve meals in a "smorgasbord style."
Food-serving entities that contribute food to the program, include  Ave Maria Village, JRMC, Sooper Pumper, Edgerwood, Knights of Columbus (Sunday breakfast program), Fairfield Inn, Pizza Ranch, Exxon/TYBC, Senior Citizens Center, Hampton Inn, Papa Murphy's.
Various Caterers include, Emma Rosie's and TJ's, and the different schools in the Local school system.
The criteria is that:
Food must be prepared in a ND State Health Department certified kitchen, National "Good Samaritan" law protects the supplier of the food.  Volunteers from the area pick up and distribute the food. No application, no fees, free food.  The honor system for use of the program.  The food is available to anyone in need.
Currently freezers are located at  each school in the Jamestown school district, Senior Citizens Center, Ave Maria Village, The Gardenette, and St. John's Lutheran Church. And now at the Community Options headquarters in Southeast Jamestown.
The program has refrigerators in three locations (St. Johns Lutheran, The Gardenette and the Senior Center…Stocked by volunteers from the Triumph Program with produce that comes from Russ Davis Foods.
Tom pointed out that food collected in 2014 was 6,000 lbs; in 2015 it was 8,000 lbs, in 2016, over 13,000 pounds was collected and redistributed.
The Daily Bread Board of Directors include:  Deacon Tom Geffre, Rhonda Sahr, Tyler Lamp, Rev. Erik Weber, Volunteer Coordinator, Deb Lee, along with Joan Morris, Mary Geffre,  And Doreen Larson.
He added to call the Basilica of St. James for more information.
Additionally, the DB-J program also coordinates the Senior Citizens Food Commodities program which is facilitated out of the Great Plaines Food Bank.  DB-J took on this project in March 2015 with the first food delivered in April 2015
There are approximately 55 senior citizens in the immediate area that receive 60 pounds of shelf-stable food every other month (six times per year.)
The pplication process has been simplified….Requirements are that they be 60 years old with income guidelines:  Household of 1=$1265;  household of 2 = $1705;  household of 3 = $2144;   households beyond 4 are to call the Great Plains Food Bank in Fargo.  He added that the incomes are not verified.
He added that all area churches have applications for the program, along with other entities such as the James River Senior Center, Community Action Region six in Jamestown and the Gardenette.