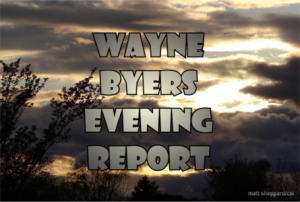 CSi Weather…
TONIGHT…Cloudy. A 20 percent chance of snow in the evening in the Jamestown area.
Lows around 30. Southwest winds around 5 mph shifting to the northwest after midnight.
.SATURDAY…Mostly cloudy. Highs in the mid 30s. Northwest winds 5 to 10 mph.
.SATURDAY NIGHT…Mostly cloudy. Lows in the lower 20s. West
winds around 5 mph.
.SUNDAY AND SUNDAY NIGHT…Partly cloudy. Highs in the mid 30s.
Lows in the lower 20s. Southwest winds 5 to 10 mph.
.MONDAY…Partly sunny. Highs in the upper 30s.
.MONDAY NIGHT AND TUESDAY…Partly cloudy. Lows in the lower 20s.
Highs in the 30s.
.TUESDAY NIGHT…Increasing clouds. Lows 15 to 20.
.WEDNESDAY…Cloudy. A 40 percent chance of snow in the
afternoon. Highs in the mid 20s.
.WEDNESDAY NIGHT…Mostly cloudy. Snow likely in the evening,
then chance of snow after midnight. Lows zero to 5 above. Chance
of snow 70 percent.
.THURSDAY…Partly sunny. Highs around 15.
.THURSDAY NIGHT…Increasing clouds. Lows zero to 5 above.
.FRIDAY…Mostly cloudy. Highs around 20.
Light snow through Saturday morning.
Winds will remain relatively light and impacts are expected to be only the light snow.
Sunday kicks off the long term with nice weather. Mild and dry
conditions with light winds and partly cloudy skies are in the
forecast Sunday.
As we get into the Sunday night/Monday Morning,
another clipper/cold front is projected to move eastward across ND.
Associated chances for precipitation (mostly snow) are forecast
mainly in northern areas, at this time, through Monday morning.
breezy conditions are also expected Monday.
Another system is slated for late Tuesday night through Wednesday. Widespread accumulating snow will be possible though much depends on where the  low sets up and tracks.
Once this system departs, colder air is forecast to enter into the region.
The colder air may linger beyond the long term.
Jamestown (CSi)  The Daily Bread-Jamestown (DB-J) program is dedicated to "Feeding those in need."
On a recent Wayne Byers Show on CSi Cable 2, Co-Founder, and Board Member, Deacon Tom Geffre, reminded listeners and viewers that the
Daily Bread – Jamestown program established in Nov, 2012 at Ave Maria Village, that rescues prepared meals and freezes these meals – emphasis on starch and protein products – "fill the stomach."
Nov., 2014:  A Board of Directors was  established to help over see the program. Because of the success of the program at Ave Maria Village, it was determined that the program should be expanded.  Several meal-serving entities were contacted, such as JRMC, among others that serve meals in a "smorgasbord style."
Food-serving entities that contribute food to the program, include  Ave Maria Village, JRMC, Sooper Pumper, Edgerwood, Knights of Columbus (Sunday breakfast program), Fairfield Inn, Pizza Ranch, Exxon/TYBC, Senior Citizens Center, Hampton Inn, Papa Murphy's.
Various Caterers include, Emma Rosie's and TJ's, and the different schools in the Local school system.
The criteria is that:
Food must be prepared in a ND State Health Department certified kitchen, National "Good Samaritan" law protects the supplier of the food.  Volunteers from the area pick up and distribute the food. No application, no fees, free food.  The honor system for use of the program.  The food is available to anyone in need.
Currently freezers are located at  each school in the Jamestown school district, Senior Citizens Center, Ave Maria Village, The Gardenette, and St. John's Lutheran Church. And now at the Community Options headquarters in Southeast Jamestown.
The program has refrigerators in three locations (St. Johns Lutheran, The Gardenette and the Senior Center…Stocked by volunteers from the Triumph Program with produce that comes from Russ Davis Foods.
Tom pointed out that food collected in 2014 was 6,000 lbs; in 2015 it was 8,000 lbs, in 2016, over 13,000 pounds was collected and redistributed.
The Daily Bread Board of Directors include:  Deacon Tom Geffre, Rhonda Sahr, Tyler Lamp, Rev. Erik Weber, Volunteer Coordinator, Deb Lee, along with Joan Morris, Mary Geffre,  And Doreen Larson.
He added to call the Basilica of St. James for more information.
Additionally, the DB-J program also coordinates the Senior Citizens Food Commodities program which is facilitated out of the Great Plaines Food Bank.  DB-J took on this project in March 2015 with the first food delivered in April 2015
There are approximately 55 senior citizens in the immediate area that receive 60 pounds of shelf-stable food every other month (six times per year.)
The application process has been simplified….Requirements are that they be 60 years old with income guidelines:  Household of 1=$1265;  household of 2 = $1705;  household of 3 = $2144;   households beyond 4 are to call the Great Plains Food Bank in Fargo.  He added that the incomes are not verified.
He added that all area churches have applications for the program, along with other entities such as the James River Senior Center, Community Action Region six in Jamestown and the Gardenette.
Valley City  (CSi)  The Valley City Pizza Ranch location is participating in the "12 Days of Pizza," partnering with schools to treat families to free pizzas for the holidays.
Families will be given coupons for one large pizza per day, with any and all toppings, or a box of eight piece chicken for 12 days, to 12 deserving families.
The Valley City, Lisbon, Mandan and Dickinson Pizza Ranch locations, cover the cost.
Now in its third year the program will provide over 14,000 meals to nearly 1,200 families across the Midwest, with 85 Pizza Ranch locations partnering with businesses.
For more information on "12 Days of Pizza," on line visit:
www.pizzaranch.com/12-days-of-pizza
Jamestown  (Cassie DuBray)   United Way of Stutsman County is now accepting applications for Venture Grants.
The Venture Grant Program of the Jamestown United Way is an innovative funding approach developed to provide short-term financial support to emerging human service groups whose programs are responding to an established community need.  The program makes funds available to nonprofit health or social welfare agencies or programs.
Venture Grants are one-time grants for local (Stutsman county) non-profit 501 c3 agencies to help fund programs which meet critical, unmet needs in the community and fit within the Stutsman County United Way's funding priorities. These competitive, merit based grants will be distributed through a committee on the United Way of Stutsman County Board of Directors.
Venture grant recipients will be allowed to seek extended funding beyond the first year for stabilization purposes. If an agency receives a venture grant, it secures funding for the first year. The agency may apply the following year for the Venture grant for a total of two years' worth of award. This does not, however, oblige the Jamestown United Way to fund the re-applicant, but only to consider its request.
United Way of Stutsman County is also seeking new members to serve on the volunteer Board of Directors. The Board meets monthly the third Thursday of the month at noon.
For eligibility criteria or to receive an application for the Venture Grant or to learn how to become a member on the Board of Directors, please contact Executive Director Karla Bachmeier at jmstuway@gmail.com or call 701-952-UWAY.
The United Way of Stutsman County is part of United Way Worldwide. Its mission is to improve lives by mobilizing the caring power of communities around the world to advance the common good. The current impact model emphasizes that 99% of all funds raised stays within in Stutsman County.
Jamestown  (Cassie DuBray)  The United Way of Stutsman County welcomed Lawrence Kopp, Director of The Arts Center to present at its monthly meeting in November.
The Arts Center is operated by the Jamestown Fine Arts Association, which according to their website has been promoting the arts in Jamestown since 1964.  Mr. Kopp said that The Arts Center started out in the old Star Theatre building which was later donated to the organization. The Arts Center is made up of three complexes: the main building, The Hansen Arts Studio and the Art Park. The main building features an exhibition gallery, performance stage, classroom, office, artist-in-residence apartment and studio. The Hansen Studio houses the ceramics studio and adult classroom space. The Art Park is located across the street as a recently redesigned venue for outdoor activities.
With its annual budget of $300,000. The Arts Center strives to reach all populations.  Mr. Kopp announced they have approximately 2,000 through their doors monthly. They have three fulltime employees and one part-time employee.  Twelve percent of their revenue comes from membership dues and nine percent from class tuition.
The Arts Center has many programs like Artist Residencies and Children's Classes.  The Arts Center offers Arts After School, which is arts based curriculum for students in grades 3-6 with an after-school snack provided and in-town bus transportation available. There are scholarships available for that program. They also have programming for clientele of Triumph Inc and Community Options Inc on a regular basis. One of their focuses is with the Art for Life program. A grant-funded program which pairs The Arts Center with a local elder care facility to provide intensive art and artist interaction with the care facility residents and families.
Upcoming January programming includes Digital Photography- Level 1, Jewelry Making, Family Pottery, Ode to Joy Lecture, as well as it's regular programming.
To learn more about The Arts Center visit their website http://jamestownarts.com/. The United Way of Stutsman County Board thanks Mr. Kopp for sharing information and answering questions regarding The Arts Center and looks forward to continued collaboration with the agency.
The United Way of Stutsman County will be supporting the following agencies during this year's fundraising campaign: Alano Society, Boy Scouts – Northern Lights, Camp Rokiwan, Child Care Aware, Community Corrections, Girl Scouts – Dakota Horizons, Imagination Library, James River Transit, MOST/21st Cen. After School, PATH, Safe Shelter, Salvation Army, SANE/SART, Senior Companion Program, and The Arts Center.
The next Lunch and Learn will be December 21,  2017 at noon at Shady's Restaurant with SANE/SART presenting.
The United Way of Stutsman County is part of United Way Worldwide. Its mission is to improve lives by mobilizing the caring power of communities around the world to advance the common good. The current impact model emphasizes that 99% of all funds raised stays within in Stutsman County.
FARGO, N.D. (AP) — A North Dakota man has been convicted of threatening the state's Democratic U.S. senator, Heidi Heitkamp.
Kevin Olson, of Fargo, is charged with having made a threatening communication. A jury found him guilty Friday after a four-day trial.
Authorities say the 56-year-old Olson sent an email to Heitkamp's office in December 2016 threatening to shoot her in the head. Court documents show that Olson admitted he sent the email but refused to answer questions about it. He told investigators that he owned firearms.
Sentencing for Olson will be held at a later date. He faces a maximum sentence of five years in prison.
BISMARCK, N.D. (AP) — North Dakota's oil production rose slightly in October and remained above 1 million barrels per day for the ninth consecutive month.
The Department of Mineral Resources says the state produced an average of 1.18 million barrels of oil daily in October. That's up from 1.10 million barrels in September.
North Dakota also produced a record 2.06 billion cubic feet of natural gas per day in October, up from 1.94 billion cubic feet in September. There were a record 14,250 producing wells in October, up 51 from September.
The October tallies are the latest figures available.
There were 53 drill rigs operating in North Dakota on Friday, down three from the October average.
BISMARCK, N.D. (AP) — A proposal to legalize recreational marijuana in North Dakota will go the voters if supporters can gather enough signatures.
Secretary of State Al Jaeger on Friday approved the petition for circulation. Jaeger says backers of the ballot measure must gather about 13,500 qualified signatures to put it to a statewide vote next year.
Sponsors say the petition seeks to make it legal to grow, possess, use and distribute marijuana for people 21 and older. It also seeks to seal the records of anyone convicted of a marijuana-related crime that would be made legal under the measure.
Supporters of legalizing marijuana fell short on petition signatures in 2016.
ISMARCK, N.D. (AP) — A state commission has approved a decision to confiscate and sell equipment from a saltwater disposal well that was illegally operated in the western part of North Dakota.
The Bismarck Tribune reports that the North Dakota Industrial Commission voted Thursday to sell the equipment at the Halek 5-22 well located west of Dickinson.
Well operators Jason Halek and Nathan Garber were recently sentenced in federal court for violating environmental laws when operating the well in 2011 and 2012.
Department of Mineral Resources officials say the equipment is estimated to be worth $100,000 to $150,000. Officials say the state should break even on plugging and reclaiming the well, selling the equipment and confiscating a $20,000 bond.
State regulators are waiting for information from the Environmental Protection Agency's investigation of the site before plugging and reclaiming the well.
BISMARCK, N.D. (AP) — An emergency state program helped nearly 500 drought-stricken North Dakota ranchers with the expense of hauling in hay to maintain their herds through winter.
The state Emergency Commission in late August approved $1.5 million for the Agriculture Department's Emergency Hay Transportation Assistance Program. Figures released this week show 491 successful applicants who will be reimbursed on average about one-third of their hay-hauling costs.
Agriculture Commissioner Doug Goehring says ranchers who applied moved more than 289,000 bales a combined distance of 1.3 million miles, providing winter feed for more than 126,000 livestock.
Hay is essential to getting cattle through the often-brutal North Dakota winter. An average adult cow eats about 3 tons of hay over the winter feeding season.
BISMARCK, N.D. (AP) — A former deputy U.S. marshal convicted of spying on young women in store dressing rooms in Bismarck is appealing his three-year state prison sentence.
Thirty-year-old Michael Rivera was convicted in February of misdemeanors including surreptitious intrusion and creating and attempting to create sexually expressive images. He was sentenced in June to serve three consecutive one-year sentences.
The Bismarck Tribune reports that Rivera attorney Lloyd Suhr argued before the state Supreme Court on Thursday that a total sentence of one year should be imposed because the offenses were identical in nature.
Burleigh County Assistant State's Attorney Julie Lawyer argued Rivera committed crimes on separate days in separate locations against separate victims.
Justices will rule later.
Rivera's state sentence will begin once he finishes a seven-year federal sentence for child pornography.
BISMARCK, N.D. (AP) — Gov. Doug Burgum says he will deliver his the 2018 State of the State speech in Minot next month.
The first-term Republican governor says he will "highlight the state's challenges and successes from the past year and outline his vision and agenda for the future."
The event is scheduled at 10 a.m. on Jan. 23 at Minot State University.
The Greater North Dakota Chamber is sponsoring the event, which will be streamed live on the governor's official website at www.governor.nd.gov .
In world and national news…
WASHINGTON (AP) — Republican Sen. Marco Rubio will vote for his party's $1.5 trillion tax bill. That gives a major boost to the prospects that GOP leaders will be able to push their prized measure through Congress next week. The Florida lawmaker had said he'd oppose the legislation unless his colleagues made the per child tax credit more generous for low-income families. On Friday, Republicans said the final legislation would do just that. That moved Rubio into the "yes" column..
WASHINGTON (AP) — President Donald Trump is calling for the death penalty for anyone convicted of killing a police officer. Trump, while speaking at the FBI National Academy in Virginia on Friday, pledged to support law enforcement officers and condemned those who attack them. During the presidential campaign, Trump pledged to sign an executive order as president that would demand capital punishment for cop killers. He has yet to do so.
JAKARTA, Indonesia (AP) — A strong earthquake has shaken the Indonesian capital and other cities on the country's most populous island of Java, killing an unknown number of people amid reports of collapsed buildings. Authorities issued a tsunami warning for Java's coastline after the quake struck late Friday night. People ran out of buildings in panic in many areas and Indonesian television showed heavy traffic on roads as people left coastal areas. One person has been confirmed dead amid reports of more fatalities.
NEW YORK (AP) — Many are eager for a fresh calendar page after a year packed with violence, natural disasters and political turmoil. Though 2017 was dotted with bright spots, many will remember it for a relentless stream of bad news. There were terror attacks, powerful storms, refugee crises and the wave of sexual misconduct allegations that just keep coming. One expert sums it up as a year of disruption, despair and dumpster fires.
ROME (AP) — A playwright who says Dustin Hoffman exposed himself to her and had her massage his feet when she was 16 years old says she spent years in guilty silence and took pains to not dress suggestively in professional contexts because she assumed the incident was her fault. Playwright Cori Thomas was a classmate of Hoffman's daughter in 1980 when she says she met the actor, who invited her to his New York hotel room to wait for her mother after dinner with the teenagers.