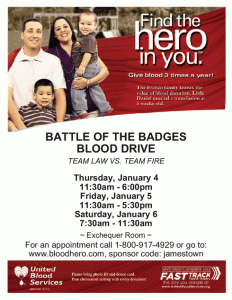 Update…
Jamestown  (CSi) "Team Fire," collected more blood donors in last week's "Battle of the Badges", blood drive with United Blood Services, "Find The Blood Hero in You."
The 3rd annual contest between Team Fire, represented by the Jamestown City Fire Department and Team Law, represented by the Jamestown Police Department encourages resident to donate blood, indicating which department they wanted to get the credit.
158 individuals donated the gift of life with Team Fire capturing the most donations over Team Law…82 to 76.
The blood drive was last Thursday through Saturday at the Jamestown Civic Center's Exchequor Room.
Previously…
Jamestown  (CSi)  The 3rd Annual Jamestown "Battle of the Badges Blood Drive" will be Thursday January 4,  from 11:30-a.m., to 6-p.m., Friday January 5th, 11:30-a.m., to 5:30-p.m., and Saturday January 6th, from 7:30-a.m., to 11:30-a.m., at the Jamestown Civic Center Exchequer Room.
Team Law vs. Team Fire. The goal is to have 250 donors give blood, to United Blood Services.
Every person that gives blood will receive a blood drive t-shirt.
The number to call for an appointment is:  1-800-917-4929.
On line go to www.bloodhero.com sponsor code jamestown.
Your local firefighters and law enforcement thank you for bringing out the hero in you to donate blood.