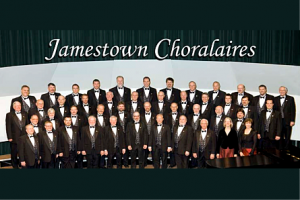 Jamestown  (CSi)  The Jamestown Choralaires Winter Concert is at the University of Jamestown Reiland Fine Arts Center Friday January  12  and  Saturday January 13 at  7:30p.m.
Tickets are $12.00 for adults and $5.00 for students.
Purchase tickets from Intelligent Design, Looysen I-care and or any Choralaires member. Tickets will be available at the door.
On a recent Wayne Byers Show on CSi Cable 2, Choralaires members Jim Dunning, a 16 year member and David Collins, a 10 year member, pointed out that the concert will be in a radio show format, with a variety of music genres.
Those include songs from the past including Elvis favorites, along with show tunes from the 50's and 60's plus spirituals, country music, and features solos.
The Choralaires directed by Pam Burkhardt of Jamestown.
The Choralaires are open to more members.
They rehearse every Wednesday evening at 8:45 at the Jamestown Middle School Music room.