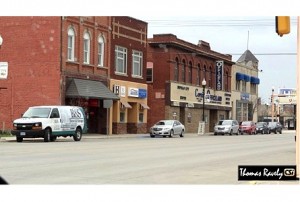 Jamestown (CSi)  Jamestown Mayor Katie Andersen says, upcoming public meetings will deal with Downtown Jamestown street improvements, for future development.
On Tuesday's Wayne Byers Show on CSi Cable 2 the mayor said, the so-called "Road Diet," outlines plans for lane changes on First Avenue, between 10th Street Southeast, to Fifth Street Northwest, and widen the lanes giving travelers more space on the street.
The proposed plan calls, for eliminating an unwanted driving lane, with three travel lanes northbound, one southbound with a center of the street turning lane.
She said parallel parking would remain on First Avenue.
A lane  widening can aid in the flow of traffic when  large trucks travel through the  downtown core.
She added that the design could include at 5th Street Northwest currently four lanes as it connects Downtown Jamestown with U.S. Highway 281 northbound from Jamestown.
Adding a bike lane on 5th Street is also possible.
Mayor Andersen said future public input meetings will be announced to be held this month.
The project is part of the Jamestown Land Use and Transportation Plan that was approved by the City in 2015.
In addition to reducing the number of lanes other topics for discussion may include traffic signal changes, adding bike lanes and landscaping the area in addition to installing benches.