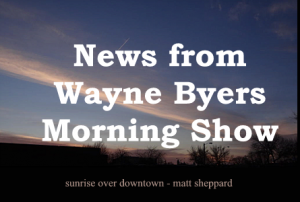 CSi Weather…
…WINTER STORM WATCH IN EFFECT FROM 3-PM WEDNESDAY AFTERNOON THROUGH 9-AM THURSDAY …
* WHAT…Blizzard conditions possible. Travel could be very
difficult to impossible. Tree branches could fall as well.
Total snow accumulations of 2 to 3 inches and ice accumulations of a light glaze are possible.
* WHERE…The James River Valley, and northeast and southeast North Dakota.
* WHEN…From Wednesday afternoon through Thursday morning.
* ADDITIONAL DETAILS…Winds gusting as high as 40 mph could
cause whiteout conditions in blowing snow. Significant drifting
of the snow is also possible. Cold wind chills as low as 30
below zero will cause frostbite in as little as 30 minutes to
exposed skin.
PRECAUTIONARY/PREPAREDNESS ACTIONS…
A Winter Storm Watch for blizzard conditions means there is a
potential for falling and/or blowing snow with strong winds and
extremely poor visibilities. This can lead to whiteout conditions
and make travel very dangerous.
Forecast…
.REST OF TODAY…Mostly cloudy. Patchy fog.  Highs in the
mid 30s. Southeast winds around 10 mph.
.TONIGHT…Mostly cloudy. Patchy fog after midnight. Lows in the
mid 20s. South winds 5 to 10 mph.
.WEDNESDAY…Cloudy. Patchy fog in the morning, then areas of
blowing and drifting snow in the afternoon. Snow possibly mixed
with freezing rain in the afternoon. Snow accumulation around
1 inch. Highs around 30. Temperatures falling into the mid teens
in the afternoon. Northwest winds 10 to 15 mph increasing to
north 20 to 25 mph in the afternoon. Chance of precipitation
70 percent.
.WEDNESDAY NIGHT…Cloudy. Snow in the evening, then chance of
snow after midnight. Blowing and drifting snow in the evening,
then areas of blowing and drifting snow after midnight. Windy.
Much colder. Light snow accumulations. Lows around 5 below. North
winds 25 to 30 mph.  Chance of snow 80 percent.
.THURSDAY…Partly sunny. Areas of blowing and drifting snow in
the morning. Much colder. Highs near zero. Northwest winds 20 to
25 mph decreasing to 10 to 15 mph in the afternoon.
.THURSDAY NIGHT…Increasing clouds. Lows around 20 below.
.FRIDAY…Cloudy. Snow likely in the morning, then chance of snow
in the afternoon. Highs around 5 below. Chance of snow
60 percent.
.FRIDAY NIGHT…Partly cloudy. Lows around 20 below.
.SATURDAY…Sunny. Highs around 5 below.
.SATURDAY NIGHT THROUGH MARTIN LUTHER KING JR DAY…Partly
cloudy. Lows around 15 below. Highs near zero.
Light snow and gusty northwest winds will overspread western and central North Dakota late Tuesday night through Wednesday, as a renewed surge of arctic air sweeps through. Snowfall accumulations of 1 to 4 inches are expected at this time, mainly south of Highway 2, with locally higher amounts possible,  and some freezing rain or sleet could also mix in at the start of precipitation.
Gusty northwest winds 20 to 30 mph, coinciding with the falling snow, may result in areas of blowing and drifting snow reducing visibility. Falling temperatures during the day Wednesday will lead to dangerous wind chills to 35 below zero Wednesday night into Thursday morning, continuing through next Monday.
A clipper system is forecast to produce accumulating snow and another surge of arctic air Friday.
Travelers and those participating in outdoor activities will need to prepare for the  hazardous weather.
Update…
Jamestown  (CSi) "Team Fire," collected more blood donors in last week's "Battle of the Badges", blood drive with United Blood Services, The Blood Hero in You.
The 3rd annual contest between Team Fire, represented by the Jamestown City Fire Department and Team Law, represented by the Jamestown Police Department encourages resident to donate blood, indicating which department they wanted to get the credit.
158 individuals donated the gift of life with Team Fire capturing the most donations over Team Law…82 to 76.
The blood drive was last Thursday through Saturday at the Jamestown Civic Center's, Exchequor Room.
Jamestown  (CSi)  The Jamestown City Planning Commission has approved a zone change that will allow the use of a vacant nursing home for crew housing at a former nursing home location on First Avenue North.
The former Bethel 4-Acres location on First Avenue North has been purchased by Browning Honey for housing seasonal workers employed in Jamestown.
Use of the building as crew housing required a zoning change to low-density residential zoning.
The board unanimously approved the zone change to R-2 zoning, so the building can be used as crew housing and  allows the property to be developed, in the future, for to two six-plex apartment buildings.
FARGO, N.D. (AP) — The commodity group that represents sunflower farmers around the country is holding its annual research forum this week in North Dakota.
The two-day event hosted by the National Sunflower Association is Wednesday and Thursday at the Delta by Marriot hotel in Fargo.
Researchers from the federal Agriculture Department and universities in North Dakota, South Dakota, Nebraska, Kansas and Iowa will present findings on sunflower studies dealing with diseases, insects, irrigation and blackbirds.
The forum has been held for nearly four decades.
PORTAL, N.D. (AP) — U.S. Customs and Border Protection officials have seized more than 1,200 stainless steel sinks headed from Canada to North Dakota because of an alleged trademark infringement.
The Daily News reports that the agency's Office of Field Operations discovered the sinks in a rail shipment at the port of entry in Portal, in northwestern North Dakota.
Authorities say the counterfeit sinks could be worth more than $944,000, based on the manufacturer's suggested retail price. It's not clear where the shipment originated.
Portal Port Director Brent Beeter says the importation of counterfeit merchandise hurts the American economy and threatens the safety of U.S. residents.
In Sports…
Madison  SD  (UJ.edu) Jimmies'  Kevin Oberweiser (JR/Drummond, Mont.) has been named the North Star Athletic Association's men's basketball Player of the Week, the conference office announced Monday.
Oberweiser had a career-high 29 points on 11 of 17 shooting as the Jimmies came back from a 15-point deficit in an 88-85 win at Bellevue (Neb.) Saturday. He also connected on a career-best 7 of 10 three-point attempts, which ties him for third on the UJ list for made threes in a game. Oberweiser currently ranks 5th in the NAIA in total 3-pt FG made (60) and is 11th in 3-pt FG pct. (.513).
Jamestown, now 13-5 overall this season and 3-3 in NSAA conference play, will host Presentation (S.D.) College on Saturday.
FARGO, N.D. (AP) — National champion North Dakota State tops both of the final Football Championship Subdivision polls of the season.
The Bison defeated James Madison 17-13 on Saturday to win their sixth FCS title in seven years.
James Madison is second in both the final STATS media poll and the final coaches poll.
The rest of the top five in the media poll is South Dakota State, Sam Houston State and Weber State. In the coaches poll, it's Sam Houston State third, followed by SDSU and Weber State.
Boy's Basketball…
Oakes 75, Napoleon 69
Rolla 52, Rolette-Wolford 51
St. John 59, Mohall-Lansford-Sherwood 51
GIRLS BASKETBALL
Carrington 73, Barnes County North 28
Des Lacs-Burlington 43, Lewis and Clark-Berthold 40
Divide County 53, Kenmare 30
Drayton/Valley-Edinburg 58, Griggs County Central 28
Enderlin 53, Wyndmere-Lidgerwood 32
Fargo Oak Grove Lutheran 52, Norman County East/Ulen-Hitterdal, Minn. 50
Fargo Shanley 75, Fargo North 45
Glen Ullin-Hebron 68, Beach 62
Grafton/St. Thomas 54, May Port CG 47
Hillsboro/Central Valley 43, Park River/Fordville Lankin 39
Kindred 74, Richland 41
Medina-Pingree-Buchanan 44, Edgeley-Kulm-Montpelier 43
Midway-Minto 66, Hatton-Northwood 55
Minot Bishop Ryan 53, Glenburn 37
New Town 63, Watford City 61, OT
Parshall 72, Garrison 63
Rugby 78, Drake/Anamoose 20
Stanley 72, Ray 47
Thompson 60, Larimore 29
Velva/Sawyer 51, Towner-Granville-Upham 36
Class B Bball Polls
BISMARCK (AP) For the second week in a row, the Bismarck Shiloh Christian girls and Minot Bishop Ryan boys basketball teams occupy the top spots in the Class B Basketball polls; as voted on by members of the North Dakota Associated Press Sportscasters and Sportswriters Association.
First place votes are in parenthesis, followed by the team's record, and the number of total points received.
Girls
1. Bismarck Shiloh Christian (12) 11-0 174
2. Edgeley-Kulm-Montpelier (5) 10-0 166
3. Langdon-Edmore-Munich (1) 9-1 144
4. LaMoure-Litchville-Marion 10-1 111
5. Medina-Pingree-Buchanan 7-2 106
6. Thompson 8-2 81
7. Carrington 8-3 55
8. Trenton 8-0 51
9. Rugby 9-2 43
10. Des Lacs-Burlington 9-1 37
Others receiving votes: Grafton (8-3), Four Winds-Minnewaukan (8-3), Kidder County (7 3), Grant County (8-2), Killdeer (6-2).
Boys
1. Minot Bishop Ryan (8) 6-0 168
2. Stanley (7) 7-0 154
3. Hillsboro-Central Valley (3) 6-0 142
4. St. John 8-0 126
5. Grafton 8-0 105
6. Oak Grove 6-1 79
7. Thompson 6-2 71
8. Bismarck Shiloh Christian 5-2 39
9. Maple Valley 6-0 35
T-10: New Town 7-0 22
T-10: Richland 7-0 22
Others receiving votes: Minot Our Redeemer's (6-1), Bottineau (7-1),
Carrington (6-2), Four Winds-Minnewaukan (5-3).
Barnes County Boy's Basketball.  All games at the W.E. Osmon Fieldhouse
Tournament Pairings
Tuesday, Jan. 9, 2018
3:00 p.m. Game 1: (1) Maple Valley vs. (8) Sargent Central
4:30 p.m. Game 2: (4) Enderlin vs. (5) Barnes County North
6:00 p.m. Game 3: (2) LaMoure/Litchville-Marion vs. (7) Finley-Sharon/Hope-Page
7:30 p.m. Game 4: (3) Milnor/North Sargent vs. (6) Griggs County Central
Friday, Jan. 12, 2018
3:00 p.m. Game 5: Consolation Semifinal: Loser of GM 1 vs Loser of GM 2
4:30 p.m. Game 6: Consolation Semifinal: Loser of GM 3 vs Loser of GM 4
6:00 p.m. Game 7: Championship Semifinal: Winner of GM 1 vs Winner of GM 2
7:30 p.m. Game 8: Championship Semifinal: Winner of GM 3 vs Winner of GM 4
Saturday, Jan. 13, 2018
Noon: 7th Place: Loser of GM 5 vs Loser of GM 6
1:30 p.m.: 5th Place: Winner of GM 6 vs Winner of GM 7
3:00 p.m.: 3rd Place: Loser of GM 7 vs Loser of GM 8
4:30 p.m.: Championship: Winner of GM 7 vs Winner of GM 8
NATIONAL BASKETBALL ASSOCIATION
MINNEAPOLIS (AP) — Andrew Wiggins had 25 points in three quarters, Jimmy Butler pitched in 21 points and tight defense on LeBron James, and the Minnesota Timberwolves cruised to a 127-99 victory over Cleveland. That stopped a 12-game home losing streak by the Wolves to the Cavaliers. Karl-Anthony Towns and Taj Gibson were tenacious around the basket, and the Wolves outrebounded the Cavaliers 56-37. They led by as many as 41 points in the third quarter.
Final Indiana 109 Milwaukee 96
Final OT Toronto 114 Brooklyn 113
Final Houston 116 Chicago 107
Final New Orleans 112 Detroit 109
Final San Antonio 107 Sacramento 100
Final L.A. Clippers 108 Atlanta 107
Final Golden State 124 Denver 114
NATIONAL HOCKEY LEAGUE
Final OT Columbus 3 Toronto 2
College football National Championship game…
ATLANTA (AP) — A 13-point halftime lead wasn't enough against Alabama. Neither was a 20-7 advantage in the third quarter, or a field goal on the first possession of overtime.
The Crimson Tide earned their fifth national championship since 2009 by outlasting SEC-rival Georgia 26-23 in OT. Tua Tagovailoa threw a 42-yard touchdown pass to DeVonta Smith on the Crimson Tide's second play of overtime to complete the comeback victory over the Bulldogs in Atlanta. The freshman quarterback was sacked for a 16-yard loss on the previous play before sending Alabama to its 11th national championship.
Georgia had the ball first in overtime, and Rodrigo Blankenship kicked a 51-yard field goal. The long kick came after Andy Pappanastos missed from 37 yards out in the final seconds of regulation.
Tagovailoa entered the game at the start of the third quarter with the Tide trailing 13-0. He led Alabama to two touchdowns and two field goals in regulation, including a game-tying, seven-yard scoring strike to Calvin Ridley on fourth-and-4 with 3:49 left in the fourth quarter.
Tagaovailoa was 14 of 24 for 166 yards after replacing Hurts, who completed just three of eight passes for 21 yards.
Jake Fromm was 16 of 32 for 232 yards, a touchdown and two interceptions. He heaved an 80-yard scoring pass to Mecole Hardman to put Georgia ahead 20-7 with 6:52 left in the third period before Alabama came storming back.
Hardman also had a one-yard TD run for the Bulldogs, who end up 13-2. Georgia is still seeking its first national title since 1980.
It's the sixth national title for Alabama coach Nick Saban, tying him with former Crimson Tide coach Bear Bryant for the most all time.
College Football Poll…
ATLANTA (AP) — Alabama was voted No. 1 in the final Associated Press college football poll after the Crimson Tide beat Georgia in the national championship game on Monday night. Unbeaten Central Florida finished sixth.
The Crimson Tide received 57 of 61 first-place votes from the media panel after its 26-23 overtime win. UCF received the other four.
Georgia finished second and Oklahoma was third, followed by Clemson and Ohio State.
The AP national championship is the 11th for the Crimson Tide, three more than any other school, and fifth under coach Nick Saban since 2009. Alabama becomes the first preseason No. 1 to finish No. 1 since Southern California in 2004 and for the fourth time two teams from the same conference finished Nos. 1 and 2.
Vikings Preview…
EDEN PRAIRIE, Minn. (AP) — For fans of the Minnesota Vikings, there's a score to be settled with the New Orleans Saints. Eight years ago, the last Minnesota team considered a strong Super Bowl contender was on the verge of victory in New Orleans in the NFC championship game. That was until the 12-men-in-the-huddle penalty and the ill-fated throw by Vikings quarterback Brett Favre that was intercepted to put the Saints in position to win in overtime.
METAIRIE, La. (AP) — For Saints coach Sean Payton and his players, the notion that their return to Minnesota in the playoffs fits the definition of a rematch is a bit of a stretch. An entire regular season has passed since their Week 1 loss to the Vikings. New Orleans has lost a number of players to injuries. Other players have developed into more significant roles as the Saints ascended to the top of the NFC South and past the wild-card round of the playoffs.
NFL-BEARS-NAGY
LAKE FOREST, Ill. (AP) — The Chicago Bears have selected a head coach after going 14-34 in three seasons under John Fox.
The Bears have hired Matt Nagy, who spent last season as the Chiefs' offensive coordinator and has been working under head coach Andy Reid for the past 10 years at Philadelphia and Kansas City. Nagy has received praise for his mentoring of Chiefs quarterback Alex Smith and will have the task of developing Mitchell Trubisky in Chicago.
Fox had a .292 winning percentage that ranks second-lowest in Bears history.
Twins…
MINNEAPOLIS (AP) — Left-hander Zach Duke is guaranteed $2.15 million as part of his one-year contract with the Minnesota Twins and can earn an additional $1.5 million based on pitching appearances. Duke can earn $200,000 each for 40 and 50 games as a pitcher under the deal. He could earn $300,000 apiece for 55 and 60, and $500,000 for 65. The 34-year-old was 1-1 with a 3.93 ERA in 27 relief appearances last year for St. Louis.
COLLEGE HALL OF FAME
ATLANTA (AP) — Coaches Frank Beamer and Mack Brown have been selected for the College Football Hall of Fame, part of a class of 13 that also includes former players Ed Reed and Calvin Johnson.
The Hall announced the selection of Michigan's Charles Woodson on Sunday.
Other inductees will be Trevor Cobb of Rice, Penn State's Kerry Collins, Montana's Dave Dickerson, Dana Howard of Illinois and Temple's Paul Palmer, along with Georgia's Matt Stinchcomb, Nebraska's Aaron Taylor and coach Matt Tjeerdsma
COLLEGE BASKETBALL-POLLS
UNDATED (AP) — The Associated Press men's basketball poll has a new look after four of the top-5 teams lost last week. The upsets benefited Villanova, which is back atop the poll after falling from first to third last week.
The Wildcats picked up 52 of 65 first-place votes to take the No. 1 position for the fourth week this season.
West Virginia vaulted from fifth to second, its highest ranking since December 1959 in Jerry West's senior season.
Virginia moved up five slots to third and is followed by previous No. 1 Michigan State. Purdue and Wichita State are tied for fifth.
Duke, Texas Tech, Oklahoma and Xavier round out the top 10.
Meanwhile, Connecticut remains the unanimous No. 1 team in the AP women's poll. Notre Dame, Louisville, Mississippi State and Baylor fill out the top five.
In world and national news…
SEOUL, South Korea (AP) — South Korean media say North Korea has restored a military hotline with the South, in the second reopening of a suspended inter-Korean communication channel in about a week. All major communication channels had been shut down amid animosities over the North's nuclear program in recent years. The two Koreas were holding rare talks at the border village of Panmunjom on Tuesday to discuss how to cooperate in next month's Olympics in South Korea and improve their long-strained ties.
SANTA TECLA, El Salvador (AP) — El Salvadoran citizen Hugo Castro says his country must begin preparing to receive the nearly 200,000 Salvadorans who may be forced to leave the U.S. following the Trump administration's decision to lift their temporary protected status next year. Castro is 51 years old and was deported from the U.S. in 2015 after a run-in with police. He had come to the United States as a teenager to study at a college in Atlanta.
WASHINGTON (AP) — It seems inevitable that President Donald Trump will have to speak directly with investigators about whether his campaign coordinated with the Russians to sway voters. The prospect of an interview with the president has come up in recent discussions between investigators and Trump's lawyers. But according to a person familiar with the matter who spoke to The Associated Press on condition of anonymity, details are still being worked out, including the scope of questions the president would face.
TEHRAN, Iran (AP) — An Iranian reformist lawmaker is saying that some 3,700 people were arrested in the days of protests and unrest that roiled Iran. The official news website of the Iranian parliament, icana.ir, quoted Mahmoud Sadeghi on Tuesday as saying that different security and intelligence forces detained the protesters, making it difficult to know the exact number of detainees.