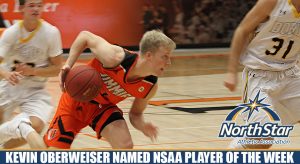 (UJ.edu) The Jimmies'  Kevin Oberweiser (JR/Drummond, Mont.) has been named the NSAA's men's basketball Player of the Week, the conference office announced Monday.
Oberweiser had a career-high 29 points on 11 of 17 shooting as the Jimmies came back from a 15-point deficit in an 88-85 win at Bellevue (Neb.) Saturday. He also connected on a career-best 7 of 10 three-point attempts, which ties him for third on the UJ list for made threes in a game. Oberweiser currently ranks 5th in the NAIA in total 3-pt FG made (60) and is 11th in 3-pt FG pct. (.513).
Jamestown, now 13-5 overall this season and 3-3 in NSAA conference play, will host Presentation (S.D.) College on Saturday.