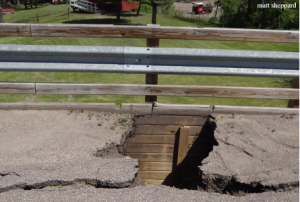 Jamestown  (CSi)  Rebuilding the collapsed section at the Frontier Village road, above the amphitheater, will go out for bids, as unanimous approved by the Frontier Village Association.
FVA member Jay Diemert not present at the meeting.
The approval followed a presentation from Interstate Engineering's Travis Dillman,
He says 60 percent of the project costs come from a Special Road Fund of the North Dakota Department of Transportation, with the Jamestown City of Jamestown having approved the contract to start the design and soil investigation before work starts.
A solid, level base will be the foundation, with a large block modular wall to be constructed on top of it.
Dillman pointed out that  if contractors feel construction would not be completed by Memorial Day, this year,  the repairs would be delayed until after Labor Day.
During construction,  the section of the roadway above the amphitheater and across from the General Store building would be narroweded to keep one  lane of traffic open in front of the Village's General Store,  allowing access to the Buffalo Museum.