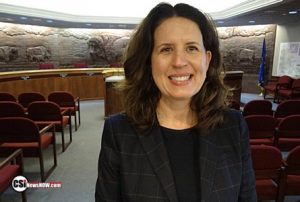 Update…
Jamestown  (CSi)  The Jamestown City Council met in Special Session on Tuesday, January 9th,  at the City Hall lower level conference room to interview a candidate for City Administrator.
Sarah Helleckson, solid waste coordinator for the city of Plymouth, Minnesota, who previously withdrew her candidacy, and was re-contacted by the search committee, to come in for an interview.
Other finalists included:
Chris Schilken, loan manager and lender at Prairie Federal Credit Union in Minot, and Aaron Mitchell, finance director for the City of West Fargo were previously interviewed.
The committee initially selected Shilken, however the offer was withdrawn, and further discussions terminated, voted on unanimously by the City Council which met in Executive Session on December 11, 2017, after the committee met with Schilkin on a possible contract, and salary negotiations.
The Council Members decided to look at further options.
City Administrator Jeff Fuchs tells CSiNewsNow.com that the search committee that met with Helleckson on Tuesday consists of the full City Council with all members present.
He says the committee will negotiate with Helleckson concerning pay and if the position offered will be a salaried position, or a civil service position.
City Administrator Fuchs informed the city last year that he was retiring on December 31, 2017.
However, as the search continued, the City Council offered Fuchs the opportunity to stay on past that date and until his successor was chosen on a part-time basis using a combination of his unused vacation pay and other pay arrangements, which he accepted.
Fuchs will work with his selected successor through the transition process.
Fuchs says that it's hoped  the person selected will be hired and "in-house," soon, and that he can fully retire by March 31st this year.