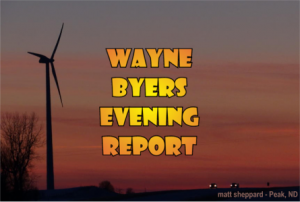 CSi Weather…
…WINTER STORM WATCH IN EFFECT FROM 3-PM WEDNESDAY AFTERNOON THROUGH 9-AM THURSDAY …
* WHAT…Blizzard conditions possible. Travel could be very
difficult to impossible. Tree branches could fall as well.
Total snow accumulations of 2 to 3 inches and ice accumulations of a light glaze are possible.
* WHERE…The James River Valley, and northeast and southeast North Dakota.
* WHEN…From Wednesday afternoon through Thursday morning.
* ADDITIONAL DETAILS…Winds gusting as high as 40 mph could
cause whiteout conditions in blowing snow. Significant drifting
of the snow is also possible. Cold wind chills as low as 30
below zero will cause frostbite in as little as 30 minutes to
exposed skin.
PRECAUTIONARY/PREPAREDNESS ACTIONS…
A Winter Storm Watch for blizzard conditions means there is a
potential for falling and/or blowing snow with strong winds and
extremely poor visibilities. This can lead to whiteout conditions
and make travel very dangerous.
Forecast…
.TONIGHT…Mostly cloudy. Patchy fog. Lows in the mid 20s. South
winds 5 to 10 mph.
.WEDNESDAY…Cloudy. Patchy fog in the morning, Light snow, possibly mixed with freezing rain in the afternoon.then areas of
blowing and drifting snow in the afternoon. Snow accumulation around 1 inch.  Chance of snow near 100 percent. Highs in the upper
20s. Temperatures falling into the lower teens in the afternoon.
Northwest winds around 10 mph increasing to north 15 to 25 mph in
the afternoon.
.WEDNESDAY NIGHT…Cloudy. Snow in the evening, then chance of
snow after midnight. Blowing and drifting snow in the evening,
then areas of blowing and drifting snow after midnight. Much
colder. Snow accumulation around 2-3 inches. Storm total around
2-4 inches. Lows around 5 below. North winds around 25 mph with
gusts to around 40 mph. Lowest wind chills around 25 below after
midnight.
.THURSDAY…Mostly sunny. Areas of blowing and drifting snow
through the day. Much colder. Highs near zero. Northwest winds
15 to 25 mph.
.THURSDAY NIGHT…Increasing clouds. Lows around 15 below.
Northwest winds 5 to 10 mph shifting to the east after midnight.
.FRIDAY…Cloudy. Snow likely in the morning, then chance of snow
in the afternoon. Highs around 5 below. Chance of snow
60 percent.
.FRIDAY NIGHT…Partly cloudy. Lows around 20 below.
.SATURDAY…Sunny. Highs around 5 below.
.SATURDAY NIGHT…Increasing clouds. Lows around 15 below.
.SUNDAY…Partly sunny. A 30 percent chance of snow in the
morning. Highs zero to 5 above.
.SUNDAY NIGHT THROUGH MONDAY NIGHT…Partly cloudy. Lows around
15 below. Highs 5 below to 5 above zero.
.TUESDAY…Mostly sunny. Highs 5 to 10 above.
Light snow and gusty northwest winds will overspread western and central North Dakota late Tuesday night through Wednesday, as a renewed surge of arctic air sweeps through. Snowfall accumulations of 1 to 4 inches are expected at this time, mainly south of Highway 2, with locally higher amounts possible,  and some freezing rain or sleet could also mix in at the start of precipitation.
Gusty northwest winds 20 to 30 mph, coinciding with the falling snow, may result in areas of blowing and drifting snow reducing visibility. Falling temperatures during the day Wednesday will lead to dangerous wind chills to 35 below zero Wednesday night into Thursday morning, continuing through next Monday.
A clipper system is forecast to produce accumulating snow and another surge of arctic air Friday.
Travelers and those participating in outdoor activities will need to prepare for the  hazardous weather.
Jamestown  (CSi)  The Jamestown City Council met in Special Session on Tuesday, January 9th,  at the City Hall lower level conference room to interview a candidate for City Administrator.
Sarah Helleckson, solid waste coordinator for the city of Plymouth, Minnesota, who previously withdrew her candidacy, and was re-contacted by the search committee, to come in for an interview.
Other finalists included:
Chris Schilken, loan manager and lender at Prairie Federal Credit Union in Minot, and Aaron Mitchell, finance director for the City of West Fargo were previously interviewed.
The committee initially selected Shilken, but the offer was withdrawn, and further discussions terminated, voted on unanimously by the City Council which met in Executive Session on December 11, 2017, after the committee met with Schilkin on a possible contract, and salary negotiations.
The Council Members decided to look at further options.
City Administrator Jeff Fuchs informed the city last year that he was retiring on December 31, 2017.
As the search continues, the City Council offered Fuchs the opportunity to stay on past that date and until his successor was chosen on a part-time basis using a combination of his unused vacation pay and other pay arrangements, which he accepted.
Fuchs will work with his selected successor through the transition process.
Fuchs says that it's hoped the person selected will be hired and "in-house," soon, and that he can fully retire by March 31st this year.
Jamestown  (CSi)  The Jamestown Choralaires Winter Concert is at the University of Jamestown Reiland Fine Arts Center Friday January  12  and  Saturday January 13 at  7:30p.m.
Tickets are $12.00 for adults and $5.00 for students.
Purchase tickets from Intelligent Design, Looysen I-care and or any Choralaires member. Tickets will be available at the door.
On a recent Wayne Byers Show on CSi Cable 2, Choralaires members Jim Dunning, a 16 year member and David Collins, a 10 year member, pointed out that the concert will be in a radio show format, with a variety of music genres.
Those include songs from the past including Elvis favorites, along with show tunes from the 50's and 60's plus spirituals, country music, and features solos.
The Choralaires directed by Pam Burkhardt of Jamestown.
The Choralaires are open to more members.
They rehearse every Wednesday evening at 8:45 at the Jamestown Middle School Music room.
Jamestown  (CSi)  Jamestown Parks and Recreation Department has set Cabin Fever events and activities, February 2- 11.
Any business or organization interested in participating has until January 17th to Email information to john@jamestownparksandrec.com in order to be placed on the poster at their website.
On the schedule so far are:  A Pinochle tournament is set for  February 10th, at 10 a.m. at Hillcrest Pro Shop.
Two-person teams must sign up at the Parks and Rec. office at 1002 2nd Avenue, Southeast. A Limited number of tables will be available.
Cost is $12 per person. Lunch and a beverage are included.
The Cabin Fever Days coed softball tournament is February 3rd, at McElroy Softball Complex, weather permitting.
The cost is $75 per team. Teams are asked to register at the Parks and Rec. office by January, 30th.
A 16-inch softball will be used.
Call John at 252-3982 with any questions.
Jamestown  (CSi)  The public is invited to "An Evening of Friends, Food and Fun" featuring musical entertainment, comedy skits by The Not Even Remotely Ready for Primetime Players, and a live auction on Monday, Jan. 15, at the Knights of Columbus Hall in Jamestown.
KFGO News & Views Producer Cally Musland will emcee the political fundraiser that starts with a social hour at 5 p.m., followed by a chicken and steak dinner at 6 p.m.
Musland is a graduate of Jamestown High School. Since March of 2015, she has produced the most listened to talk radio program in the Upper Midwest – "News & Views with Joel Heitkamp." The three-hour show is heard throughout North Dakota, parts of Minnesota, South Dakota and Montana. Musland also serves as an on-air personality and fill-in host.
The Not Even Remotely Ready for Primetime Players troupe is comprised of area actors, who will be performing humorous political skits they've written.
Tickets are $30 (suggested price) and can be purchased at the door or by calling 701-489-3556.
Jamestown  (CSi)  Rebuilding the collapsed section at the Frontier Village road, above the amphitheater, will go out for bids, as unanimous approved by the Frontier Village Association.
FVA member Jay Diemert not present at the meeting.
The approval followed a presentation from Interstate Engineering's Travis Dillman,
He says 60 percent of the project costs come from a Special Road Fund of the North Dakota Department of Transportation, with the  City of Jamestown having approved the contract to start the design, and soil investigation before work starts.
A a solid, level base will be the foundation, with a large block modular wall to be construction on top of it.
Dillman pointed out that  if contractors feel construction would not be completed by Memorial Day, this year,  the repairs would be delayed until after Labor Day.
During construction,  section of the roadside above the amphitheater and across from the General Store building would be closed to traffic, however, Frontier Village remains accessible, with the plan to keep one  lane of traffic open in front of the Village's, General Store allowing access to the Buffalo Museum.
Bismarck  (CSi)  North Dakota Attorney General Wayne Stenehjem reports, that in 2017, one in four consumer complaints concerned an illegal robocall.
He says, "Based on comments I hear daily from North Dakotans, and my own experience, it's easy to see why these robocalls are the top complaint. The calls are annoying and most often are nothing but scams that have cost consumers money. Plus, they are illegal in North Dakota.  I have no doubt that the number of complaints filed represents only a small fraction of citizens who find robocalls out of control. The Federal Trade Commission reported receiving 375,000 complaints a month in 2017."
The consumer protection division received 1,125 consumer complaints in 2017. The top five complaint categories:
Do Not Call/Robocall: 279
Imposter Scams (grandparent, romance, IRS scam, sweepstakes, etc.): 119
Contractor/Home Improvement: 88
Debt Adjustment/Settlement, Credit Counseling: 75
Identity Theft: 53
The remaining consumer complaints covered more than two dozen categories from advertising to warranties.
Last year, Stenehjem joined a bipartisan group of Attorneys General to urge the FCC to adopt new rules to help address the robocall and spoofing problem. Spoofing occurs when a caller falsifies the information transmitted to a caller ID display in order to hide their identity. The FCC responded with rules that allow telephone providers to block calls that come from invalid numbers and numbers that have not been assigned to anyone.
Stenehjen adds, "This change, together with consumers demanding their carriers use new technology to do a better job of blocking intrusive robocalls, should help alleviate the nuisance in the long term."  He urged North Dakotans to press their telephone service providers to offer robocall-blocking technology.
Parrell Grossman, director of the consumer protection division, says consumers should heed the advice of the FCC:
You may not be able to tell right away if an incoming call is spoofed. Be careful about responding to any request for personal identifying information.
Never give out personal information, such as account numbers, passwords, mother's maiden name, in response to unexpected calls.
If you get an inquiry from someone saying they represent a company or government agency seeking information, hang up and call the phone number found on your account statement or on the agency's website.
WATFORD CITY, N.D. (AP) — An employee at a Watford City accounting firm accused of participating in an oil patch fraud scheme is facing a felony charge.
The Bismarck Tribune reports that 38-year-old Hannah Lloyd is charged in state court with theft of property. Authorities say she funneled more than $57,300 from the Watford City Park District by using a fake employee's name, two bank accounts and a limited liability company.
Another employee at the firm, Rene Johnson, is charged in federal court with mail fraud, wire fraud and making false statements. Johnson allegedly offered doubled returns for investors on a high-risk loan for Kingdom Dynamics Enterprise, a company that dealt with a man convicted of ordering the killings of two business associates.
Court documents do not list an attorney for Lloyd.
BISMARCK, N.D. (AP) — A private security firm hired by the developer of the Dakota Access pipeline will on go trial in the fall for allegedly operating in North Dakota without a license.
North Dakota's Private Investigative and Security Board sued North Carolina-based TigerSwan last June. Court documents show a five-day trial has been scheduled beginning Oct. 8.
TigerSwan was lambasted by pipeline opponents for aggressive tactics during months of protests. The company has said its efforts were aimed at creating a safe working environment and that it's the victim of a smear campaign.
The state board is seeking administrative fines that could total thousands of dollars from the company and President James Reese for operating without a license, a misdemeanor carrying a potential sentence of 30 days in jail and a $1,500 fine.
MANDAN, N.D. (AP) — Bond has been set at $50,000 for a man accused of trying to stab a Mandan police officer with a syringe during an arrest struggle.
Kelly McLeod made an appearance in Morton County court Tuesday. Court records say an officer approached McLeod at a gas station and tried to arrest him on a probation warrant. He took off running but was tackled by a detective.
KXMB reports authorities say McLeod tried stabbing the officer with a syringe filling with brown liquid, which he said was deadly.
Officials say officers backed off, McLeod fled and broke into an apartment building where he was arrested. Police say they recovered a gun and a bag of heroin nearby. It's not clear if McLeod has hired an attorney to speak on his behalf.
BISMARCK, N.D. (AP) — Gov. Doug Burgum has signed an executive order establishing a new office aimed at addiction recovery and treatment initiatives.
Burgum signed the order Tuesday.
Burgum's wife, Kathryn Helgaas Burgum, will chair an advisory council of up to seven members appointed by the governor that will guide the efforts. The council will include individuals in recovery, and community and tribal leaders.
Helgaas Burgum adopted addiction recovery as her platform as North Dakota's first lady. Helgaas Burgum says she is a recovering alcoholic and wanted to use her experience to help others.
Burgum spokesman Mike Nowatzki says the office will not use state money. He says it will be funded through philanthropic grants, including from Burgum, who has refused a state salary.
SIOUX FALLS, S.D. (AP) — Three Native American tribes in the Dakotas are suing opioid manufacturers and distributors, alleging they concealed and minimized the addiction risk of prescription drugs.
The Rosebud Sioux Tribe, Flandreau Santee Sioux Tribe and the Sisseton Wahpeton Oyate sued 24 opioid industry groups in federal court on Monday. Defendants include drug manufacturers Purdue Pharma, Teva Pharmaceutical Industries and Allergan, and distributors McKesson Corp., Cardinal Health Inc. and AmerisourceBergen Corp.
The lawsuit follows more than 70 similar cases filed across the country. Allegations include deceptive marketing, fraud and violations of the Racketeer Influenced and Corrupt Organization Act.
It is one of the first to tie claims to drugs' the impact on Native Americans. The Cherokee Nation launched a similar suit in April.
The complaint seeks monetary damages and an "abatement fund" to pay for treatment programs.
The companies hadn't responded to the suit as of Monday.
BISMARCK, N.D. (AP) — A $3.9 million flood protection project in Bismarck will move forward, despite opposition from some property owners whose homes will be located outside of the soon-to-be-constructed levee.
The Bismarck Tribune reports that the Burleigh County Water Resource District's project will damage driveways, sprinkler systems and mailboxes on 22 properties not protected by the levee on Fox Island.
Chairman Greg Larson told residents on Monday the project is too far along to make changes.
The project was approved last fall to guard against a 20-foot flood.
The Legislature committed $2.8 million toward the project's completion, while the Burleigh County Commission will provide $920,000 in yearly installments. Fox Island residents with property located inside the levee will pay the balance.
Larson says the project is scheduled for completion later this year.
FARGO, N.D. (AP) — A large water main break in Fargo has created quite a mess for Tuesday morning's commute.
The break flooded the University Drive underpass with up to 3 feet of water making it temporarily impassable. KFGO reports the water main break was reported about 1 a.m.
Public Works Supervisor Lee Anderson says crews were able to shut down the water break about 4 a.m. when the water began receding. Public works employees are dealing with the icy mess left behind.
In world and national news…
DUBAI, United Arab Emirates (AP) — A lawmaker says Iranian security forces arrested some 3,700 people during widespread protests and unrest over the past two weeks, offering a far higher number than authorities previously released. The demonstrations, which began Dec. 28 over economic grievances, quickly spread across the country to become the largest seen in Iran since the disputed 2009 presidential election.
SEOUL, South Korea (AP) — The rival Koreas have taken steps toward reducing their animosity during rare talks, as North Korea agreed to send a delegation to next month's Winter Olympics in South Korea, hold talks on lowering tension along their border and reopen a military hotline. The meeting, the first of its kind in about two years, was arranged after North Korean leader Kim Jong Un made an abrupt push for improved ties with South Korea following a year of elevated tensions over his missile and nuclear programs.
PHOENIX (AP) — Former Arizona sheriff Joe Arpaio has announced he plans to run for the U.S. Senate seat now held by Jeff Flake. The 85-year-old Arpaio is a close ally of President Donald Trump and tweeted Tuesday he seeking the post "to support the agenda and policies of President Donald Trump." The Republican Arpaio was spared a possible jail sentence last year when Trump pardoned his conviction for disobeying a judge's order in an immigration case. Arpaio flirted with running for Arizona governor five times.
GENEVA (AP) — A Swiss police official says authorities in Zermatt near the famed Matterhorn peak have begun an "air bridge" by helicopter to bring down tourists who have been stranded by the thousands after roads and rail service were suspended because of an elevated avalanche risk. The Zermatt police department official said the air bridge would be provided to tourists requesting an exit by the 3-minute helicopter flight from the town at the foot of the Alpine peak down to the nearby village of Taesch.
SANTA TECLA, El Salvador (AP) — El Salvadoran citizen Hugo Castro says his country must begin preparing to receive the nearly 200,000 Salvadorans who may be forced to leave the U.S. following the Trump administration's decision to lift their temporary protected status next year. Castro is 51 years old and was deported from the U.S. in 2015 after a run-in with police. He had come to the United States as a teenager to study at a college in Atlanta.