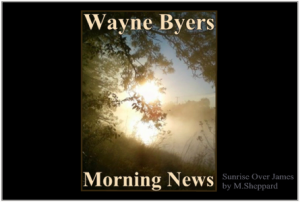 CSi Weather…
…WINTER WEATHER ADVISORY IN EFFECT TO 9 AM CST THURSDAY…IN THE JAMESTOWN AREA…
…WINTER STORM WARNING IN EFFECT  TO NOON CST THURSDAY…INCLUDES THE VALLEY CITY AREA…
.REST OF TODAY…Areas of blowing and drifting snow in the afternoon. Snow in the afternoon. Snow  accumulation around 1 inch. Highs in the upper 20s. Temperatures falling into the mid teens in the afternoon. Northwest winds
10 to 15 mph shifting to the north 15 to 25 mph in the afternoon.
.TONIGHT…Snow in the evening, then snow likely after midnight.
Areas of blowing and drifting snow through the night. Much
colder. Snow may be heavy at times in the evening. Snow
accumulation around 4 inches in the Jamestown area, 3-5 inches in the Valley City area. Storm total around 3-5 inches in the Valley City area, 5 inches in the Jamestown area. Lows around 5 below. North winds around 25 mph. Wind chills around 20 below.
.THURSDAY…Partly sunny. A 20 percent chance of light snow in
the morning in the Valley City area. Areas of blowing and drifting snow. Highs zero to 5 below. Windy. Northwest winds 20 to 30 mph. Wind chill readings 27 below to 32 below zero.
.THURSDAY NIGHT…Partly cloudy. Lows 15 to 20 below.
.FRIDAY…Mostly cloudy with a 50 percent chance of light snow.
Highs zero to 5 below.
.FRIDAY NIGHT…Mostly clear. Lows 20 to 25 below.
.SATURDAY…Sunny. Highs 5 to 10 below.
.SATURDAY NIGHT…Mostly cloudy. Lows 15 to 20 below.
.SUNDAY…Mostly cloudy. A chance of light snow. Highs 5 to 10.
.SUNDAY NIGHT…Mostly cloudy. Lows 15 to 20 below.
.MARTIN LUTHER KING JR DAY…Mostly sunny. Highs 5 to 10 below.
.MONDAY NIGHT…Mostly clear. Lows 20 to 25 below.
.TUESDAY…Mostly sunny. Highs zero to 5 above.
Hazardous travel conditions today as snow and blowing snow will lead to poor visibility. For more details, please see www.weather.gov/bis
Dangerous wind chills to 35 below zero are expected late Wednesday
night through Thursday morning .
Snow and blowing snow will continue into Thursday morning before
tapering off. Wind chills will be in the -25 to -35 range Thursday
morning.
Arctic air will bring dangerous wind chills Thursday night through
next Monday night.
Another round of accumulating light snow is expected Friday, with snowfall accumulations of between 1 and 2 inches. This will be followed by dangerous wind chills through the weekend, as low as 45 below zero.
Jamestown  (CSi)  The Jamestown City Council met in Special Session on Tuesday, January 9th,  at the City Hall lower level conference room to interview a candidate for City Administrator.
Sarah Helleckson, solid waste coordinator for the city of Plymouth, Minnesota, who previously withdrew her candidacy, and was re-contacted by the search committee, to come in for an interview.
Other finalists included:
Chris Schilken, loan manager and lender at Prairie Federal Credit Union in Minot, and Aaron Mitchell, finance director for the City of West Fargo were previously interviewed.
The committee initially selected Shilken, however the offer was withdrawn, and further discussions terminated, voted on unanimously by the City Council which met in Executive Session on December 11, 2017, after the committee met with Schilkin on a possible contract, and salary negotiations.
The Council Members decided to look at further options.
City Administrator Jeff Fuchs tells CSiNewsNow.com that the search committee that met with Helleckson on Tuesday consists of the full City Council with all members present.
He says the committee will negotiate with Helleckson concerning pay and if the position offered will be a salaried position, or a civil service position.
City Administrator Fuchs informed the city last year that he was retiring on December 31, 2017.
However, as the search continued, the City Council offered Fuchs the opportunity to stay on past that date and until his successor was chosen on a part-time basis using a combination of his unused vacation pay and other pay arrangements, which he accepted.
Fuchs will work with his selected successor through the transition process.
Fuchs says that it's hoped the  person selected will be hired and "in-house," soon, and that he can fully retire by March 31st this year.
Jamestown  (CSi)  The Jamestown City Council will meet  in Special Session  at 10 a.m. on Tuesday, January 16th, at City Hall.
The agenda item is  to take an official position on plans by the North Dakota Department of Transportation to temporarily close Exit 257 on Interstate 94 and install traffic signals at the I-94 and U.S. Highway 281 South on-off ramps on Exit 258.
Jamestown  (CSi)  The Jamestown Choralaires Winter Concert is at the University of Jamestown Reiland Fine Arts Center Friday January  12  and  Saturday January 13 at  7:30p.m.
Tickets are $12.00 for adults and $5.00 for students.
Purchase tickets from Intelligent Design, Looysen I-care and or any Choralaires member. Tickets will be available at the door.
On a recent Wayne Byers Show on CSi Cable 2, Choralaires members Jim Dunning, a 16 year member and David Collins, a 10 year member, pointed out that the concert will be in a radio show format, with a variety of music genres.
Those include songs from the past including Elvis favorites, along with show tunes from the 50's and 60's plus spirituals, country music, and features solos.
The Choralaires directed by Pam Burkhardt of Jamestown.
The Choralaires are open to more members.
They rehearse every Wednesday evening at 8:45 at the Jamestown Middle School Music room.
Jamestown  (CSi)  Jamestown Parks and Recreation Department has set Cabin Fever events and activities, February 2- 11.
Any business or organization interested in participating has until January 17th to Email information to john@jamestownparksandrec.com in order to be placed on the poster at their website.
On the schedule so far are:  A Pinochle tournament is set for  February 10th, at 10 a.m. at Hillcrest Pro Shop.
Two-person teams must sign up at the Parks and Rec. office at 1002 2nd Avenue, Southeast. A Limited number of tables will be available.
Cost is $12 per person. Lunch and a beverage are included.
The Cabin Fever Days coed softball tournament is February 3rd, at McElroy Softball Complex, weather permitting.
The cost is $75 per team. Teams are asked to register at the Parks and Rec. office by January, 30th.
A 16-inch softball will be used.
Call John at 252-3982 with any questions.
Jamestown  (CSi)  The public is invited to "An Evening of Friends, Food and Fun" featuring musical entertainment, comedy skits by The Not Even Remotely Ready for Primetime Players, and a live auction on Monday, Jan. 15, at the Knights of Columbus Hall in Jamestown.
KFGO News & Views Producer Cally Musland will emcee the political fundraiser that starts with a social hour at 5 p.m., followed by a chicken and steak dinner at 6 p.m.
Musland is a graduate of Jamestown High School. Since March of 2015, she has produced the most listened to talk radio program in the Upper Midwest – "News & Views with Joel Heitkamp." The three-hour show is heard throughout North Dakota, parts of Minnesota, South Dakota and Montana. Musland also serves as an on-air personality and fill-in host.
The Not Even Remotely Ready for Primetime Players troupe is comprised of area actors, who will be performing humorous political skits they've written.
Tickets are $30 (suggested price) and can be purchased at the door or by calling 701-489-3556.
Jamestown  (CSi)  Rebuilding the collapsed section at the Frontier Village road, above the amphitheater, will go out for bids, as unanimous approved by the Frontier Village Association.
FVA member Jay Diemert not present at the meeting.
The approval followed a presentation from Interstate Engineering's Travis Dillman,
He says 60 percent of the project costs come from a Special Road Fund of the North Dakota Department of Transportation, with the  City of Jamestown having approved the contract to start the design, and soil investigation before work starts.
A a solid, level base will be the foundation, with a large block modular wall to be construction on top of it.
Dillman pointed out that  if contractors feel construction would not be completed by Memorial Day, this year,  the repairs would be delayed until after Labor Day.
During construction,  section of the roadside above the amphitheater and across from the General Store building would be closed to traffic, however, Frontier Village remains accessible, with the plan to keep one  lane of traffic open in front of the Village's, General Store allowing access to the Buffalo Museum.
Jamestown   (CSi)  The Jamestown Optimist Club is having their annual fundraiser Spaghetti Feed at the Civic Center on Friday, February 2nd, in conjunction with the Sports & Rec Show.
Spaghetti feed starts at 5:00 pm in the Exchequer Room and ends at 7:00 pm. Money raised by the club supports local youth programs.
Tickets are available at the door for $8 per adult and $5 per student. Email inquiries to JamestownOptimistClub@gmail.com
Bismarck  (CSi)  North Dakota Attorney General Wayne Stenehjem reports, that in 2017, one in four consumer complaints concerned an illegal robocall.
He says, "Based on comments I hear daily from North Dakotans, and my own experience, it's easy to see why these robocalls are the top complaint. The calls are annoying and most often are nothing but scams that have cost consumers money. Plus, they are illegal in North Dakota.  I have no doubt that the number of complaints filed represents only a small fraction of citizens who find robocalls out of control. The Federal Trade Commission reported receiving 375,000 complaints a month in 2017."
The consumer protection division received 1,125 consumer complaints in 2017. The top five complaint categories:
Do Not Call/Robocall: 279
Imposter Scams (grandparent, romance, IRS scam, sweepstakes, etc.): 119
Contractor/Home Improvement: 88
Debt Adjustment/Settlement, Credit Counseling: 75
Identity Theft: 53
The remaining consumer complaints covered more than two dozen categories from advertising to warranties.
Last year, Stenehjem joined a bipartisan group of Attorneys General to urge the FCC to adopt new rules to help address the robocall and spoofing problem. Spoofing occurs when a caller falsifies the information transmitted to a caller ID display in order to hide their identity. The FCC responded with rules that allow telephone providers to block calls that come from invalid numbers and numbers that have not been assigned to anyone.
Stenehjen adds, "This change, together with consumers demanding their carriers use new technology to do a better job of blocking intrusive robocalls, should help alleviate the nuisance in the long term."  He urged North Dakotans to press their telephone service providers to offer robocall-blocking technology.
Parrell Grossman, director of the consumer protection division, says consumers should heed the advice of the FCC:
You may not be able to tell right away if an incoming call is spoofed. Be careful about responding to any request for personal identifying information.
Never give out personal information, such as account numbers, passwords, mother's maiden name, in response to unexpected calls.
If you get an inquiry from someone saying they represent a company or government agency seeking information, hang up and call the phone number found on your account statement or on the agency's website.
MANDAN, N.D. (AP) — Investigators say a man tried to stab a North Dakota police officer with a syringe during an arrest struggle.
Court records say the incident happened in Mandan, just west of Bismarck. Investigators say officers approached Kelly McLeod at a gas station and tried to arrest him on a probation warrant. He took off running but was tackled by a detective.
Authorities say McLeod tried stabbing the officer with a syringe filled with brown liquid that he said was deadly.
Officers backed off. Investigators say McLeod fled and broke into an apartment building where he was arrested. Police say they recovered a gun and a bag of heroin nearby.
KXMB reports McLeod made a court appearance Monday and bond was set at $50,000. It's unclear if he has an attorney.
BISMARCK, N.D. (AP) — A state district judge has ruled that North Dakota's law limiting damages in medical malpractice cases is unconstitutional.
The Bismarck Tribune reports the ruling came in a case involving a Fort Yates woman who suffered a disabling stroke due to a botched surgery at a Bismarck hospital. A jury last April awarded 35-year-old Chenille Condon $3.5 million.
South Central District Judge Cynthia Feland has denied a motion from CHI St. Alexius Health to reduce the jury's verdict under a law that puts a $500,000 limit on damages for such things as suffering and emotional distress.
Feland ruled the law violates equal protection guaranteed by the state constitution by arbitrarily reducing damages for people who suffer the most severe injuries.
CHI St. Alexius Health says it's exploring legal options.
BISMARCK, N.D. (AP) — A private security firm hired by the developer of the Dakota Access pipeline will on go trial in the fall for allegedly operating in North Dakota without a license.
North Dakota's Private Investigative and Security Board sued North Carolina-based TigerSwan last June. Court documents show a five-day trial has been scheduled beginning Oct. 8.
TigerSwan was lambasted by pipeline opponents for aggressive tactics during months of protests. The company has said its efforts were aimed at creating a safe working environment and that it's the victim of a smear campaign.
The state board is seeking administrative fines that could total thousands of dollars from the company and President James Reese for operating without a license, a misdemeanor carrying a potential sentence of 30 days in jail and a $1,500 fine.
BISMARCK, N.D. (AP) — Gov. Doug Burgum has signed an executive order establishing a new office aimed at addiction recovery and treatment initiatives.
Burgum signed the order Tuesday.
Burgum's wife, Kathryn Helgaas Burgum, will chair an advisory council of up to seven members appointed by the governor that will guide the efforts. The council will include individuals in recovery, and community and tribal leaders.
Helgaas Burgum adopted addiction recovery as her platform as North Dakota's first lady. Helgaas Burgum says she is a recovering alcoholic and wanted to use her experience to help others.
Burgum spokesman Mike Nowatzki says the office will not use state money. He says it will be funded through philanthropic grants, including from Burgum, who has refused a state salary.
BISMARCK, N.D. (AP) — United Airlines is adding direct flights between Bismarck and Chicago's O'Hare International Airport.
The two daily flights on 50-seat jets will begin June 7. They'll complement United's existing service between Bismarck and Denver.
United's expanded offering in Bismarck is part of a larger service expansion announced by the airline.
American Airlines has offered flights between Bismarck and O'Hare since October 2014.
SIOUX FALLS, S.D. (AP) — Three Native American tribes in the Dakotas are suing opioid manufacturers and distributors, alleging they concealed and minimized the addiction risk of prescription drugs.
The Rosebud Sioux Tribe, Flandreau Santee Sioux Tribe and the Sisseton Wahpeton Oyate sued 24 opioid industry groups in federal court on Monday. Defendants include drug manufacturers Purdue Pharma, Teva Pharmaceutical Industries and Allergan, and distributors McKesson Corp., Cardinal Health Inc. and AmerisourceBergen Corp.
The lawsuit follows more than 70 similar cases filed across the country. Allegations include deceptive marketing, fraud and violations of the Racketeer Influenced and Corrupt Organization Act.
It is one of the first to tie claims to drugs' the impact on Native Americans. The Cherokee Nation launched a similar suit in April.
The complaint seeks monetary damages and an "abatement fund" to pay for treatment programs.
The companies hadn't responded to the suit as of Monday.
WATFORD CITY, N.D. (AP) — An employee at a Watford City accounting firm accused of participating in an oil patch fraud scheme is facing a felony charge.
The Bismarck Tribune reports that 38-year-old Hannah Lloyd is charged in state court with theft of property. Authorities say she funneled more than $57,300 from the Watford City Park District by using a fake employee's name, two bank accounts and a limited liability company.
Another employee at the firm, Rene Johnson, is charged in federal court with mail fraud, wire fraud and making false statements. Johnson allegedly offered doubled returns for investors on a high-risk loan for Kingdom Dynamics Enterprise, a company that dealt with a man convicted of ordering the killings of two business associates.
Court documents do not list an attorney for Lloyd.
In sports…
Boy's Hockey
Jamestown 8 Mandan 3
Girl's Hockey…
West Fargo 9, Jamestown 1
Boy's Basketball…
Carrington 73, Midkota 34
Beach 73, Richardton-Taylor 30
Beulah 63, Hettinger/Scranton 59
Bismarck Century 76, Dickinson 68
Bismarck High 76, Mandan 64
Bowman County 65, Lemmon, S.D. 45
Cavalier 72, Midway-Minto 64
Des Lacs-Burlington 70, Towner-Granville-Upham 57
Dickinson Trinity 84, New England 45
Fargo Oak Grove Lutheran 69, Lisbon 43
Garrison 67, Parshall 54
Grafton/St. Thomas 61, Drayton/Valley-Edinburg 29
Grand Forks Red River 80, Wahpeton 48
Hatton-Northwood 63, May Port CG 51
Heart River 62, Glen Ullin-Hebron 59
Hillsboro/Central Valley 61, Larimore 24
Kenmare 85, Glenburn 62
Kidder County 59, Strasburg-Zeeland 53
Minot 95, Turtle Mountain 44
Minot Bishop Ryan 67, Velva/Sawyer 48
Nedrose 42, Drake/Anamoose 40
New Rockford-Sheyenne 77, Warwick 50
North Shore – Plaza 68, Surrey 37
Park River/Fordville Lankin 70, North Border 39
Rugby 73, Westhope-Newburg 42
Sheyenne 78, West Fargo 69
Shiloh Christian 67, Grant County 39
Solen 50, Flasher 48
Stanley 69, Lewis and Clark-Berthold 47
Thompson 55, Northern Cass 35
Tioga 65, Trinity Christian 42
Tri-State 78, Hankinson 54
Washburn 68, Center-Stanton 23
Williston 90, Watford City 52
Wilton-Wing 64, Max 41
Wyndmere-Lidgerwood 59, Central Cass 50
Barnes County Tournament
First Round
Enderlin 57, Barnes County North 42
Griggs County Central 49, Milnor-North Sargent 44
LaMoure-Litchville-Marion 65, Finley-Sharon/Hope-Page 41
Maple Valley 55, Sargent Central 25
Friday, Jan. 12
Consolation Semifinals
3 p.m. – Sargent Central vs. Barnes County North
4:30 p.m. – FSHP vs. Milnor/North Sargent
Championship Semifinals
6:00 p.m. – Maple Valley vs. Enderlin
7:30 p.m. – LaMoure/Litchville-Marion vs. Griggs County Central
GIRLS BASKETBALL
Bismarck Century 87, Dickinson 37
Bottineau 42, Rolette-Wolford 35
Bowman County 52, Harding County, S.D. 30
Four Winds/Minnewauken 64, Benson County 53
Grand Forks Red River 66, Wahpeton 46
Hankinson 37, Tri-State 26
Harvey-Wells County 51, Dakota Prairie 25
Kidder County 71, Strasburg-Zeeland 18
Langdon-Edmore-Munich 71, St. John 43
Medina-Pingree-Buchanan 49, Napoleon 17
Miles City, Mont. 43, Williston 32
Minot 73, Turtle Mountain 44
Mohall-Lansford-Sherwood 54, Minot Our Redeemer's 49
Sheyenne 70, West Fargo 30
South Border 41, Linton-HMB 40
Thief River Falls, Minn. 64, Grand Forks Central 38
Trenton 65, Kenmare 38
Washburn 50, Center-Stanton 44
Wilton-Wing 65, Max 22Bismarck Invitational
Mandan 70, Bismarck High 49
NATIONAL BASKETBALL ASSOCIATION
Final Miami 90 Toronto 89
Final Portland 117 Oklahoma City 106
Final Dallas 114 Orlando 99
Final L.A. Lakers 99 Sacramento 86
NATIONAL HOCKEY LEAGUE
ST. PAUL, Minn. (AP) — Dougie Hamilton scored 2:39 into overtime to lift the Calgary Flames over the Minnesota Wild 3-2. Micheal Ferland and Sean Monahan each had a goal and assist and Johnny Gaudreau added three assists for the Flames, who began a four-game trip with a season-high fourth straight win. Mike Smith made 33 saves. Mikael Granlund and Jared Spurgeon scored for Minnesota, which lost for just the third time in its last 14 home games _ two of which were in overtime.
Final Winnipeg 7 Buffalo 4
Final Washington 3 Vancouver 1
Final Chicago 8 Ottawa 2
Final Tampa Bay 5 Carolina 4
Final Nashville 2 Edmonton 1
Final Florida 7 St. Louis 4
TOP-25 COLLEGE BASKETBALL
Final (2) West Virginia 57 Baylor 54
Final (3) Virginia 68 Syracuse 61
Final (5) Purdue 70 Michigan 69
Final (9) Oklahoma 75 (8) Texas Tech 65
Final (12) Kansas 83 Iowa St. 78
Final Marquette 84 (13) Seton Hall 64
Final (20) North Carolina 96 Boston College 66
Final (21) Kentucky 74 Texas A&M 73
Final (22) Auburn 85 Mississippi 70
Final (24) Tennessee 92 Vanderbilt 84
Final (25) Creighton 85 Butler 74
LINCOLN, Neb. (AP) — James Palmer Jr. had 18 points and Nebraska opened up a double-digit lead early in the second half then held off three Wisconsin surges to take a 63-59 win Tuesday night.
Nebraska (12-6, 3-2 Big Ten) led by as many as 13 early in the half, then saw the lead shrink to five as Wisconsin (9-9, 2-3) made five of six field goals.
The Huskers went back up by 10 at 50-40 when Thomas Allen hit a pair of free throws after a Wisconsin technical foul with 7:22 left.
The Badgers' Ethan Happ then scored seven straight against one Nebraska free throw to cut the lead to 51-47 with 4:45 left. Three Nebraska free throws and a Palmer jumper, the Huskers' last field goal of the game, put Nebraska back up by nine.
The Huskers led 62-53 after Isaac Copeland's free throw with 11 seconds left. But Wisconsin's Brevin Pritzl bombed in a long 3-pointer with just over 2 seconds left, Nebraska turned the ball over and Brad Davison hit another long-range 3 to pull Wisconsin to 62-59 with a second left.
Evan Taylor's free throw then sealed the win for Nebraska.
Nebraska won the game at the free-throw line. The Huskers were 21 of 28 from the line, including 18 of 24 in the second half. Wisconsin made just 4 of its 10 free throws, 3 of 8 in the second half.
Isaac Copeland had 12 points for Nebraska.
Happ had 19 points and 11 rebounds for Wisconsin. Davison had 15 points and Pritzl scored 10.
BLOOMINGTON, Ind. (AP) — Juwan Morgan scored 21 points and Josh Newkirk added 16 to help Indiana hold off pesky Penn State 74–70. The Hoosiers have two in a row and four of five. Tony Carr had 28 points and Lamar Stevens finished with 20 to lead the Nittany Lions. Penn State has split its last four and fell to 3-20 all-time in Bloomington.
Gophers…
MINNEAPOLIS (AP) — Minnesota basketball player Reggie Lynch has been recommended for expulsion following a newly public allegation of sexual assault. The Star Tribune and the St. Paul Pioneer Press report the university's Equal Opportunity and Affirmative Action office found Lynch responsible for sexual misconduct in an alleged assault April 7, 2016. Both newspapers say they obtained a Jan. 3 finding by the office. Lynch was suspended last week on a recommendation by the same office in another alleged incident.
NFL-RAIDERS-GRUDEN
UNDATED (AP) — Jon Gruden was welcomed back for a second stint as Oakland Raiders coach with an elaborate introductory news conference.
Gruden was greeted by owner Mark Davis on Tuesday with a video of the highlights from his first tenure in Oakland nearly 20 years after he was first introduced as coach as an unproven 34-year-old by late owner Al Davis.
Gruden coached the Raiders from 1998-2001 before being traded to Tampa Bay 16 years ago.
About 50 former Raiders were on hand for the event, including several of Gruden's former players like Charles Woodson, Jerry Rice, Tim Brown and Rich Gannon.
Mark Davis said he had been trying to bring Gruden back for six years ever since taking over the franchise following his father's death and the opportunity was finally right this year.
COLLEGE FOOTBALL CHAMPIONSHIP-TV RATINGS
ATLANTA (AP) — The national championship showdown between Alabama and Georgia drew more than 28.4 million viewers, making it the second-most watched title game in the four-year-old format of the College Football Playoff.
Alabama beat Georgia in overtime, rallying from 13 points down in the second half before winning with a game-ending touchdown pass.
The first CFP championship game between Oregon and Ohio State after the 2014 season drew nearly 34 million viewers, a record for ESPN. This season's CFP semifinals on Jan. 1 and Monday night's championship game averaged more than 26.2 million viewers, up 21 percent from last year.
PYEONGCHANG-2018
UNDATED (AP) — The International Olympic Committee says it welcomes moves by North Korea to take part in next month's Winter Olympics in South Korea.
IOC president Thomas Bach says in a statement that North Korea's decision to send a delegation to the games is "a great step forward in the Olympic spirit."
The IOC says it's now waiting for official details of how North Korean participation could work before it decides which athletes could compete.
South Korea's Vice Unification minister earlier cited North Korean officials as saying their delegation would include officials, athletes, cheerleaders and journalists.
In world and national news…
WASHINGTON (AP) — A new report by congressional Democrats warns of deepening Russian interference throughout Europe and concludes that President Donald Trump has offered no strategic plan to safeguard democracies from Kremlin meddling. The report is the first from Congress to comprehensively detail Russian efforts to undermine democracies since the 2016 presidential election.
WASHINGTON (AP) — Bargainers seeking a bipartisan immigration accord plan talks as soon as Wednesday. President Donald Trump and leading lawmakers want to parlay an extraordinary White House meeting into momentum for resolving a politically blistering issue. They face a Jan. 19 deadline for averting an election-year government shutdown. Negotiators want a formula to revive protections against deportation that Trump has ended for nearly 800,000 immigrants and buttress border security.
SEOUL, South Korea (AP) — South Korean President Moon Jae-in says he's open to meeting with North Korean leader Kim Jong Un if certain conditions are met, as he pushes for more talks and cooperation with the North to try to resolve the nuclear standoff. Moon has previously floated the idea of talks with Kim, but prospects for an inter-Korean summit remain low. His latest comments came a day after the North agreed to send a delegation to next month's Winter Olympics in South Korea and hold talks on reducing animosity.
MONTECITO, Calif. (AP) — The search continues for victims of a storm that slammed a California coastal community, leaving at least 13 people dead and 25 injured. Authorities in Santa Barbara County are still looking for dead, injured or trapped people after a powerful mud flow swept away dozens of homes. Most deaths were believed to have occurred in Montecito, a wealthy enclave of about 9,000 people northwest of Los Angeles.
SAN SEBASTIAN SALITRILLO, El Salvador (AP) — Flor Tovar receives a lifeline every two weeks in the form of wired cash from her husband living in the United States. The money pays the $50 rent for a modest two-bedroom home in a low-income housing development. It also covers school transportation for their two sons, electricity, water, cable TV. Now a decision in Washington to end temporary protected status for nearly 200,000 Salvadorans like her husband has Tovar wondering what a future without that income will look like.