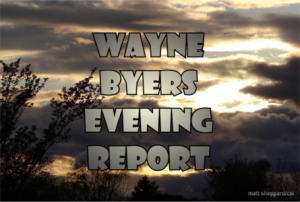 CSi Weather…
.WINTER STORM WARNING IN EFFECT UNTIL 9 AM CST THURSDAY… INCLUDES FOSTER,  STUTSMAN AND BARNES COUNTIES.
Forecast…
.TONIGHT…Snow. Blowing and drifting snow. Windy. Much colder.
Snow accumulation around 3 inches. Storm total 4 to 5 inches in the Jamestown are,  2-6-inches in the Valley City area.
Lows around 10 below. Northwest winds 25 to 30 mph. Wind chills
around 25 below.
.THURSDAY…Partly sunny. A 20 percent chance of snow in the
morning in the Jamestown area, 30 percent in the Valley City area. Areas of blowing and drifting snow through the day. Much
colder. Highs around 5 below. Northwest winds 15 to 25 mph. Wind
chills around 35 below.
.THURSDAY NIGHT…Partly cloudy. Lows around 20 below. Northwest
winds 5 to 10 mph. Wind chills around 35 below.
.FRIDAY…Mostly cloudy with a 20 percent chance of snow. Highs
around 5 below. North winds 5 to 10 mph.
.FRIDAY NIGHT…Mostly clear. Lows around 20 below. Northwest
winds 5 to 10 mph.
.SATURDAY…Sunny. Highs around 5 below.
.SATURDAY NIGHT…Mostly cloudy. Lows around 10 below.
.SUNDAY…Mostly cloudy with a 20 percent chance of snow. Highs
5 to 10 above.
.SUNDAY NIGHT…Decreasing clouds. Lows around 15 below.
.MARTIN LUTHER KING JR DAY…Mostly sunny. Highs around 5 below.
.MONDAY NIGHT AND TUESDAY…Mostly clear. Lows around 20 below.
Highs 5 below to zero.
.TUESDAY NIGHT AND WEDNESDAY…Partly cloudy. Lows around
5 below. Highs 10 to 15.
Hazardous travel conditions  as snow and blowing snow is creating  poor visibility. For more details, please see www.weather.gov/bis
Dangerous wind chills to 35 below zero  late Wednesday night through Thursday morning .
Snow and blowing snow will continue into Thursday morning before
tapering off. Wind chills will be in the -25 to -35 range Thursday
morning.
Arctic air will bring dangerous wind chills Thursday night through
next Monday night.
Another round of accumulating light snow is expected Friday, with snowfall accumulations of between 1 and 2 inches. This will be followed by dangerous wind chills through the weekend, as low as 45 below zero.
Valley City  (Greg Vanney-VCSU) U.S. News and World Report has recognized the online graduate education and bachelor's degree programs at Valley City State University in its 2018 Best Online Programs rankings.
The online graduate programs at VCSU are ranked 62nd among the listed programs from 309 universities nationwide. The rankings are based on measures of student engagement, faculty credentials and training, student services and technology, admissions selectivity, and a survey of peers at other institutions.
VCSU Associate Professor and Dean of the School of Education and Graduate Studies Sheri Okland says, "We're proud to see the recognition given by U.S. News and World Report to our online graduate programs.  We know that our M.Ed. and M.A.T. programs are serving our students well, and to have our programs recognized among the best in the country is gratifying. It speaks to the good work being done by our students, faculty and staff."
VCSU offers two graduate programs—the Master of Education (M.Ed.) and the Master of Arts in Teaching (M.A.T.). Both programs are taught entirely online to allow working professionals to earn graduate degrees at their convenience.
The M.A.T. program is geared for those with non-teaching bachelor's degrees who want to add teaching credentials to their portfolios, while the M.Ed. program is designed for practicing teachers with undergraduate education degrees who wish to augment their teaching credentials. The M.Ed. program offers six concentrations: elementary education, English education, library and information technologies, teaching English language learners, teaching and technology, and technology education.
In the online bachelor's rankings, VCSU programs ranked 138th among programs from 357 colleges and universities. Here the rankings formula relied on measures of student engagement, faculty credentials and training, student services and technology, and a peer survey.
Online bachelor's degree programs at VCSU include business education, business process integration management, career and technical education, communication, English education, history education, music, and technology education.
U.S. News previously named VCSU the No. 1 Public Regional College in the Midwest for the third consecutive year.
Bismarck  (KFGO)  A man wanted in Cass and Burleigh Counties is being sought by authorities following a wild pursuit.
Initially, sheriff's deputies responded to an welfare check at a rural Bismarck home and found the resident, 36-year Patrick Johnson, had confirmed warrants. Johnson fled on foot and then stole a neighbor's car. During the chase that followed, he collided with a patrol vehicle and nearly struck another deputy setting up spike strips. The pursuit was eventually terminated for safety concerns when the car entered Bismarck city limits.
Johnson is from Lamoure, North Dakota, but investigators found he has friends in the New Town and Parshall area's.
Anyone with information about Johnson and the stolen white Subaru Legacy is asked to contact the sheriff's department in Bismarck.
(Jamestown NDFU) – Farmers Union Service Association (FUSA) and Farmers Union Mutual Insurance Company (FUMIC-ND) has announced an expansion of their customer base beyond North Dakota to the state of Arkansas. FUSA recently purchased the Eagle Agency, the exclusive marketer of Farmers Union Mutual Insurance Company (FUMIC-AR) products in that state. The announcement also includes FUMIC-ND's affiliation with FUMIC-AR.
Kevin Ressler, Farmers Union Insurance chief sales, marketing and branding officer in North Dakota, ays,  "We're excited to grow the Farmers Union brand and expand product offerings through the Eagle Agency and our affiliation with Farmers Union Mutual Insurance Company of Arkansas."
Some 250 independent insurance agents currently sell FUMIC-AR's products in Arkansas through Eagle Agency's marketing oversight.
Ressler says the expansion allows both mutual companies and agencies to utilize each other's strengths to better meet customer needs. Both companies will operate with a shared management team lead by CEO Mark Anderson.
FUMIC-AR was founded in 1934 to provide fire and property insurance options to members of Arkansas Farmers Union. FUMIC-ND was founded in 1944 to provide insurance products to members of North Dakota Farmers Union, with a specialty niche for farmers and ranchers. FUSA was founded in 1938.
BISMARCK, N.D. (AP) — Police say they've arrested a man waving a machete and yelling incoherently at a Walmart store in Bismarck.
Officers were called to the North Walmart about 11 a.m. Wednesday and tried to talk the man into putting down the machete. Police say the individual would not comply, so an officer used a stun gun to take him into custody.
The 25-year-old Bismarck man was arrested on a possible charge of terrorizing. No one was hurt.
BISMARCK, N.D. (AP) — A judge has thrown out a criminal charge against McKenzie County Sheriff Gary Schwartzenberger.
Schwartzenberger was charged in state court with misdemeanor misapplication of entrusted property, related to nearly $1,000 in disputed expenditures on a county credit card at a Las Vegas sheriffs' convention in 2015.
The Bismarck Tribune reports that South Central District Judge Sonna Anderson dismissed the charge on Monday.
Schwartzenberger was suspended from his sheriff's position in 2016 by then-Gov. Jack Dalrymple. The sheriff was reinstated by Gov. Doug Burgum last year after a special commissioner ruled there wasn't enough evidence to support his removal.
BISMARCK, N.D. (AP) — North Dakota's State Health Council is poised to sign off on administrative rules for medical marijuana.
The group is meeting Thursday to adopt the rules, which cover such things as lab testing, security requirements and transportation regulations.
It's another important step in the process as the Health Department develops a medical marijuana program, which voters approved in November 2016.
U.S. Attorney General Jeff Sessions last week rescinded an Obama Administration policy pledging that federal authorities wouldn't crack down on marijuana operations in states where they were legal, as long as the states maintained tight regulations.
The impact of the decision isn't known. North Dakota's Health Department says it will forge ahead with creating a medical marijuana program, and hopes to have the drug available to qualifying patients late this year.
MINOT, N.D. (AP) — A house the city of Minot has owned for a just over two years will be going back on the market.
The Daily News reports that city council members have decided to auction the house the city wanted to create as a gateway to a river greenway and museum visitor's center.
The city learned after acquiring the property that there wasn't any money for greenway improvements.
The city paid $245,000 for property that included the house. The proposal is to auction the house and move it, leaving the land in city ownership.
City council member Shannon Straight says it's time for the city to cut its losses and move on. He says he wishes there was a better solution.
BISMARCK, N.D. (AP) — A North Dakota lawmaker is among those suing the state over a new law intended to clarify disputed ownership of minerals under a Missouri River reservoir.
Rep. Marvin Nelson says the law is unconstitutional and a giveaway of state resources under Lake Sakakawea. He says the issue should be settled by a judge and not lawmakers.
The lawsuit was filed Wednesday in Fargo district court.
Gov. Doug Burgum signed the measure last year limiting state mineral claims under the lake to a smaller area than it had claimed.
Burgum spokesman Mike Nowatzki says the governor's office has not seen the lawsuit and could not comment on it.
Nelson, of Rolla, says the cost of lost mineral rights to North Dakota taxpayers will be about $2 billion in the long run.
MINOT, N.D. (AP) — The Minot Public School District has settled a lawsuit filed by a company over unpaid cleanup expenses resulting from the 2011 Souris River flood.
The case was set to go to trial Monday in federal court, but the two sides late last week reached a $950,000 settlement. School District Business Manager Scott Moum says the money will come from the district's reserve fund.
The school district hired the ServPro company to clean up flood-damaged schools. The Federal Emergency Management Agency reimbursed all but $1.9 million of the expense.
The school district contended Servpro had agreed not to charge anything over and above what FEMA paid. ServPro disputed that.
A federal judge last September ruled that the contract had been breached, but he didn't rule on resulting damages.
BISMARCK, N.D. (AP) — Industry officials say lignite production in North Dakota last year was the highest since 2009.
The Lignite Energy Council says the state's five large lignite mines in west-central North Dakota produced 29.1 million tons of the coal in 2017. That's up 1.4 million tons from 2016 and 1 million tons above the five-year average of 28.1 million tons.
Lignite Energy Council President Jason Bohrer says the region's strong economy and a cold snap that gripped the Upper Midwest at the end of the year spurred lignite production.
The group says North Dakota's seven lignite-based power plants serve more than 2 million families in North Dakota and surrounding states.
In world and national news…
LOS ANGELES (AP) — U.S. immigration agents descended on dozens of 7-Eleven stores before dawn Wednesday to begin checking on workers' immigration status in what officials described as the largest operation against an employer under Donald Trump's presidency. Agents say they targeted about 100 stores nationwide in broadening an investigation that began four years ago with a case against a franchisee on New York's Long Island. The hiring audits could lead to criminal charges or large fines.
WASHINGTON (AP) — A report from Senate Democrats concludes that the Trump administration is offering no strategic plan to protect democracies from election interference from Moscow. The new report warns of deepening Russian interference throughout Europe
WASHINGTON (AP) — President Donald Trump is expected this week to extend relief from economic sanctions to Iran, citing progress in amending U.S. legislation that governs Washington's participation in the nuclear deal. That's according to six people familiar with the administration's deliberations. But they say Trump's renewal of the U.S. concessions will likely be accompanied by new, targeted sanctions on Iranian businesses and people as punishment for non-nuclear Iranian activity.
UNDATED (AP) — The recent wave of sexual misconduct scandals across the U.S. has had a distinctive impact on many mothers of boys. Among them are women who have sought to raise their sons to shun sexist mindsets and be respectful of girls. Yet even some of these women worry about peer pressure their sons might face. And they're uncertain whether their sons' generation _ as adult men _ will be less susceptible to perpetrating or condoning sexual misconduct.
WASHINGTON (AP) — President Donald Trump is throwing his weight behind the Olympics-inspired diplomatic opening with North Korea. He told South Korea's leader Wednesday that the U.S. is open to talks with Kim Jong Un's government under the right circumstances. A White House statement says Trump and South Korea's President Moon Jae-in underscored the importance of continuing the "maximum pressure" campaign of sanctions against North Korea over its nuclear weapons.