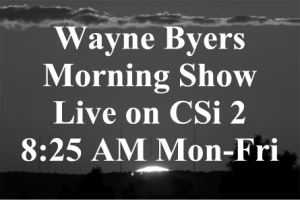 CSi Weather…
Update…
…WIND CHILL ADVISORY IN EFFECT UNTIL NOON CST FRIDAY… INCLUDES THE JAMESTOWN AREA…
…WINTER WEATHER ADVISORY IN EFFECT UNTIL 4 PM CST THURSDAY AFTERNOON…INCLUDES THE VALLEY CITY AREA
.REST OF TODAY…Partly sunny. Patchy blowing and drifting snow
through the day. Much colder. Highs near zero. Northwest winds
15 to 25 mph. Wind chills around 25 below.
.TONIGHT…Mostly clear. Colder. Lows around 20 below. Northwest
winds 5 to 10 mph. Wind chills around 30 below.
.FRIDAY…Mostly sunny. Highs around 5 below. Northwest winds
5 to 10 mph. Lowest wind chills around 35 below in the morning.
.FRIDAY NIGHT…Mostly clear. Lows around 25 below. Northwest
winds 5 to 10 mph.
.SATURDAY…Sunny. Highs near zero. Southwest winds around 5 mph.
.SATURDAY NIGHT…Mostly cloudy. Lows around 5 below.
.SUNDAY…Mostly cloudy with a 20 percent chance of snow. Highs
10 to 15.
.SUNDAY NIGHT…Partly cloudy. Lows around 15 below.
.Martin Luther King Jr Day AND MONDAY NIGHT…Mostly clear. Highs
around 5 below. Lows 15 below to 20 below zero.
.TUESDAY…Sunny. Highs zero to 5 above.
.TUESDAY NIGHT AND WEDNESDAY…Partly cloudy. Lows around
5 below. Highs 10 to 15.
(Jamestown NDFU) – Farmers Union Service Association (FUSA) and Farmers Union Mutual Insurance Company (FUMIC-ND) has announced an expansion of their customer base beyond North Dakota to the state of Arkansas. FUSA recently purchased the Eagle Agency, the exclusive marketer of Farmers Union Mutual Insurance Company (FUMIC-AR) products in that state. The announcement also includes FUMIC-ND's affiliation with FUMIC-AR.
Kevin Ressler, Farmers Union Insurance chief sales, marketing and branding officer in North Dakota, ays,  "We're excited to grow the Farmers Union brand and expand product offerings through the Eagle Agency and our affiliation with Farmers Union Mutual Insurance Company of Arkansas."
Some 250 independent insurance agents currently sell FUMIC-AR's products in Arkansas through Eagle Agency's marketing oversight.
Ressler says the expansion allows both mutual companies and agencies to utilize each other's strengths to better meet customer needs. Both companies will operate with a shared management team lead by CEO Mark Anderson.
FUMIC-AR was founded in 1934 to provide fire and property insurance options to members of Arkansas Farmers Union. FUMIC-ND was founded in 1944 to provide insurance products to members of North Dakota Farmers Union, with a specialty niche for farmers and ranchers. FUSA was founded in 1938.
Bismarck  (KFGO)  A man wanted in Cass and Burleigh Counties is being sought by authorities following a wild pursuit.
Initially, sheriff's deputies responded to an welfare check at a rural Bismarck home and found the resident, 36-year Patrick Johnson, had confirmed warrants. Johnson fled on foot and then stole a neighbor's car. During the chase that followed, he collided with a patrol vehicle and nearly struck another deputy setting up spike strips. The pursuit was eventually terminated for safety concerns when the car entered Bismarck city limits.
Johnson is from Lamoure, North Dakota, but investigators found he has friends in the New Town and Parshall area's.
Anyone with information about Johnson and the stolen white Subaru Legacy is asked to contact the sheriff's department in Bismarck.
Valley City  (Greg Vanney-VCSU) U.S. News and World Report has recognized the online graduate education and bachelor's degree programs at Valley City State University in its 2018 Best Online Programs rankings.
The online graduate programs at VCSU are ranked 62nd among the listed programs from 309 universities nationwide. The rankings are based on measures of student engagement, faculty credentials and training, student services and technology, admissions selectivity, and a survey of peers at other institutions.
VCSU Associate Professor and Dean of the School of Education and Graduate Studies Sheri Okland says, "We're proud to see the recognition given by U.S. News and World Report to our online graduate programs.  We know that our M.Ed. and M.A.T. programs are serving our students well, and to have our programs recognized among the best in the country is gratifying. It speaks to the good work being done by our students, faculty and staff."
VCSU offers two graduate programs—the Master of Education (M.Ed.) and the Master of Arts in Teaching (M.A.T.). Both programs are taught entirely online to allow working professionals to earn graduate degrees at their convenience.
The M.A.T. program is geared for those with non-teaching bachelor's degrees who want to add teaching credentials to their portfolios, while the M.Ed. program is designed for practicing teachers with undergraduate education degrees who wish to augment their teaching credentials. The M.Ed. program offers six concentrations: elementary education, English education, library and information technologies, teaching English language learners, teaching and technology, and technology education.
In the online bachelor's rankings, VCSU programs ranked 138th among programs from 357 colleges and universities. Here the rankings formula relied on measures of student engagement, faculty credentials and training, student services and technology, and a peer survey.
Online bachelor's degree programs at VCSU include business education, business process integration management, career and technical education, communication, English education, history education, music, and technology education.
U.S. News previously named VCSU the No. 1 Public Regional College in the Midwest for the third consecutive year.
BISMARCK, N.D. (AP) — The North Dakota Legislature is updating its anti-sexual harassment policies for lawmakers.
A legislative committee last month moved to update the policy in place for almost 30 years. It says sexual harassment "in any manner" won't be tolerated. But there's no formal process for reporting.
North Dakota legislative leaders say they are not aware of any sexual harassment allegations in the Legislature. But they say it's time to update the policies since many are coming up in political and entertainment circles.
Jim Smith, who heads the Legislature's research arm, says other states' policies are being studied for procedures of reporting allegations of sexual misconduct. He says a draft of a new policy could be done in March.
FLAGSTAFF, Ariz. (AP) — Election sites far from reservations. Poll workers who don't speak tribal languages. Unequal access to early voting sites.
Native Americans say they've encountered a wide range of obstacles that makes voting difficult.
Advocates have been spending the past few months gathering stories from around Indian Country in hopes that tribal members can wield more influence in elections, and improve health, education and the economy on reservations.
A coalition of voting rights groups is holding a field hearing Thursday in Phoenix to hear testimony.
The Native American Rights Fund says it believes the information compiled will be the most comprehensive look at voting rights abuses in Indian Country.
Tribes successfully have challenged what they see as discriminatory voting practices around the U.S., often arguing violations of the 1965 Voting Rights Act.
FARGO, N.D. (AP) — An official planning security for the trial of a woman accused of shooting at law officers during the Dakota Access oil pipeline protests says he doesn't expect trouble, but is preparing for "whatever occurs."
Red Fawn Fallis is scheduled for trial Jan. 29 in U.S. District Court in Fargo. She has pleaded not guilty to civil disorder and weapons charges.
Acting North Dakota U.S. Marshal Dan Orr is in charge of courthouse security. He tells KFGO radio he doesn't think the protests will approach the level of those on the Standing Rock Indian Reservation, where 761 arrests were made between August 2016 and February 2017.
However, Orr says his office is discussing "many different possibilities" with area law enforcement agencies.
Fallis faces a maximum penalty of 10 years in prison if convicted.
BISMARCK, N.D. (AP) — Industry officials say lignite production in North Dakota last year was the highest since 2009.
The Lignite Energy Council says the state's five large lignite mines in west-central North Dakota produced 29.1 million tons of the coal in 2017. That's up 1.4 million tons from 2016 and 1 million tons above the five-year average of 28.1 million tons.
Lignite Energy Council President Jason Bohrer says the region's strong economy and a cold snap that gripped the Upper Midwest at the end of the year spurred lignite production.
The group says North Dakota's seven lignite-based power plants serve more than 2 million families in North Dakota and surrounding states.
BISMARCK, N.D. (AP) — North Dakota's Public Service Commission has ordered four public utilities to calculate savings from reductions in federal corporate income tax rates.
The three-member, all-Republican panel took the action Wednesday, with an aim of potentially returning some money to ratepayers.
The utilities involved are Montana-Dakota Utilities Co., Great Plains Natural Gas Co., Otter Tail Power Co. and Xcel Energy. The companies have until Feb. 15 to submit their calculations.
The Republican tax plan that President Donald Trump signed into law last month includes a reduction in the highest corporate tax rate from 35 percent to 21 percent.
The PSC says the tax reduction "may provide an opportunity to reduce the rates to North Dakota public utility customers."
In sports…
NATIONAL BASKETBALL ASSOCIATION
MINNEAPOLIS (AP) — Jimmy Butler scored 26 points, grabbed seven rebounds and had eight assists for the Minnesota Timberwolves in a 104-88 win against the Oklahoma City Thunder. Andrew Wiggins added 19 points, and Karl-Anthony Towns had 18 points and 12 rebounds as Minnesota pulled away in the second half to win its third game in a row at home and 10th in its last 13 overall. Russell Westbrook had 38 points and 10 rebounds, but Paul George, Carmelo Anthony and the rest of the Thunder had a tough time shooting.
Final Utah 107 Washington 104
Final Dallas 115 Charlotte 111
Final Miami 114 Indiana 106
Final Detroit 114 Brooklyn 80
Final 2OT Chicago 122 N-Y Knicks 119
Final Houston 121 Portland 112
Final Memphis 105 New Orleans 102
Final Milwaukee 110 Orlando 103
Final Atlanta 110 Denver 97
Final L.A. Clippers 125 Golden State 106
NATIONAL HOCKEY LEAGUE
CHICAGO (AP) — Ryan Suter gave Minnesota the lead on a 4-on-4 early in the third period, Devan Dubnyk made 34 saves and the Wild held off the Chicago Blackhawks 2-1 to end a two-game slide. Jonas Brodin scored in the second period for Minnesota
Final Ottawa 4 Toronto 3
TOP-25 COLLEGE BASKETBALL
Final (1) Villanova 89 (10) Xavier 65
Final OT (4) Michigan St. 76 Rutgers 72
Final (7) Duke 87 Pittsburgh 52
Final 2OT Texas 99 (16) TCU 98
Final Louisville 73 (23) Florida St. 69
NBA-NEWS
UNDATED (AP) — Cleveland Cavaliers guard Isaiah Thomas has been fined $20,000 by the NBA for striking Minnesota Timberwolves forward Andrew Wiggins in the throat during the Wolves' 127-99 rout of the Cavs on Monday
Thomas was ejected for a flagrant-2 foul after clotheslining Wiggins in the jaw as he drove to the basket.
The league also suspended Heat forward James Johnson and Raptors forward Serge Ibaka )ih-BAH'-kah) one game apiece for throwing punches at each other during Tuesday's game in Toronto.
NFL-NEWS
UNDATED (AP) — Pittsburgh Steelers Pro Bowl linebacker Ryan Shazier (shuh-ZEER') attended practice on Wednesday for the first time since injuring his spine against Cincinnati last month.
The 25-year-old Shazier posted a photo on Instagram from the team's indoor training facility as Pittsburgh prepares to host Jacksonville in the divisional round of the playoffs. Shazier, who underwent spine stabilization surgery on Dec. 6, is pictured in a wheelchair wearing sweatpants and a Steelers jacket.
The extent of Shazier's injury has not been released. He called his visit to the facility "a first down" in his recovery.
T25-COLLEGE FOOTBALL-DRAFT
UNDATED (AP) — Alabama wide receiver Calvin Ridley is entering the NFL draft a year early after helping the Crimson Tide win its fifth national championship in nine years.
Ridley is projected as a first-round pick after catching 63 passes for 967 yards for the Tide this past season.
He is second in school history with 220 career catches and third with 2,749 yards.
Others announcing decisions on entering the draft:
— Clemson receiver Deon Cain is giving up his senior season to enter the NFL draft. Cain was Clemson's second leading receiver in 2017 with 58 catches for 734 yards and six touchdowns.
— Stanford cornerback Quenton Meeks says he will skip his senior season to enter the NFL draft. Meeks had 65 tackles, two interceptions and eight pass breakups this past season.
NHL-ALL-STARS
UNDATED (AP) — The NHL-leading Tampa Bay Lightning will have four players playing for the Atlantic Division in the upcoming All-Star game on their home ice.
Top scorer Nikita Kucherov (KOO'-cheh-rahv), goaltender Andrei Vasilevskiy (va-sih-LEHV'-skee) and defenseman Victor Hedman will join captain Steven Stamkos for the skills competition and 3-on-3 tournament on the final weekend of January.
Goaltender Marc-Andre Fleury and winger James Neal will represent the Vegas Golden Knights on the Pacific Division squad after the duo helped the expansion team climb to the top of the Western Conference standings at the midway point of the season.
The two-time defending-champion Penguins are sending Sidney Crosby and Kris Letang to the midwinter classic.
Blackhawks right wing Patrick Kane and Capitals left wing Alex Ovechkin (oh-VEHCH'-kihn) are both making their seventh All-Star appearance, more than any other player on the four rosters.
Canucks rookie star Brock Boeser (BEH'-sur) is among 12 players selected to the game for the first time.
NHL-TRADE
CHICAGO (AP) — The Blackhawks and Coyotes have worked out a four-player trade that sends winger Anthony Duclair to Chicago. The Hawks also received defenseman Adam Clendening and sent winger Richard Panik and minor leaguer Laurent Dauphin to Arizona.
Duclair has nine goals and 15 points in 33 games this season, while Panik had six goals and 16 points in 37 games.
In world and national news…
MONTECITO, Calif. (AP) — Hundreds of searchers continued the grueling work Thursday of hunting for survivors and digging up bodies in the sea of mud and wreckage left by flash flooding in this wealthy coastal enclave. Muck-spattered searchers from around the state slogged through knee-deep ooze, poking long poles into the mud to probe for victims. The death toll from Tuesday's pre-dawn flash flood rose to 17 on Wednesday as more bodies were found. Another 17 were still reported missing.
JEFFERSON CITY, Mo. (AP) — A review by The Associated Press has found that sexual misconduct policies are lacking or outdated in numerous state capitols across the country. The 50-state review found that several legislative chambers have no written sexual harassment policies. And about a third don't require lawmakers to receive training about sexual harassment. But a majority of state legislatures now are looking at updating their policies.
WASHINGTON (AP) — The Trump administration says it's offering a path for states that want to seek work requirements for Medicaid recipients. And that's a major policy shift toward low-income people. Seema Verma heads the Centers for Medicare and Medicaid Services, and she's announcing the new approach. She says work and community involvement can make a positive difference in people's health. But the plan probably will face opposition and legal challenges over concerns that people would lose coverage.
BEIJING (AP) — China's plan to expand trade across Asia and Europe with a modern Silk Road of railways and other infrastructure is hitting political and financial hurdles. Governments are canceling or renegotiating projects due to financing disputes or complaints they are too favorable to China.
PORTLAND, Maine (AP) — Fans of President Donald Trump who use marijuana say Attorney General Jeff Sessions' move to tighten federal oversight of the drug is the first time they've felt let down by the man they helped elect. The move is especially punitive for Trump voters who work in the growing legal marijuana industry, which has taken hold in states of all political stripes.