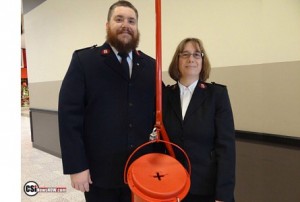 Jamestown  (CSi)  The Jamestown Salvation Army's 2017 Red Kettle Campaign and other donations surpassed the goal.
Major Tim Nauta says, the reduced 2017 goal of $140,000 was exceeded, bring in $145,700.
The goal was dropped as the previous two years the dollars raised fell short of the goal.
Funds raised are used year 'round to support the many services provided by the Jamestown Salvation Army.
He points out that outpouring of volunteer bell ringers the  week before Christmas was a big boost to the campaign.
At the Walmart kettle location the contributions were up to nearly $20,000 compared to $9,000 in 2016.