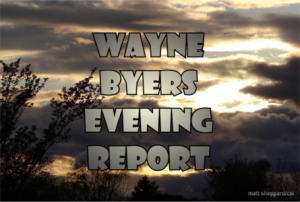 CSi Weather…
…WIND CHILL ADVISORY IN EFFECT UNTIL NOON CST FRIDAY…
INCLUDES THE JAMESTOWN AND VALLEY CITY AREAS
Forecast…
.TONIGHT…Mostly clear. Colder. Lows around 20 below. Northwest winds 5 to 10 mph. Wind chills around 30 below.
.FRIDAY…Mostly sunny. Highs around 5 below. Northwest winds
5 to 10 mph. Lowest wind chills around 35 below in the morning.
.FRIDAY NIGHT…Clear. Lows around 25 below. Northwest winds
around 5 mph.
.SATURDAY…Sunny. Highs near zero. West winds around 5 mph
shifting to the south in the afternoon.
.SATURDAY NIGHT…Mostly cloudy. Lows around 5 below.
.SUNDAY…Cloudy. Highs around 15.
.SUNDAY NIGHT…Partly cloudy. Lows around 15 below.
.Martin Luther King Jr Day AND MONDAY NIGHT…Mostly clear. Highs
around 10 below. Lows 15 below to 25 below zero.
.TUESDAY AND TUESDAY NIGHT…Mostly clear. Highs near zero. Lows
10 below to 25 below zero.
.WEDNESDAY…Sunny. Highs 15 to 20.
Extended Outlook…
A clipper system sweeps through Sunday with a chance of snow, and
this will be followed by another arctic surge for Monday.
Highs Monday will range from 5 below Turtle Mountains to 5 above southwest.
The  weather pattern remains in a northerly flow Monday and Tuesday
as temperatures remain very cold. Northerly flow transitions to
westerly flow Wednesday and Thursday. Midweek and beyond, expect a series of fast moving systems  across western/central ND. As temperatures moderate, a more active pattern will also evolve. Highs Wednesday
will rise into the 20s to lower 30s.
Bismarck   The North Dakota Department of Transportation and Highway Patrol have OPENED I-29 from Fargo to the Canadian Border. Motorists should be aware that conditions such as high winds, reduced visibility and blowing snow may cause hazardous travel. A No Travel Advisory remains in effect for northeastern North Dakota. Cities included in the No Travel Advisory are: Grafton, Michigan, Grand Forks, Hillsboro, and surrounding areas. Motorists are advised not to travel until later in the day when conditions are expected to improve as the high winds diminish.
All Travel Alerts in other areas of the state have been LIFTED.
All travelers are encouraged to monitor road conditions as weather conditions occur and use caution while traveling. For road information, call 511 from any type of phone or go to the Travel Information Map at dot.nd.gov.
Jamestown  (CSi)  The Jamestown Salvation Army's 2017 Red Kettle Campaign and other donations surpassed the goal.
Major Tim Nauta says, the reduced 2017 goal of $140,000 was exceeded, bring in $145,700.
The goal was dropped as the previous two years the dollars raised fell short of the goal.
Funds raised are used year 'round to support the many services provided by the Jamestown Salvation Army.
He points out that outpouring of volunteer bell ringers the  week before Christmas was a big boost to the campaign.
At the Walmart kettle location the contributions were up to nearly $20,000 compared to $9,000 in 2016.
Bismarck  (CSi-NDDoH) Jamestown is one of eight regions the North Dakota Department of Health has established  for medical marijuana dispensaries within the Medical Marijuana Program. Dispensaries
The regions include a 50 mile radius surrounding eight cities within the state. The cities include: Fargo, Bismarck/Mandan, Grand Forks, Minot, Williston, Dickinson, Jamestown and Devils Lake. State law allows up to eight dispensaries to be registered by the NDDoH. A map can be found on the Division of Medical Marijuana's website at www.ndhealth.gov/MM.
State Health Officer Mylynn Tufte, says, "By establishing eight regions, the North Dakota Department of Health is able to provide access to dispensaries to the majority of the population in the state with as minimal travel as possible."
A dispensary can be located anywhere within one of the regions. While the same entity can apply in multiple regions, the proposed rules only allow the same entity to possess one registration certificate.
Under the NDDoH plan, qualifying patients will be able to obtain usable marijuana at any dispensary. However, the NDDoH will be tracking purchased amounts and qualifying patients will not be able to purchase more than 2.5 ounces of dried leaves and flowers and 2,000 mg of THC total from all other products every 30 days. Qualifying patients must have specific authorization from their health care provider in order to purchase dried leaves and flowers.
BISMARCK, N.D. (AP) — North Dakota U.S. Rep. Kevin Cramer says he won't run for U.S. Senate.
The 56-year-old Republican, who had been widely seen as the GOP's best chance to unseat Democratic Sen. Heidi Heitkamp, announced Thursday that he will seek another House term instead.
Cramer announced his plans during an interview with talk radio host Scott Hennen.
Republican state Sen. Tom Campbell is running, but he lacks Cramer's name recognition and experience.
Cramer was first elected to the House in 2012. He is a former chairman of the North Dakota Republican Party and previously headed the state Public Service Commission.
Cramer mulled a run for U.S. Senate in 2006 against then-incumbent Democrat Kent Conrad. But he backed out, saying national Republican officials were unwilling to commit enough money to the race at the time.
NEVIS, Minn. (AP) — A northern Minnesota man pulled off his sky high marriage proposal to his long-time girlfriend with some help from his family, a frozen lake and an airplane.
University of North Dakota aviation student Gavin Becker had his family's help etching out the big question with a snow blower in 25-foot-tall letters and a huge heart in the snow on Eight Crow Wing Lake near Nevis. Gavin's dad, Ed Becker, tells KARE-TV it took about 4½ hours to create the life-changing question.
Then Gavin rented a plane and took his high school sweetheart, Olivia Toft, for a ride over the lake Sunday.
There, in front of the family's lakefront In-We-Go Resort, was the proposal in big letters 'Marry Me.' Olivia said yes.
In sports…
Fifth Class A basketball poll
(First-place votes in parentheses)
Boys
Team Rec. Pts. LW
Fargo Davies (13) 9-0 77 1
West Fargo (3) 9-0 64 2
Bismarck 9-2 49 5
Mandan 9-1 27 3
Minot 7-2 13 4
Others receiving votes: Bismarck Century (8-2).
Girls
Team Rec. Pts. LW
Bismarck Century (16) 10-0 80 1
Bismarck St. Mary's 8-1 61 2
Fargo Shanley 8-1 49 3
Fargo Davies 7-2 30 4
G.F. Red River 8-1 10 NR
Others receiving votes: Mandan (7-3).
In world and national news…
WASHINGTON (AP) — A bipartisan group of senators has reached a deal on immigration to protect younger people brought to the U.S. illegally as children. That's according to a spokesman for Arizona Republican Sen. Jeff Flake.
WASHINGTON (AP) — The House has passed a bill to reauthorize a key foreign intelligence collection program with an important tweak. It requires the FBI to get a warrant if it wants to view the contents of Americans' communications swept up in the process. The House approved what is known as Section 702 of a program that allows spy agencies to collect information on foreign targets abroad. Earlier, the House rejected a measure to impose stiffer restrictions on the FBI.
SAN FRANCISCO (AP) — Six more women have stepped forward to accuse conductor Charles Dutoit of sexually assaulting them in the U.S., France and Canada, including a musician who says the maestro raped her in 1988. The new accusers said they were angered by Dutoit's denial of an Associated Press report last month that detailed four accusations of sexual assault and also wanted to show the scope of his inappropriate behavior. Dutoit issued a "categorical and complete denial" of the new accusations.
MONTECITO, Calif. (AP) — The company that employs the mother of a 14-year-old girl who was dramatically pulled from a California home that collapsed in a mudslide says the girl's father and 16-year-old brother are still missing. NeoTract, a maker of devices used in the medical field of urology, has launched a fundraising page asking for financial support for the family of Kim Cantin.
CAROLINA, Puerto Rico (AP) — Officials say 32 people have been slain in hurricane-battered Puerto Rico in the first 11 days of the year, double the number killed over the same period in 2017. If the surge proves to be more than just a temporary blip, January could be the most homicidal month on the island in at least two years, adding a dangerous new element to the island's recovery from Hurricane Maria, its worst disaster in decades.