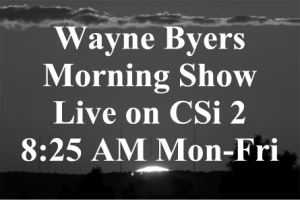 CSi Weather…
…WIND CHILL ADVISORY IN EFFECT UNTIL NOON CST SATURDAY…
IN THE JAMESTOWN AREA…TILL 4-PM FRIDAY IN THE  VALLEY CITY AREA…..
Forecast…
.TODAY…Sunny. Highs around 10 below. Northwest winds 5 to
10 mph. Wind chills around 40 below.
.TONIGHT…Clear. Lows around 25 below. West winds 5 to 10 mph.
Wind chills around 45 below.
.SATURDAY…Sunny. Highs near zero. Southwest winds 5 to 10 mph.
Lowest wind chills around 45 below in the morning.
.SATURDAY NIGHT…Mostly cloudy. Not as cold. Lows around
5 below. Southwest winds 10 to 15 mph.
.SUNDAY…Mostly cloudy. A 20 percent chance of snow in the
morning. Patchy blowing and drifting snow in the afternoon. Not
as cold. Highs around 15. Northwest winds 10 to 15 mph increasing
to 15 to 25 mph in the afternoon.
.SUNDAY NIGHT…Partly cloudy. Patchy blowing and drifting snow.
Lows around 15 below.
.MARTIN LUTHER KING JR DAY…Sunny. Patchy blowing and drifting
snow in the morning. Highs around 10 below.
.MONDAY NIGHT AND TUESDAY…Mostly clear. Lows around 20 below.
Highs zero to 10 below.
.TUESDAY NIGHT AND WEDNESDAY…Mostly clear. Lows around 5 below.
Highs 5 to 10 above.
.WEDNESDAY NIGHT AND THURSDAY…Partly cloudy. Lows 5 to
10 above. Highs 18 to 29.
A brief respite from the Arctic air at least during the first half of Sunday, before the next Arctic high builds across the Northern Plains Sunday night into Tuesday with another round of dangerous wind chills expected after that.
However, by late next week a possible warm up to above normal temperatures.
Jamestown  (CSi)  The Jamestown Salvation Army's 2017 Red Kettle Campaign and other donations surpassed the goal.
Major Tim Nauta says, the reduced 2017 goal of $140,000 was exceeded, bring in $145,700.
The goal was dropped as the previous two years the dollars raised fell short of the goal.
Funds raised are used year 'round to support the many services provided by the Jamestown Salvation Army.
He points out that outpouring of volunteer bell ringers the  week before Christmas was a big boost to the campaign.
At the Walmart kettle location the contributions were up to nearly $20,000 compared to $9,000 in 2016.
Bismarck  (CSi-NDDoH) Jamestown is one of eight regions the North Dakota Department of Health has established  for medical marijuana dispensaries within the Medical Marijuana Program. Dispensaries
The regions include a 50 mile radius surrounding eight cities within the state. The cities include: Fargo, Bismarck/Mandan, Grand Forks, Minot, Williston, Dickinson, Jamestown and Devils Lake. State law allows up to eight dispensaries to be registered by the NDDoH. A map can be found on the Division of Medical Marijuana's website at www.ndhealth.gov/MM.
State Health Officer Mylynn Tufte, says, "By establishing eight regions, the North Dakota Department of Health is able to provide access to dispensaries to the majority of the population in the state with as minimal travel as possible."
A dispensary can be located anywhere within one of the regions. While the same entity can apply in multiple regions, the proposed rules only allow the same entity to possess one registration certificate.
Under the NDDoH plan, qualifying patients will be able to obtain usable marijuana at any dispensary. However, the NDDoH will be tracking purchased amounts and qualifying patients will not be able to purchase more than 2.5 ounces of dried leaves and flowers and 2,000 mg of THC total from all other products every 30 days. Qualifying patients must have specific authorization from their health care provider in order to purchase dried leaves and flowers.
The department held public meetings on the administrative rules late last year. The process resulted in some changes, such as lengthening the time that law enforcement agencies will have to report to the state any problem incidents.
The rules still need approval by the attorney general's office and the Legislature's Administrative Rules Committee.
State law allows medical marijuana for 17 medical conditions and terminal illnesses. The drug isn't expected to be available to patients until late this year.
FARGO, N.D. (AP) — Police are investigating an armed robbery and shooting in Fargo.
Authorities say officers responded to a report of a man who was shot at an apartment about 11 p.m. Thursday.
Sgt. Matt Ystebo tells KFGO there were two people in the apartment. One was shot and is hospitalized with non-life threatening injuries.
No one is in custody.
BISMARCK, N.D. (AP) — North Dakota U.S. Rep. Kevin Cramer says he won't run for U.S. Senate.
The 56-year-old Republican, who had been widely seen as the GOP's best chance to unseat Democratic Sen. Heidi Heitkamp, announced Thursday that he will seek another House term instead.
Cramer announced his plans during an interview with talk radio host Scott Hennen.
Republican state Sen. Tom Campbell is running, but he lacks Cramer's name recognition and experience.
Cramer was first elected to the House in 2012. He is a former chairman of the North Dakota Republican Party and previously headed the state Public Service Commission.
Cramer mulled a run for U.S. Senate in 2006 against then-incumbent Democrat Kent Conrad. But he backed out, saying national Republican officials were unwilling to commit enough money to the race at the time.
BISMARCK, North Dakota (AP) — Republican Kevin Cramer's decision to forgo a Senate campaign in North Dakota is the latest snag for Republicans clinging to a paper-thin majority in the Senate.
The three-term House member says he'll seek another House term despite an hourlong meeting with Trump last week in the White House.
In swing-state Ohio, Josh Mandel's decision to exit the Senate field sets up the chance for a primary between Rep. Jim Renacci and investor and author J.D. Vance.
Ohio and North Dakota are among the 10 states that Trump won in 2016 that have Democrats running for re-election. Republicans hold a 51-to-49 edge in the Senate, a margin narrowed last month by Alabama Democrat Doug Jones' surprise win over Republican Roy Moore a special election.
MINOT, N.D. (AP) — Officials at Minot Air Force Base are dedicating a $17.6 million B-52 bomber maintenance facility.
The Minot Daily News reports that the 5th Aircraft Maintenance Squadron has scheduled a ribbon-cutting ceremony Friday for the building.
The facility will bring together squadron personnel from several locations. It's among construction projects at the base that total $121 million.
BISMARCK, N.D. (AP) — North Dakota U.S. Rep. Kevin Cramer says he's not ready to endorse Sen. Tom Campbell in the Senate race and he thinks other Republicans will jump in.
Cramer announced Thursday that he wouldn't challenge Democratic incumbent Heidi Heitkamp. Cramer had been seen as the best GOP hope to beat Heitkamp. He'll run for another House term instead.
Cramer says he had a much better chance of beating Heitkamp than Campbell. But Cramer says Campbell still could win a tight race.
Campbell says he doesn't see any other GOP competition "because all the other potential contenders have already bowed out."
MINNEAPOLIS (AP) — A group that advocates for the Jewish community and fights anti-Semitism is being recognized by the FBI.
The FBI announced Thursday that the Jewish Community Relations Council of Minnesota and the Dakotas is receiving the 2017 FBI Director's Community Leadership Award.
The award is given annually to people or groups that show extraordinary community service in areas of civil rights or crime prevention.
The FBI says the JCRC organized forums, provided education and addressed community concerns after Jewish community centers and synagogues received threats in early 2017. The group also works to prevent hate crimes and increase cooperation between law enforcement and ethnic and minority groups.
Minneapolis Special Agent in Charge Rick Thornton will honor the JCRC at a ceremony next week. The group will be formally recognized at FBI headquarters in April.
In sports…
Fifth Class A basketball poll
(First-place votes in parentheses)
Boys
Team Rec. Pts. LW
Fargo Davies (13) 9-0 77 1
West Fargo (3) 9-0 64 2
Bismarck 9-2 49 5
Mandan 9-1 27 3
Minot 7-2 13 4
Others receiving votes: Bismarck Century (8-2).
Girls
Team Rec. Pts. LW
Bismarck Century (16) 10-0 80 1
Bismarck St. Mary's 8-1 61 2
Fargo Shanley 8-1 49 3
Fargo Davies 7-2 30 4
G.F. Red River 8-1 10 NR
Others receiving votes: Mandan (7-3).
JAMESTOWN  (UJ.edu)– The 16th-ranked Jimmie hockey team opened their three-game weekend homestand with a 5-2 win over No. 24 Arizona State Thursday night at Wilson Arena.
The win lifts Jamestown's record against ACHA Division 1 competition to 9-11-1 this season, and 13-11-1 overall. The Sun Devils fall to 9-18-0 overall and 7-18 against ACHA Division 1 teams.
UJ hosts Nevada-Las Vegas Friday and Saturday at Wilson Arena. The puck drops at 7:00 p.m.each evening.
Boy's Basketball…
Bismarck Century 71, Bismarck St. Mary's 46
Bismarck High 80, Bismarck Legacy 67
Dickinson Trinity 66, Heart River 57
Dunseith 68, Rolette-Wolford 51
Garrison 56, Underwood 53
Killdeer 70, Glen Ullin-Hebron 48
Linton-HMB 59, Kidder County 54
Minot Our Redeemer's 67, South Prairie 25
Mott-Regent 52, New Salem-Almont 32
Napoleon 66, South Border 40
New Town JV 81, Tioga 76
Rugby 84, North Star 55
Watford City 58, North Shore – Plaza 55
White Shield 75, Parshall 71
POSTPONEMENTS AND CANCELLATIONS
East Grand Forks, Minn. vs. Grand Forks Central, ppd.
Langdon-Edmore-Munich vs. Cavalier, ppd.
Bismarck Century 64, Bismarck St. Mary's 49
Bismarck High 58, Bismarck Legacy 45
Bottineau 52, Towner-Granville-Upham 40
Bowman County 60, Beach 46
Des Lacs-Burlington 58, Surrey 34
Divide County 61, Burke County 35
Edgeley-Kulm-Montpelier 56, Ellendale 25
Enderlin 46, Tri-State 45
Glen Ullin-Hebron 55, Mott-Regent 27
Harvey-Wells County 57, New Rockford-Sheyenne 30
Hazen 51, New England 44
Hettinger/Scranton 78, Richardton-Taylor 20
Killdeer 60, Beulah 44
Minot Bishop Ryan 41, Lewis and Clark-Berthold 38
Minot Our Redeemer's 60, South Prairie 49
Nedrose 73, Drake/Anamoose 41
New Town 62, Kenmare 56
Shiloh Christian 85, Grant County 62
St. John 70, Rolla 39
Underwood 55, Garrison 52
Velva/Sawyer 61, Westhope-Newburg 24
Watford City JV 43, North Shore – Plaza 32
Wilton-Wing 53, Linton-HMB 48
POSTPONEMENTS AND CANCELLATIONS
Benson County vs. Lakota, ccd.
Cavalier vs. Drayton/Valley-Edinburg, ppd.
Dakota Prairie vs. Warwick, ppd.
Griggs County Central vs. Grafton/St. Thomas, ppd.
Hillsboro/Central Valley vs. Midway-Minto, ppd.
Kindred vs. Fargo Oak Grove Lutheran, ppd. to Jan 19.
Larimore vs. North Border, ppd.
May Port CG vs. Thompson, ppd.
Milnor-North Sargent vs. Richland, ppd. to Jan 12.
Northern Cass vs. Wyndmere-Lidgerwood, ppd.
Oakes vs. Midkota, ppd.
Regional Men's Basketball…
FARGO, N.D. (AP) — Joe Rosga scored 15 points and Denver pulled away early in the second half and cruised to a 67-61 victory over North Dakota State for its first Summit League victory. Denver used a 15-0 run, including three straight 3-pointers, spanning both halves for a 41-22 lead early in the second.
NATIONAL BASKETBALL ASSOCIATION
Final Boston 114 Philadelphia 103
Final Toronto 133 Cleveland 99
Final L.A. Clippers 121 Sacramento 115
Final L.A. Lakers 93 San Antonio 81
NATIONAL HOCKEY LEAGUE
Final Carolina 3 Washington 1
Final Buffalo 3 Columbus 1
Final Calgary 5 Tampa Bay 1
TOP-25 COLLEGE BASKETBALL
Final (6) Wichita St. 95 East Carolina 60
Final Oregon 76 (11) Arizona St. 72
Final (15) Gonzaga 103 Portland 57
Final (17) Arizona 62 Oregon St. 53
Final NC State 78 (19) Clemson 77
NFL-NEWS
UNDATED (AP) — A group that promotes diversity in NFL hiring wants the league to investigate whether the Oakland Raiders violated the "Rooney Rule" when they hired Jon Gruden as coach.
The Fritz Pollard Alliance is asking whether Raiders owner Mark Davis reached an agreement with Gruden before the team interviewed any minority candidates. Davis met with Gruden on Christmas Eve, fired coach Jack Del Rio a week later and hired Gruden on Jan. 6. Raiders general manager Reggie McKenzie said Tuesday he interviewed two minority candidates before Gruden's hiring was announced.
COLLEGE FOOTBALL-NEWS
UNDATED (AP) — National champion Alabama is losing four more underclassmen to the NFL draft, including All-America safety Minkah Fitzpatrick.
Safety Ronnie Harrison and tailback Bo Scarbrough have also announced they are skipping their senior seasons. Crimson Tide coach Nick Saban says defensive tackle Da'Ron Payne is also entering the draft.
Wide receiver Calvin Ridley previously announced his early depart
MLB…
— The Yankees have agreed with outfielder and former Twin, Aaron Hicks on a one-year deal worth just over $2.8 million. Hicks set career highs with a .266 average, 15 homers and 52 RBIs.
NHL-GOLDEN KNIGHTS-ARMY
ALEXANDRIA, Va. (AP) — The U.S. Army has filed a challenge opposing the application of the NHL's newest franchise to register the trademark "Las Vegas Golden Knights."
The Army claims it will be damaged by registration of the marque and says it has acquired exclusive rights that predate any rights claimed by the NHL team. The Army says it has used the Golden Knights nickname since the late 1960s and claims it owns "common law rights" for the color schemes that combine black and gold and yellow and white.
TENNIS-AUSTRALIAN OPEN-SEEDINGS
MELBOURNE, Australia (AP) — Top-ranked Rafael Nadal and defending champion Roger Federer have been seeded first and second for the Australian Open. That means they can only play each other if they set up a rematch of last year's final.
Grigor Dimitrov is the No. 3 seed, and six-time champion Novak Djokovic (NOH'-vak JOH'-kuh-vich) is 14th as he comes back from a six-month injury layoff.
Simona Halep (HA'-lehp) is No. 1 in the women's draw, followed by Carolina Wozniacki and Garbine Muguruza (GAHR'-been moo-gah-ROO'-thuh).
PGA-SONY OPEN
HONOLULU (AP) — Zach Johnson and Chris Kirk are co-leaders through one round of the PGA's Sony Open at Honolulu.
Both played bogey-free golf in firing 7-under 63s, putting them one shot ahead of four players.
Vaughn Taylor and Brian Harman are at minus-6, as are Kyle Stanley and Talor Gooch.
Jordan Spieth (speeth) carded eight birdies on the day, but he also hit four trees with four shots on the par-4 eighth hole for a quadruple bogey that led to a 1-under 69.
In world and national news…
WASHINGTON (AP) — President Donald Trump is calling a bipartisan immigration proposal "a big step backwards" and claiming that it would force the U.S. "to take large numbers of people from high crime countries which are doing badly." Trump's tweets early Friday appears to be defending himself against furor caused after a White House meeting in which he questioned why the U.S. would accept more immigrants from Haiti and Africa than places like Norway, and used a vulgar expression to describe African countries.
JOHANNESBURG (AP) — Norwegians are baffled and discomfited to be the subject of President Donald Trump's backhanded compliment in his vulgar comments on immigrants from African nations and Haiti. A commentator for the Amerikansk Politikk website says the sentiment about Norway might have been welcomed without the rest of the statement. A university professor in international studies says Trump has achieved the unlikely feat of praising Norway while still offending its citizens.
UNDATED (AP) — Members of the Haitian-American community are criticizing President Donald Trump for using bluntly vulgar language as he questioned why the U.S. would accept more immigrants from Haiti and Africa rather than places like Norway. The comments angered Illinois state Sen. Kwame Raoul, whose Haitian parents immigrated to the U.S. in the 1950s. The Chicago Democrat said, "I don't think there's any apologizing out of this."
MONTECITO, Calif. (AP) — A grim search through muck and rubble continues in Montecito, California, for any more survivors of Tuesday's deadly mudslide that's claimed 17 lives. Santa Barbara fire Capt. Gary Pitney said, "At this moment, we are still looking for live victims." But he confessed: "The likelihood is increasing that we'll be finding bodies, not survivors. You have to start accepting the reality of that.".
WASHINGTON (AP) — President Donald Trump will be the patient himself, not the commander in chief comforting them, when he visits the Walter Reed military hospital on Friday. Trump heads to the medical facility in Bethesda, Maryland, for his first medical check-up as president. But what has been a fairly routine exam for previous officeholders has taken on outsized importance in the age of Trump.