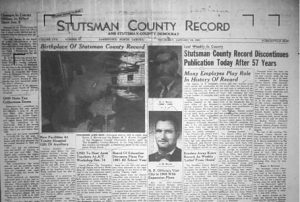 This Day In History,  January 12, 1961 –  The Stutsman County Record discontinues publication. *** from the 125th Anniversary Calendar of Jamestown History ***  
In  1961 the last newspaper went to press. The Stutsman County Record after 57 years of Publication was finished.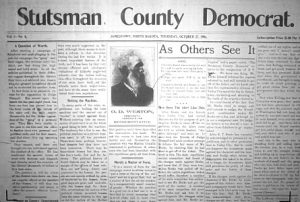 "The Stutsman County Democrat was established here (Jamestown)  in 1904 by M. P. Morris. Mr. Morris has been for some time the printing foreman of the Alert plant and was thoroughly acquainted with the printing business. The paper became the property of his son, H. J. Morris, in 1926, and the name was changed to the Stutsman County Record. The paper used to be a democratic organ but now is classed as independent."
The newspaper ended publication in 1961.
Photos of papers, credit: Alfred Dickey Library.