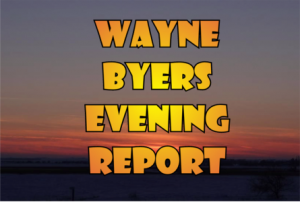 CSi Weather…
…WIND CHILL WARNING UNTIL NOON SATURDAY…INCLUDES THE JAMESTOWN AREA.
Forecast…
.TONIGHT…Clear. Lows 25 to 30 below. Northwest winds 5 to
15 mph. Wind chill readings 45 below to 50 below zero.
.SATURDAY…Sunny. Highs zero to 5 below. West winds around 5 mph
shifting to the south in the afternoon. Lowest wind chill
readings 47 below to 52 below zero in the morning.
.SATURDAY NIGHT…Mostly cloudy. Lows 5 to 10 below. South winds
5 to 15 mph. Wind chill readings 22 below to 27 below zero.
.SUNDAY…Mostly cloudy with a 30 percent chance of light snow.
Highs 15 to 20.
.SUNDAY NIGHT…Partly cloudy. Lows 15 to 20 below.
.MARTIN LUTHER KING JR DAY…Mostly sunny. Patchy blowing and
drifting snow. Highs 5 to 10 below.
.MONDAY NIGHT…Mostly clear. Lows 20 to 25 below.
.TUESDAY…Sunny. Highs zero to 5 below.
.TUESDAY NIGHT…Mostly clear. Lows 5 to 10 below.
.WEDNESDAY…Sunny. Highs 15 to 20.
.WEDNESDAY NIGHT…Mostly clear. Lows 10 to 15.
.THURSDAY…Mostly sunny. Highs 25 to 30.
.THURSDAY NIGHT…Partly cloudy. Lows 15 to 20.
.FRIDAY…Partly sunny. Highs 30 to 35.
A brief respite from the Arctic air at least during the first half of Sunday, before the next Arctic high builds across the Northern Plains Sunday night into Tuesday with another round of dangerous wind chills expected after that.
However, by late next week a possible warm up to above normal temperatures.
Jamestown  (CSi)  The Annual Denim and Diamond Gala to support the Make-A-Wish Foundation and the JakeStart organization will be held Saturday January 20th at the Quality Inn & Suites in Jamestown.  Doors open at 6-p.m.
Tickets include plated dinner, live and silent auction, entertainment by the Midwest Dueling Pianos, and a message from keynote speaker Miss America 2018 Cara Mund.  All proceeds go to benefit Make-A-Wish ND and the JakeStar organization to provide ATV Safety Training to all kids in North Dakota through North Dakota Parks and Rec.
Individual Tickets-  $40.00   (180 person limited seating )
Table of 8–  $300 ($20 discount)
Key Corporate Sponsorship– $750 (many added advantages including table of 8, publications, and radio advertisements)
Exclusive Sponsorship– $1,200  (Your Company name will be mentioned in all Radio, Print, Email and Social Media blasts as the Exclusive Sponsor, VIP Table and Tickets, and two bottles of wine)
Contact Lynn Lambrecht for Tickets and Sponsorship Information at 701-320-7217
Purchase Individual Tickets Online
Jamestown  (CSi)  Prairie Paws Rescue invites the community to support them by attending the "Raise the Woof," stand-up comedy show, February 3rd at Shady's in Jamestown.
Doors open at 7-p.m., the show starts at 8-p.m.
Tickets are $15 in advance, $20 the day of show.
Prairie Paws Rescue's Kay John says Modern Woodman will match up to $2,500 raised.
She points out the show is a 21 and over event, and that only 200 tickets will be available.
Purchase advance tickets at Big Dog Radio, Shady's, Dr. Dawn's Pet Stop, Country Acres Vet, Southwood Vet, or any Prairie Paws Rescue volunteer.
For more information or to be an event sponsor, contact Prairie Paws at 701-320-4553, or Email:  prairiepawsrescue@hotmail.com
Valley City  (CSi)  The NDDOT will hold a Public Input Meeting Thursday January 18th, from 5:00 to 7:00 p.m. at the Eagles Club, 345 12th Avenue Northeast, Valley City, ND.  The meeting will utilize an open house format.
The purpose of the Public Input Meeting is to discuss the stabilization of Interstate 94 westbound roadway embankment and reconstruction of the damaged or distressed pavement.  Additionally, back slope stabilization will be required along the eastbound exit ramp at Interchange 290.  Stabilization is required due to an active landslide in the area.  Drainage improvements will be made along both locations. The meeting will provide opportunity for public input. Representatives from the NDDOT will be on hand to answer your questions and discuss your concerns.
If unable to attend the Public Input Meeting, written statements or comments must be mailed by February 2, 2018, to James Rath, ND Dept. of Transportation, 608 East Boulevard Avenue, Bismarck, ND 58505 or jrath@nd.gov with "Public Input Meeting" in the e-mail subject heading.
The North Dakota Department of Transportation (NDDOT) will consider every request for reasonable accommodation to provide:
an accessible meeting facility or other accommodation for people with disabilities,
language interpretation for people with limited English proficiency (LEP), and
translations of written material necessary to access NDDOT programs and information.
To request accommodations, contact Paula Messmer, Civil Rights Division, NDDOT, at 701‑328‑2978 or civilrights@nd.gov.   TTY users may use Relay North Dakota at 711 or 1‑800‑366‑6888.
Jamestown  (CSi)  The James River Valley Library System, in partnership with the Jamestown Regional Entrepreneur Center presents "Start Your Business Plan Now," taught by Kari Bies, on Tuesday January 23,  from 6-p.m. to 7:30-p.m., at the Alfred Dickey Public Library, Lower Level Conference Room.
Kari graduated from the University of Mary with a Business Marketing and Sales degree.
Her dream was to own her own business.  She made her first quilt when her second child was born.  She saw the need for a quilt shop and took the chance.  RumpelQuiltskin was born five years ago.
Kari will relate her journey to form her own quilt business.
Pre-register at www.friendsofjrvl.org and click on registration, or call 701-252-2217.
Bismarck – ND:  January 12th, 2018 at approximately 8:24 am NDHP Troopers responded to multi property crashes on the eastbound lane of Grant Marsh Bridge. Eastbound traffic on Grant Marsh was stopped for approximately one hour.  Traffic was diverted to Bismarck Expressway until the eastbound lanes of the Grant Marsh Bridge were reopened. Morton County assisted on scene. The crash remains under investigation by the NDHP.
BISMARCK, N.D. (AP) — A Denver woman accused of shooting at law officers during protests in North Dakota against the Dakota Access oil pipeline will not receive more information about an FBI informant she alleges seduced her and owned the gun.
Red Fawn Fallis is to stand trial in federal court in Fargo beginning Jan. 29 on accusations that she fired a handgun three times at officers during her October 2016 arrest. No one was injured.
She has pleaded not guilty to civil disorder and weapons charges, including illegal possession of a gun by a convicted felon. She would face at least 10 years in prison if convicted on all counts.
Fallis last month asked U.S. District Judge Daniel Hovland to compel prosecutors to hand over more evidence, including more details about the FBI informant. She maintained the man infiltrated the protesters' camp and initiated a "duplicitous" romantic relationship with her, and that she had a right to information about "the role he played in the creation and support of the civil disorder alleged by the government, as well as his role in the events" surrounding her arrest.
The government maintained it turned over all information about the informant to the defense, and Assistant U.S. Attorney David Hagler said in court documents that "defendants' reference to the FBI informant as some sort of complex issue is misplaced."
Hovland in a ruling dated Wednesday said Fallis' "displeasure" with the information she received and her "speculation" that more material exists were not sufficient arguments.
Fallis' arrest was among 761 that authorities made between August 2016 and February 2017, when at times thousands of pipeline opponents gathered in southern North Dakota to protest the $3.8 billion project to move North Dakota oil to a shipping point in Illinois.
Pipeline opponents, including four Native American tribes, fear a leak could cause catastrophic environmental harm. The Texas-based developer says its pipeline is safe.
Hovland this week ruled on numerous defense and government requests leading up to Fallis' trial, including granting her request that details about her past criminal history not be allowed. She has a 2003 conviction in Colorado for being an accessory to a felony crime.
The judge also will not allow trial witnesses to use the term "civil disorder," which Fallis maintained might not be a factual description of the protest scene, though attorneys will be able to use the term in arguments to the jury.
Hovland restricted use of the word "riot" to law officers.
BISMARCK, N.D. (AP) — A federal mandate requiring many motor carriers to install electronic logging devices could cost livestock haulers in North Dakota's cattle industry. One man who runs a cattle feeding operation tells the Bismarck Tribune that electronic logging devices will put them out of service. Increasing enforcement through the devices will likely hike freight costs by putting a second driver in the truck to avoid violations on long trips. He says producers will end up footing the bill.
FARGO, N.D. (AP) — Former North Dakota TV reporter Roxana Saberi has joined CBS News as a London-based correspondent. Saberi reported for KVLY-TV in Fargo from 2000 to 2002 before becoming a foreign correspondent, working for several news organizations in the Middle East and Asia. She also spent six years in Iran, where she was imprisoned for 100 days. Saberi graduated from Fargo North High School in 1994 and from Concordia College in 1997
BISMARCK, N.D. (AP) — Federal investigators believe a broken wheel caused a May 2015 oil train derailment and fire that prompted the evacuation of Heimdal (HYM'-dahl). The National Transportation Safety Board says investigators found a mark on the track indicating a broken wheel that caused six cars on the BNSF Railway train to leave the tracks. They also found pieces of a broken wheel at the scene, and say workers had fixed another defective wheel on the train two days before the derailment.
GRAND FORKS, N.D. (AP) — Grand Forks police are looking for a man who robbed a convenience store at knifepoint. Authorities say the man walked into the Valley Dairy store about 7:30 a.m. Friday, showed the weapon and demanded money. The man fled with an undetermined amount of cash. No injuries were reported
BISMARCK, N.D. (AP) — An effort to oust Washburn's City Commission president has failed.
The Bismarck Tribune reports that President Larry Thomas defeated challenger Derek Laning 190 votes to 157 votes in Tuesday's recall election.
Recall committee members sought to oust Thomas over what they said were open meeting law violations, a hostile work environment and Thomas' disregard for others.
Thomas called the claims "totally fabricated" and said the election results show that the recall was unjustified.
In world and national news…
WASHINGTON (AP) — The State Department says American diplomats will have to work "extra hard" to send the message that the United States cares about other countries after President Donald Trump used the word "shithole" to describe Africa nations. Undersecretary of State Steve Goldstein says it's Trump's right to "make whatever remark he chooses."
JOHANNESBURG (AP) — The U.N. spokesman says Secretary-General Antonio Guterres has repeatedly said that "the dignity, equality and human rights of refugees and migrants has to be respected everywhere." Stephane Dujarric responded Friday to questions seeking U.N. reaction to U.S. President Donald Trump's comments by saying Trump has denied making those comments. But he noted Guterres has urged all countries to focus on the overwhelmingly positive contributions of migrants and use "facts not prejudice."
FRANKFORT, Ky. (AP) — Kentucky has become the first state to win approval from the Trump administration requiring many of its Medicaid recipients to work to receive coverage. The Trump administration gave the go ahead Friday.
RIYADH, Saudi Arabia (AP) — Saudi women were allowed into a sports stadium for the first time Friday to watch a soccer match between two local teams _ though they were segregated in the stands from the male-only crowd with designated seating in the so-called "family section." More than just an incremental step toward greater rights, the presence of women in the stadium underscores a wider effort to integrate women in society and grant them more public visibility.
PORT-AU-PRINCE, Haiti (AP) — Haitians are reacting with outrage to reports that President Donald Trump questioned why the U.S. would accept more immigrants from Haiti and "shithole countries" in Africa at an Oval Office meeting on the eve of the anniversary of Haiti's 2010 earthquake, one of the deadliest disasters in modern history. President Jovenel Moise's government issued a strongly worded statement denouncing what it called a "racist" view of Haitian immigrants and people from African countries.