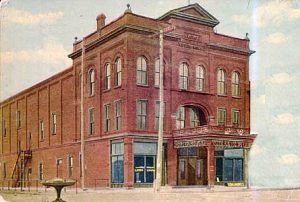 This Day In History,  January 25, 1921 –  William M Lloyd,  Pioneer of Jamestown, dies. *** from the 125th Anniversary Calendar of Jamestown History ***  
William M Lloyd – Pioneer Jamestown businessman dies in Pennsylvania. Mr Lloyd built Lloyd's Opera House, Metropolitan Hotel, and other businesses in Jamestown.
below is from the North Dakota Banker: Official Journal of the North Dakota Bankers…, Volume 9
William Lloyd figured extensively in the business and social life of Jamestown. He located there in 1881, coming from Pennsylvania, and was associated in business and building enterprises with D. McKay Lloyd of Pittsburg.
William Lloyd was active for some thirteen years in the building up and development of Jamestown, and at one time was considered one of the most prominent and influential bankers and business men of the state. He enlisted a great deal of outside capital for investment in Jamestown and Stutsman County.
The Lloyd Bank was established by him, and was for a time a private bank, afterwards being converted to the Lloyd Bank National Bank. Mr. Lloyd built the Jamestown Opera House, and a large hotel known as the Metropolitan Hotel, in addition to the residence property.  South of the Metropolitan Hotel was the old Capital Hotel building, and a large skating rink operated by Dr. Glasgow, now of Casselton. A fire which originated in the old rink building destroyed all of the building block, including the Lloyd home across the street.
Mr. Lloyd built up a large banking and real estate business, and his name is identified with the two additions to Jamestown; he was prominent in the location and starting of the University of Jamestown. He spent much of his time and money inducting friends is the East to help in establishing the University. He interested a large amount of English capital to invest in North Dakota, and was at one-time American Agent for the Alliance Mortgage and Investment Company of Manchester, England.
In the financial panic of 1893, the Lloyd Bank although on of the strongest in the state, was unable to secure funds for temporary demands, and its affairs were place in the hands of a receiver. A dividend of 52% was paid all creditors of the bank; and it is now a matter of common knowledge and belief that had the Lloyd Bank been given a little more time to recover its financial embarrassment, every depositor would have been paid in full.