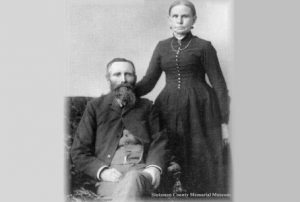 This Day In History, January 27, 1908 – Mrs A.W. Kelley passes.   *** from the 125th Anniversary Calendar of Jamestown History ***  
Caroline Kelley, wife of A.W. Kelley, early pioneer and first white woman resident of Jamestown dies.
Caroline's and her husband A. W. Kelley arrived in Jamestown from the east coast in 1872. Caroline's husband, Arthur was a merchant and town first postmaster. Both Caroline and Arthur died in 1908.
information from "Images of America: Jamestown"
Photos: Stutsman County Memorial Museum.