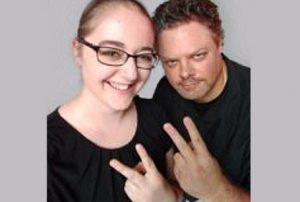 Valley City  (VCSU)  – Sarah Montecuollo, a Valley City State University sophomore from Valley City, appears in a new video by Mandisa, a Grammy award-winning Christian/gospel artist.
Montecuollo can be seen signing in the Mandisa video for "Bleed the Same (youtu.be/HVKuA1s5I3o)," which was released Jan. 12. (Although Montecuollo appears throughout the video; one section where she appears prominently begins at the 2:05 mark.)
Mandisa flew Montecuollo to Nashville in mid-November 2017 to record her parts for the video, after Sarah had shared a video of herself winning the VCAB Homecoming Talent Show this past fall with a signing performance of "Bleed the Same."
Although Montecuollo met with the managers of Mandisa and her collaborator, TobyMac, at the Nashville studio, she has yet to meet the singer herself. That will happen Feb. 25 in Minneapolis, when Montecuollo will participate in a meet-and-greet session with Mandisa when she performs at the Target Center as part of the TobyMac Hits Deep Tour concert.
Montecuollo is studying music education at VCSU; she's learned to sign by taking classes in American sign language and interpreting via distance technology on the VCSU campus through Lake Region State College in Devils Lake. Her Homecoming Talent Show performance can be viewed at youtu.be/SMPh4xrVMDQ.