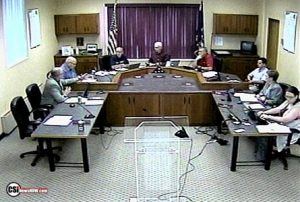 Valley City  (CSi)  The Valley City Commission met in Regular Session Tuesday evening at City Hall.
All members were present.
APPROVAL OF CONSENT AGENDA ITEMS:
Monthly Reports from the Fire Chief, Building Inspector, Auditor, Municipal Judge and Public Works Accountant.
Monthly Bills for the City and Public Works in the Amount of $2,349,194.09
Raffle permits for Barnes County Ducks Unlimited, Native American Culture Club, North American Game Warden Museum
PUBLIC COMMENTS No One Spoke.
RESOLUTION
The City Commission disapproved a Resolution to amend a fee for parking tickets.  City Attorney Mertins said the fee is now $10 and will be increased to $20 in compliance with the North Dakota Century Code. Police Chief Philp Hatcher commented that the $10 parking ticket fee is sufficient.
Mertins added that changing the city code could keep the fee at $10.
City Administrator Schelkoph said winter illegal parking on Emergency Snow Routes has been an issue, and a higher fee would be a deterrent.
Mertins said an Ordinance will be drafted to amend the City Code to approve it's own fee structure.
Approved a Resolution determining sufficiency of protest for Paving Improvement District No. 117. City Auditor Richter said the protests amounted to 2.25 percent…and .046 percent, below the 50 percent needed to officially protest.
Approved a Resolution accepting Final Plans and Specifications for Paving Improvement District No. 117 and authorizing Engineer to advertise for bid.
NEW BUSINESS
Approved the sale of Lot 6, Riverside Drive Third Addition for $7,013. City Administrator Schelkoph said the process was restarted due to not advertising the sale in a timely fashion in the newspaper the first time.
He said the proper policy has now been followed, and the Commission voted unanimously to approve.
Approved the application for Property Tax Exemption for Improvement to 240 13th St NE. City Assessor Sandy Hansen explained the procedure and policy to allow the exemptions, and improvements planned.
Approved the Application for Property Tax Exemption for Improvement to 426 3rd St NW.City Assessor Hansen also said the project is a complete remodeling of the interior and she recommends approval.
Approved a Memorandum of Understanding between State of ND ITD and City of Valley City for statewide interoperable radio network. City Attorney Mertins said in 2017 the state legislature passed a law implementing the network.  Chief Hatcher said the network is managed by state radio, and is used in a case like the DAPL pipeline protests response with several agencies around the state.
The City Commission awarded the bid for demolition of Elevators & Steel Bins located at Mill Dam to Swanberg Construction in the amount of $164,500.00. City Administrator Schelkoph six contractors bid on the project, with Swanberg the low bidder.
CITY UPDATES & COMMISSION REPORTS
Fire Chief Retterath asks residents to make sure hydrants are shoveled out, and that meters are snow free.
City Auditor Richter said petitions to run for city offices in June this year may be picked up now at City Hall, and must be turned in by no later that April 9th.
She said guidelines are also available at City Hall.
Up for election this year, are the City Commission President (Mayor) two City Commission seats, and three City Parkboard seats.
The meeting was shown live on CSi Cable 68, followed by replays.