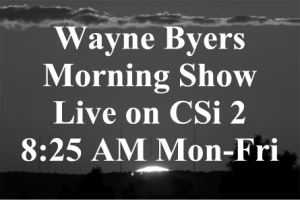 CSi Weather…
.REST OF TODAY…Partly sunny. Highs 5 to 10 above. North winds around 5 mph. Lowest wind chills around 25 below in the morning.
.TONIGHT…Decreasing clouds. Lows around 10 below. North winds
5 to 10 mph. Lowest wind chills around 25 below after midnight.
.FRIDAY…Sunny. Highs zero to 5 above. Northwest winds 10 to
15 mph. Lowest wind chills around 30 below in the morning.
.FRIDAY NIGHT…Mostly clear. Lows around 5 below. West winds
10 to 15 mph.
.SATURDAY…Mostly sunny. Highs 10 to 15. West winds 10 to
15 mph.
.SATURDAY NIGHT…Partly cloudy. Lows zero to 5 above.
.SUNDAY…Partly sunny. Highs 15 to 20.
.SUNDAY NIGHT…Mostly cloudy. Lows near zero.
.MONDAY…Mostly cloudy. A 20 percent chance of snow in the
afternoon. Highs 15 to 20.
.MONDAY NIGHT…Mostly cloudy. Lows zero to 5 above.
.TUESDAY…Mostly sunny. Highs 15 to 20.
.TUESDAY NIGHT…Partly cloudy. Lows 5 to 10 above.
.WEDNESDAY…Partly sunny. Highs in the lower 20s.
Dry and very cold Friday and Saturday
Highs will be in the single digits above zero Friday, then 10F to 15F above on
Saturday.
With a clear sky Friday night, wind chills once again
will reach 35 below zero for all of western and central ND.
A quick clipper/cold front will bring
somewhat milder temperatures versus Saturday, with highs 15F to
25F Sunday afternoon.
Update…
Jamestown  (CSi)  The Jamestown City Fire Department was called to 1105 16th Street Southwest at about 4:20 p.m., Wednesday.  A passerby reported smoke coming from the eves of the house.
Lt Sheldon Mohr says  the fire started in the kitchen and spread to the attic space.
The fire units extracted extensive smoke from the house.
The family dog was in the house and had been removed to a nearby home without injury.
No injuries reported and the fire is under investigation,
Five city fire units  and 28 firefighters were on the scene nearly an hour.
The Buffalo Valley American Red Cross chapter provided emergency lodging.
CSiNewsNOW.com photos on line.
Valley City  (VCSU-Greg Vanney)   Valley City State University has set spring enrollment records for the third consecutive year according to official Spring Semester 2018 census numbers released Tuesday, Feb. 6. The VCSU enrollment figures show a record spring headcount of 1,500 students, along with a spring record for FTE (full-time equivalent) enrollment of 1,044.
VCSU Interim President, Margaret Dahlberg says, "The increase in enrollment numbers is a vote of confidence in our people and programs by our students. The numbers reflect well on our faculty, staff, and the innovative environment we've created for our students to learn and grow. Our increasing enrollment figures also point to the positive efforts we've invested in retaining students and helping them achieve success once they have chosen VCSU."
Over the last 10 years, VCSU spring headcount has grown from 959 to 1,500—a 56 percent increase—and spring FTE enrollment has increased from 767 to 1,044, a 36 percent increase.
The record spring enrollment follows an all-time record headcount enrollment of 1,522 students in fall 2017.
Last fall, U.S. News and World Report ranked VCSU the "No. 1 Public Regional College in the Midwest" for the third consecutive year and a U.S. News "Best College" for 20 consecutive years.
VCSU offers bachelor's degree programs in a wide variety of disciplines and two graduate programs, the Master of Education (M.Ed.) and the Master of Arts in Teaching (M.A.T.). The graduate degrees are offered completely online, as are a host of undergraduate programs. Three-year bachelor's degree programs are available in a number of majors, and faculty engage students with free Open Educational Resources (OER) in place of textbooks in many courses.
Jamestown  (CSi)  The All-Vets Club in Jamestown is celebrating Valentine's Day a few days early with Valentine's Day Dinner Specials on Saturday February 10th starting at 5-p.m.
In addition to dining, from the special menu, the All-Vets Club is providing a DJ for music, and one  free movie ticket at the Bison-6 Cinema in Jamestown, for the first 20 couples who order off the Special Menu.
The ticket is courtesy of Bison-6.
Jamestown  (CSi)  Buffalo Mall merchants are sponsoring their 13th annual Business Leaders Soup Spectacular Cook-off contest to raise funds for the James River Senior Center Home Delivered Meal Program. The date has been set for Saturday, March 10th, 2018 from 11:00am – 1:00pm in the Buffalo Mall commons area.
Community business leaders and service clubs will enter their favorite soup.
For $5.00 the public is invited to taste the soup entries and cast their vote for
the best soup in Jamestown. 100% of the proceeds benefit the Home
Delivered Meal Program.
In conjunction with the soup cook-off, the Jamestown Volunteer Center will
host a benefit bake sale for the Home Delivered Meal Program.
Entertainment will be provided by R & C School of Rock.
Washington  (CSi)  The U.S. Department of Defense, through a joint initiative with the U.S. Department of Veterans Affairs (VA) has launched a new web-based tool (www.vets.gov/discharge-upgrade-instructions that will provide customized guidance to veterans who desire to upgrade or change the conditions of their military discharge.
On Wednesday's Wayne Byers Show on CSi Cable 2, Stutsman County Veterans Service officer, David Bratton said, by answering a few questions, veterans will receive information on the specific armed services board to contact along with forms to fill out, where to send the application and helpful tips for appealing their discharge.
The military has estimated that tens of thousands of veterans with less than honorable discharge are especially likely to have unjust discharges deserving of upgrades.
Those include veterans who were discharged due to incidents relating to post-traumatic stress disorder, traumatic brain injury, or sexual orientation.
The Stutsman County Veterans Service Office is located in the lower level of the Jamestown Law Enforcement Center, open Monday through Friday 8-a.m., to noon, and 1-p.m., to 5-p.m.
Call 701-252-9043, and find more information on the Stutsman County website.
Bismarck  (CSi)  Giving Hearts Day is today  in cooperation with Dakota Medical Foundation, Impact Foundation, and Alex Stern Family Foundation.
This year's Giving Hearts Day participants.
Giving Hearts Day is a one-day online donation event on February 8th where over 400 non-profit organizations benefit from a 24 hour fundraising event. In 2017, about 22,000 people donated over $10 million to different organizations of their choice.
For more, visit impactgiveback.org. Funds will only be matched if they are donated on February 8th, either in person or online.
ND (Salvation Army) – Donations of at least $10 made to any of the Salvation Army's 6 locations in ND on Thurs Feb 8 will be matched as part of Giving Hearts Day 2018.
Participating cities and available matching dollars are as follows:
Fargo: $22,250
Bismarck: $4,000
Grand Forks: $4,000
Jamestown: $4,000
Minot: $4,000
Williston: $4,000
Giving Hearts Day is North Dakota's biggest day of the year for charitable giving. To donate to The Salvation Army, please visit GivingHeartsDay.org anytime on Feb. 8.
Donations to The Salvation Army provide food, shelter, clothing, and other critical services for people and families experiencing poverty.
"Poverty is an everyday battle," said Lt. Col. Lonneal Richardson, leader of The Salvation Army Northern Division. "By giving to The Salvation Army, you are saying, 'I notice people experiencing poverty in my community, and I want to join the fight for good.' We thank North Dakota residents for their support on Giving Hearts Day."
The Salvation Army Northern Division has been serving Minnesota and North Dakota communities since 1886. Learn more at SalvationArmyNorth.org or find us on social media at Facebook.com/SalvationArmyNorth and Twitter at @salarmynorth.
Bismarck  (CSi)  The GOD'S CHILD Project is participating in Giving Hearts Day Feb. 8th The GOD'S CHILD Project has developed a Match amount of $39,500, which means all donations made to The GOD'S CHILD Project on February 8th can be matched up to that amount. Donations can be made online or by check:
To donate online:
Visit www.givingheartsday.org on February 8th, search for The GOD'S CHILD Project, and click Donate Now!
To donate by check:
*Checks need to be delivered to the Bismarck GCP office on February 8th. Make your check out to The GOD'S CHILD Project, date it February 8th, 2018, write Giving Hearts Day in the memo field, and bring it to: The GOD'S CHILD Project, 721 Memorial Highway​, Bismarck, ND 58504.
Quilting groups from around the region have joined in the efforts to make  sanitary  supplies, available for young women including groups from Hazen, Beach, Fargo, Washburn, Bismarck, Valley City, Harvey, and more. "Sewing a Better World" was coined by a large group of Dickinson, ND quilters who are passionate about providing young girls in poverty the opportunity to get an education and remain healthy.
Along with sewing for the Sanitary Pad Project, The GOD'S CHILD Project offers the chance for the public to get involved in this initiative through sponsoring a young girl and supporting her through every stage of her education.
BISMARCK, N.D. (AP) — The North Dakota Highway Patrol says Minot Rep. Andrew Maragos and another man were injured in a two-vehicle crash near Larimore.
Troopers say Maragos' car struck a vehicle driven by 33-year-old Travis Holt of Grand Forks late Tuesday afternoon on U.S. Highway 2.
The patrol says Holt's vehicle crossed the highway attempting to enter a residential driveway when it was struck by Maragos' car. Troopers say both vehicles then went into a ditch.
Both men were taken to a Grand Forks hospital. Troopers did not disclose the extent of their injuries.
Minot Rep. Roscoe Streyle says he got a text message from Maragos' wife, Sherry, who said he "is OK and at home."
Maragos is a 73-year-old Republican lawmaker who was first elected to the state House in 1993.
MINOT, N.D. (AP) — Minot police say they've recovered a pickup truck that was seen in the area of a shooting, but they're still seeking anyone who witnessed the vehicle or its driver.
Authorities say a 26-year-old man was taken to a hospital with a gunshot wound about 5 p.m. Tuesday. His name wasn't immediately released. KXMC-TV reports he's in stable condition.
Police are still searching for the shooter. Authorities tell KXMC that the shooting is an isolated incident and that there is no immediate danger to the community.
BISMARCK, N.D. (AP) — A state investigation into the death of an inmate at the jail in Bismarck has found no wrongdoing on the part of staff.
Forty-seven-year-old Mike Lang died in a hospital on Sept. 13 after suffering a medical problem at the Burleigh-Morton County Detention Center on Sept. 6 and going into a coma. The state medical examiner ruled heart disease as the cause of death.
Lang's family members said he also had pneumonia, low blood sugar, a cut on the back of his head, a broken nose, broken cheek bones and broken ribs.
The Bismarck Tribune reports that a state Bureau of Criminal Investigation review found no concerns with the jail.
Lang's widow says she still believes Lang was beaten by another inmate, likely for his criminal charge of luring minors.
BISMARCK, N.D. (AP) — North Dakota Gov. Doug Burgum says he will reimburse an electric utility $37,000 for tickets the company provided for him and his wife for Sunday's Super Bowl in Minneapolis.
The governor and first lady Kathryn Helgaas Burgum watched the game at no cost from a suite provided by Xcel Energy. The utility serves more than 90,000 customers in Grand Forks, Fargo and Minot.
Burgum says in a statement he will pay back Xcel Energy "to eliminate even the perception of any conflict."
Burgum caught some criticism from within his own party.
GOP Senate Majority Leader Rich Wardner says Burgum's presence in the Xcel suite sent "a bad message."
BISMARCK, N.D. (AP) — The Burleigh County Water Resource District is obtaining easements and preparing for final design of a $3.9 million flood protection project.
The project driven by Missouri River flooding in 2011 will guard against a 20-foot flood in southwest Bismarck's Fox Island subdivision. It was approved in 2016 by 80 percent of the 91 property owners who voted.
Some property owners whose homes will be outside of a levee objected to the project earlier.
The state is paying $2.8 million of the cost, with the rest funded by the county and subdivision residents inside the levee.
The Bismarck Tribune reports the project will be reviewed by the U.S. Army Corps of Engineers and North Dakota's state engineer before being finalized and bid. It's to be completed later this year.
BISMARCK, N.D. (AP) — A program that helps feed the hungry around North Dakota donated 486,000 pounds of fresh produce last year to food pantries, soup kitchens and other charitable feeding groups.
State Agriculture Commissioner Doug Goehring says that provided more than 1.8 million servings of fruits and vegetables.
The Hunger Free ND Garden Project was launched in 2010 by the state Agriculture Department and the Great Plains Food Bank. The program asks home gardeners and commercial growers to donate a portion of their harvest.
The effort has resulted in more than 2.3 million pounds of produce being donated in eight years.
FLAGSTAFF, Ariz. (AP) — Security agents at more than a dozen airports nationwide will be trained on how to screen Native American religious items.
That's the result of a lawsuit filed by the Native American Church of North America. The church alleged the Transportation Security Administration roughly handled ceremonial items and rejected requests to allow only a church member to touch them.
The two sides recently settled the case, with no one acknowledging fault.
Former church president Sandor Iron Rope says the TSA has policies to protect Native American religious items but agents weren't trained properly.
The TSA will collaborate with the church on a webinar and other guidelines for screening things such as gourd rattles, eagle feathers and fans.
The TSA didn't respond to requests for comment.
In sports…
MADISON, S.D. (PlayNorthStar.com)- Valley City State University freshman Bryeann Robertson has been named the North Star Athletic Assocation Women's  Indoor, Field Athlete of the Week.
Bryeann Robertson is a Freshman, from Fort Totten, N.D. – Valley City State's  Robertson qualified for the NAIA nationals in the women's shot put with her career-best toss of 13.10 meters (42 feet, 11.75 inches) at the North Dakota State Bison Open.  The freshman placed third out of 28 throwers, finishing behind only two throwers from NCAA Division I schools.  Robertson has the top throw in the North Star conference by more than 2.5 feet and is the No. 2-ranked freshman in the nation.
Kaiann Arellano (SR/Jamestown, N.D.) has been named North Star Athletic Association Women's Track Athlete of the Week.
Arellano hit three provisional qualifying marks this weekend at the Dakota Wesleyan Open with her preliminary 60 hurdle time, first place high jump of 5'5″ (1.65m), and first place 4 x 400 relay. She already sits 4th nationally in the pentathlon. The 4 x 400 relay team is ranked 9th in the NAIA, while Arellano's high jump puts her 12th and hurdles at 22nd.
The Jimmies will compete at the St. Thomas Showcase in St. Paul, Minn., on Friday.
VALLEY CITY, N.D. (VCSU) – Valley City State University football coach Dennis McCulloch has announced the addition of 20 student-athletes who recently signed letters of intent to join the Vikings next season.
The group features five college transfers and 15 high school seniors who have committed to continue their education and football careers at VCSU.
"It's always exciting to welcome a new group of young men into our program," said McCulloch. "Our coaching staff has put in the hours and miles to find student-athletes who fit our culture and are committed to the team. While the true impact of a recruiting class won't be known for a few seasons, we are eager to see these student-athletes in a Viking uniform this fall."
The group of signed student-athletes for the 2018 season includes eight from North Dakota, six from MInnesota, two from Arizona and one each from Texas, Washington, Alaska and Nebraska.
McCulloch says recruiting is ongoing for the Vikings, and more additions will be announced in the coming weeks.
Valley City State University is a member of the National Association of
Intercollegiate Athletics (NAIA) and plays in the North Star Athletic Association (NSAA) conference. VCSU is coming off a 5-5 season in 2017. The Vikings have won four conference championships in the last seven seasons and are 33-10 in conference
play since 2011.
The Vikings will report to fall camp in early August and are scheduled to open the 2018 season Aug. 25 at rival University of Jamestown.
VCSU Football – 2018 Signed Recruits
North Dakota (8)
Logan Anderson – Jamestown, N.D. – Northern State University, TE, 6-2, 195 lbs
Bradley Davidson – Devils Lake, N.D. – University of Mary, DB, 5-11, 176 lbs
Jeremy Johnson – Souris, N.D. – Bottineau High School, DL, 6-2, 250 lbs
Isaiah Aaseby – Arthur, N.D. – Northern Cass High School, DB, 5-10, 190 lbs
Tayden Thomas – Cando, N.D. – Cando High School, DL, 6-4, 185 lbs
Alex Sell – West Fargo, N.D. – West Fargo High School, RB, 6-0, 175 lbs
Anfernee Economy – Langdon, N.D. – Langdon High School, WR, 6-0, 160 lbs
Kaden Krause – Mandan, N.D. – Mandan High School, QB/Athlete, 6-1, 165 lbs
Minnesota (6)
Arron Annette-Martin – Baxter, Minn. – Central Lakes College, LB, 5-11, 226 lbs
Joachim Kazmierczak – Stephen, Minn. – Stephen-Argyle High School, DL, 6-1, 210 lbs
Jacob Gottenborg – Pelican Rapids, Minn. – Pelican Rapids High School, WR, 6-2, 185
lbs
John McIntire – Verndale, Minn. – Verndale High School, OL, 5-11, 260 lbs
Mack Jones – Verndale, Minn. – Verndale High School, QB, 6-0, 185 lbs
Gunnar Olstad – Moorhead, Minn. – Moorhead High School, OL, 6-1, 244 lbs
Arizona (2)
Avien Romero – Yuma, Ariz. – Cibola High School, OL, 6-0, 290 lbs
Christian Alvarado – Surprise, Ariz. – Valley Vista High School, LB, 5-10, 218 lbs
Texas (1)
Sal Avila – El Paso, Texas – El Dorado High School, DB, 5-9, 190 lbs
Washington (1)
Luke Ross – Sumner, Wash. – Sumner High School, QB, 6-2, 175 lbs
Alaska (1)
Presley Piliati – Anchorage, Alaska – Santa Rosa Junior College, LB, 6-0, 250 lbs
Nebraska (1)
Spencer Dorsey – Tecumseh, Neb. – Dakota College Bottineau, OL, 5-11, 285 lbs
BISMARCK, N.D. (AP)- For the first time this season, the top teams in Class A girls and boys basketball have been selected as unanimous number one teams; as voted on by members of the North Dakota Associated Press Sportscasters and Sportswriters Association.
First place votes are in parenthesis, followed by the team's record, and the number of total points received.
Girls
1. Bismarck Century (16) 16-0 80
2. Bismarck St. Mary's 14-3 64
3. Fargo Davies 13-3 35
4. Fargo Shanley 13-4 21
5. Mandan 12-5 19
Others receiving votes: Grand Forks Red River (13-4), Devils Lake (12-5),  West Fargo Sheyenne (13-4)
Boys
1. Fargo Davies (16) 15-1 80
2. Bismarck Century 14-2 62
3. West Fargo Sheyenne 15-2 39
4. Mandan 14-2 34
5. West Fargo 15-2 18
Others receiving votes: Minot (13-4), Bismarck (13-5)
College basketball played in Valley City.
Men…
(VCSU Vikings.com)  The Valley City State men's basketball team jumped out to a 30-point halftime lead and coasted to a 96-57 victory over Trinity Bible College on Wednesday night.
The Vikings shot 53 percent in the first half as they built a 53-23 lead at the break. VCSU led by as many as 42 points in the second half en route to the non-conference victory.
VCSU improves to 12-15 overall.
Trinity Bible College drops to 8-15.
College women's basketball played in Valley City.
(VCSUVikings.com) – The Valley City State women's basketball team set a school record with 119 points Wednesday night as the Vikings defeated Trinity Bible College 119-43.
Valley City State improves to 21-3 overall.
Trinity Bible College drops to 13-8 overall.
(Mark Potts VCSU)
NATIONAL BASKETBALL ASSOCIATION
CLEVELAND (AP) — LeBron James hit a jumper at the buzzer in overtime, giving the Cleveland Cavaliers a 140-138 win over the Minnesota Timberwolves. James made his 18-foot fadeaway over Jimmy Butler as the Cavs snapped an eight-game losing streak on national TV. James finished with 37 points, 15 assists and 10 rebounds. He also blocked Butler's potential go-ahead shot with 1.3 seconds left in OT.
Final Detroit 115 Brooklyn 106
Final Houston 109 Miami 101
Final Utah 92 Memphis 88
Final San Antonio 129 Phoenix 81
NATIONAL HOCKEY LEAGUE
Final SO Toronto 3 Nashville 2
Final Boston 6 N-Y Rangers 1
Final L.A. Kings 5 Edmonton 2
ST. PAUL, Minn. (AP) — Minnesota Wild defenseman Jonas Brodin will miss the next three to four weeks recovering from a broken left hand that required surgery. Brodin leads the team by far with a plus-19 rating. He was hurt in the second period of the Wild's win at St. Louis.
TOP-25 MEN'S COLLEGE BASKETBALL
The nation's No. 1 and No. 3 men's basketball teams were beaten at home on Wednesday.
St. John's has followed Saturday's 81-77 win over previously No. 4 Duke by stunning top-ranked Villanova, 79-75 at Philadelphia. The back-to-back upsets follow an 11-game losing streak that left the Red Storm 10-13 overall and 0-11 in the Big East.
Third-ranked Purdue saw its 19-game winning streak come to an end. Keita Bates-Diop scored 18 points, including the decisive putback with 2.8 seconds left, to give No. 14 Ohio State a 64-63 upset of the Boilermakers at West Lafayette.
The No. 2 team came close to losing as well. Devon Hall scored 17 points and Virginia rallied from a 32-22 halftime deficit to beat Florida State, 59-55.
Final (7) Texas Tech 76 Iowa St. 58
Final Texas A&M 81 (8) Auburn 80
Final UNLV 86 (23) Nevada 78
Final (25) Miami 87 Wake Forest 81
PGA TOUR-ROMO
PEBBLE BEACH, Calif. (AP) — Former Dallas Cowboys quarterback Tony Romo is making his PGA Tour playing debut next month in the Dominican Republic.
The lead NFL analyst for CBS Sports has received a sponsor exemption to play in the inaugural Puntacana Resort & Club Championship on March 22-25. The tournament is held the same week as the Dell Technologies Match Play and will not feature any of the top 64 players in the world.
Romo has tried to qualify for the U.S. Open three times. He advanced to the final stage of qualifying in 2010 but had to withdraw.
MLB-NEWS
UNDATED (AP) — The New York Mets have finalized their two-year, $17 million contract with third baseman Todd Frazier after he passed his physical.
Frazier struck out 125 times while hitting .213 in 474 at-bats last season for the Yankees and White Sox, but he also hit 27 home runs and drove in 76 runs. He turns 32 next week.
The Mets also went to salary arbitration with oft-injured pitcher Zach Wheeler, who is seeking a raise from $800,000 to $1.9 million. The Mets countered with a $1.5 million offer to Wheeler, who was 3-7 with a 5.21 ERA in 17 starts after coming back from Tommy John surgery.
In other baseball news:
— Infielder Yolmer Sanchez has beaten the White Sox in salary arbitration and will get a raise from $546,000 to $2.35 million rather than the team's $2.1 million offer. Sanchez set career bests last year with a .267 average, 12 homers and 59 RBIs and .319 on-base percentage.
In world and national news…
WASHINGTON (AP) — Both Democratic liberals and GOP tea party forces are swinging against a budget measure that Senate leaders hope to approve Thursday. The plan would shower the Pentagon and domestic programs with an extra $300 billion over the next two years. But it's a defeat for many liberal Democrats pushing to resolve the plight of immigrant "Dreamers." Senate leaders are hoping to send the measure to the House for a confirming vote before the government begins to shut down Thursday at midnight.
BEIRUT (AP) — Syria's state media say the U.S.-led coalition has bombed government-backed troops in eastern Syria, citing reports of dozens killed and wounded. The reports say the overnight attack hit tribal fighters in Khusham, a town in the oil-rich Deir el-Zour province, who were battling IS militants and the U.S.-backed Kurdish-led Syrian Democratic Forces in the area. The U.S. military said it launched airstrikes on Syrian government-backed troops after they attacked SDF and U.S. advisers.
PYEONGCHANG, South Korea (AP) — North Korean leader Kim Jong Un has presided over an extravagant military parade in Pyongyang's Kim Il Sung Square just a day before the Pyeongchang Winter Olympics open in South Korea. Predictably, he thumbed his nose at Washington but also made a point of showing off his new-found restraint toward Seoul.
SEOUL, South Korea (AP) — South Korea's president plans to meet Kim Jong Un's sister and other senior North Korean officials who are coming to the South for the Winter Olympics in Pyeongchang. Kim Yo Jong would be the first member of North Korea's ruling family to visit the South since the Korean War. A presidential spokesman says the North Korean delegates will attend the games' opening ceremony on Friday evening.
WASHINGTON (AP) — House Minority Leader Nancy Pelosi has said that she'd oppose a budget deal unless GOP leaders agreed to hold a House vote on helping the Dreamers – immigrants who could face deportation because they were brought to the U.S. illegally as children. On Wednesday, Pelosi staged a record-breaking, eight-hour speech in hopes of pressuring Republicans to allow a vote on protecting "Dreamer" immigrants.