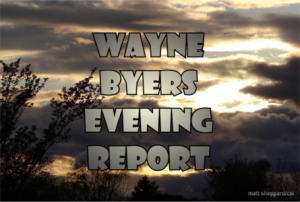 CSi Weather…
…WIND CHILL ADVISORY IN EFFECT TO NOON CST /11 AM MST/ FRIDAY…INCLUDES THE JAMESTOWN AND VALLEY CITY AREAS.
.REST OF TODAY…Partly sunny. Highs 5 to 10 above. North winds around 5 mph. Lowest wind chills around 25 below in the morning.
.TONIGHT…Decreasing clouds. Lows around 10 below. North winds
5 to 10 mph. Lowest wind chills around 25 below after midnight.
.FRIDAY…Sunny. Highs zero to 5 above. Northwest winds 10 to
15 mph. Lowest wind chills around 30 below in the morning.
.FRIDAY NIGHT…Mostly clear. Lows around 5 below. West winds
10 to 15 mph.
.SATURDAY…Mostly sunny. Highs 10 to 15. West winds 10 to
15 mph.
.SATURDAY NIGHT…Partly cloudy. Lows zero to 5 above.
.SUNDAY…Partly sunny. Highs 15 to 20.
.SUNDAY NIGHT…Mostly cloudy. Lows near zero.
.MONDAY…Mostly cloudy. A 50 percent chance of snow. Highs 15 to 20.
.MONDAY NIGHT…Mostly cloudy.  a 20 percent chance of snow in the evening.   Lows zero to 5 above.
.TUESDAY…Mostly sunny. Highs 15 to 20.
.TUESDAY NIGHT…Partly cloudy. Lows 5 to 10 above.
.WEDNESDAY…Partly sunny. Highs in the lower 20s.
Dry and very cold Friday and Saturday
Highs will be in the single digits above zero Friday, then 10F to 15F above on
Saturday.
With a clear sky Friday night, wind chills once again
will reach 35 below zero for all of western and central ND.
A quick clipper/cold front will bring
somewhat milder temperatures versus Saturday, with highs 15F to
25F Sunday afternoon.
Jamestown  (CSi)  A knephla soup contest will have proceeds going to the James River Humane Society.
The contest will be Saturday February 10th  from 11 a.m. to 2 p.m at Aaron's Sales and Lease, 119 Business Loop W, Jamestown. For a $5 donation people can sample from 10 different soups and vote on the favorites.
Fifty percent of proceeds go to benefit the James River Humane Society. The remaining 50 percent is divided among four prize winners.
Contestants may cook up to 2 gallons of soup and bring it to Aaron's Sales and Lease between 10 and 10:45 a.m. on Saturday.
To enter or for more information, call Jerome at 320-0790.
Jamestown  (NDFU)  — Enduring the worst economic slide in generations, American family farmers and ranchers need Congress to pass a farm bill in 2018 to strengthen the farm safety net.
North Dakota Farmers Union and National Farmers Union have teamed with other state divisions in developing a digital campaign to support the 2018 farm bill. The campaign includes a website (2018farmbill.org), a farm bill video, animated short videos, weekly promotions and a petition. The family farm organization is calling on Congress to strengthen programs that support family farm agriculture, vibrant rural communities, a clean environment and hungry Americans.
 North Dakota Farmers Union President Mark Watne says, "We need Congress to start working on a farm bill immediately. Commodity prices are low, and net farm income is projected to be down $4.3 billion this year. Family farmers need to be certain of crop insurance and other programs in the farm bill, so they can plan accordingly with their lenders in this time of low prices."
Travis and Ashley Bruner, family farmers from Drake, were featured in a nine-minute video on the importance of the farm bill to family farmers, the environment and consumers. Three short animated videos are also being launched to help the general public understand what the farm bill is, what Farmers Union's ideal farm bill looks like, and how to advocate for the farm bill.
NFU President Roger Johnson, says, "Family farmers and consumers alike are in urgent need of strong farm and food policies to be passed in the farm bill this year.  As the agriculture committees ready to propose farm bill legislation, Farmers Union wants to be sure all members of Congress understand why the farm bill is so vital to family farm agriculture, our land, our rural communities, and our nation's most vulnerable citizens. We're hopeful this campaign can bridge the support of the entire farm and food community."
Family farmers, consumers, lawmakers and advocates are encouraged to share the video on social media, tweet with the hashtag #FarmBillNow, and sign the petition to call on Congress to pass a Farm Bill in 2018.
Bismarck  (NDDOT) The North Dakota Department of Transportation reports that  law enforcement agencies across the state participated in the national enforcement campaign, Drive Sober or Get Pulled Over, from December 16, 2017 through January 31, 2018, to deter motorists from driving impaired.
A total of 732 citations were attributed to the added enforcement patrols. Of the total citations, 101 were alcohol-related, of which 91 were driving under the influence (DUI) arrests. There were another 26 arrests or citations for other alcohol-related violations such as minor in consumption or open container and 33 drug-related arrests.
Impaired driving is 100 percent preventable and stopping it can prevent tragedies on North Dakota's roads. Every driver and vehicle occupant in North Dakota can help meet the state's goal of zero motor vehicle fatalities and serious injuries by taking personal responsibility when travelling on the road. This means wearing a seat belt at all times, transporting children in child passenger safety seats appropriate for the child's age and height, driving distraction free, driving sober (i.e. not under the influence of alcohol and/or drugs) and obeying all posted speed limits.
Funding for additional traffic safety enforcement is provided by federal grant money distributed through the NDDOT. High-visibility enforcement for traffic safety is one element of a collaborative effort to eliminate motor vehicle deaths in North Dakota.
Learn more about traffic safety initiatives at visionzero.nd.gov or join the conversation on the Vision Zero ND Facebook or Twitter page.
BISMARCK, N.D. (AP) — One of the four American Indian tribes still fighting the Dakota Access oil pipeline in court says it's being left out as federal officials work to comply with a judge's order to determine the pipeline's impact on tribal interests.
Attorney Nicole Ducheneaux (DOO'-shuh-noh) says the Army Corps of Engineers "has been almost completely non-responsive" to tribal requests for more information and direct consultation.
She's asking federal Judge James Boasberg to force the Corps "to engage in meaningful consultation" with the tribe.
Boasberg last June ordered the Corps to further study the pipeline's impact on the Dakotas tribes. The Corps says it's had difficulties obtaining needed information from the tribes. But Justice Department attorney Matthew Marinelli says the Corps still expects to finish its work by its earlier estimate of April.
BISMARCK, N.D. (AP) — North Dakota's Public Service Commission says state rail safety inspectors found nearly 2,700 defects to tracks and equipment last year.
The panel says the defects resulted in 49 violations, which can include fines, reduced speeds or equipment taken out of service.
The North Dakota Legislature in 2015 established the state-run rail safety pilot program that includes two rail safety inspectors to supplement inspections by the Federal Railroad Administration.
The program is funded by a tax that railroads pay on diesel.
MINOT, N.D. (AP) — A Ward County Jail inmate is charged with breaking another inmate's jaw in two places during a fight over ramen noodles.
The Minot Daily News reports that 32-year-old Jesse Levi Jones, of Kenmare, is charged with aggravated assault, a Class C felony.
Court documents show that the incident happened after 26-year-old inmate David Pieper Jr. accused Jones of stealing seven ramen noodle packages and a bowl from Pieper's cell. Pieper was unable to talk about the fight but gave a written account to investigators.
Authorities say security cameras showed Jones punching Pieper.
Jones faces a maximum sentence of five years in prison. His attorney did not immediately respond to an email request for comment.
BISMARCK, N.D. (AP) — North Dakota's state climatologist says drought conditions could continue into this year.
Adnan Akyuz (AHD'-non AW'-kewz) tells the Bismarck Tribune that the potential for drought comes as wetter-than-normal weather is expected in February and March.
Akyuz says the lack of snow so far this winter makes the state vulnerable for drought as spring approaches.
The U.S. Drought Monitor released Thursday shows nearly 97 percent of North Dakota is abnormally dry, and 61 percent of the state is experiencing moderate drought.
MINOT, N.D. (AP) — A case against a mother and son charged in a robbery and attack at a Minot storage unit has ended with a mistrial.
Forty-six-year-old Vaneica Erickson and her 27-year-old son, Scott Parizek, are accused of robbing the storage unit last September, physically assaulting a 22-year-old woman and interfering when the victim and her 95-year-old grandmother tried to call 911.
The Minot Daily News says Erickson and Parizek have proclaimed their innocence and planned to argue their actions were in self-defense or in the defense of others.
It was not immediately clear if the case will be retried.
MINOT, N.D. (AP) — Some Minot homeowners are expressing difficulty selling property after discovering city building inspectors failed to identify flawed construction before issuing certificates of occupancy.
Then, they discovered the city might not be liable.
Resident Jon Newman tells the Minot Daily News that he found out his house wasn't built following building permit specifications after putting it on the market last fall. Newman says the city hadn't performed an inspection before issuing an occupancy certificate. Residents in the same subdivision have reported issues with bowing walls and improper foundations.
City Attorney Stefanie Stalheim says the subdivision has an indemnification agreement in the building permit application that releases the city from claims under its review or failure to review building plans.
Mayor Chuck Barney says homeowners should determine their options with city building inspectors.
In world and national news…
WASHINGTON (AP) — The White House says it supports Senate passage of a budget deal that would funnel an additional $300 billion to the Pentagon and domestic programs over the next two years. The White House budget office says the agreement lays the groundwork for full funding of the military, a top priority for President Donald Trump. The deal would avert a government shutdown, but it does not address immigration. And some tea party Republicans have criticized the measure as a budget-buster.
NEW YORK (AP) — Stocks lurched lower on Wall Street, bringing the Dow Jones industrial average down another 400 points and deepening the market's string of losses. The market opened mixed and fell steadily as the day wore on. Technology companies, the leading sector over the past year, and banks fell the most. The S&P 500 is now down 8.1 percent from the latest record high it set January 26. It's still up 15 percent over the past year.
BEIRUT (AP) — Russia's U.N. Ambassador Vassily Nebenzia says he will raise the U.S.-led coalition's deadly airstrike on Syrian government-backed troops during closed consultations later Thursday in the U.N. Security Council. Nebenzia told reporters at U.N. headquarters in New York he was not expecting a statement from the council, which would require consensus among the 15 members including the United States.
CHARLOTTE, Mich. (AP) — A Michigan man who tried to attack disgraced sports doctor Larry Nassar in court is thanking people who donated $31,000 online but says he doesn't want the money. Randy Margraves says refunds are available. After March 9, any money in the GoFundMe account will be donated to groups that help victim of physical abuse. Margraves had no role in the GoFundMe effort. Margraves' three daughters are among the many women and girls who say Nassar abused them.
GANGNEUNG, South Korea (AP) — Adam Rippon doesn't want his monthlong spat with Mike Pence over the vice president's record on gay rights to overshadow his long-awaited Olympic performance. Rippon has been critical of Pence leading the U.S. delegation into the opening ceremony on Friday. Pence has backed legislation that some critics claim encourages discrimination against the gay community.