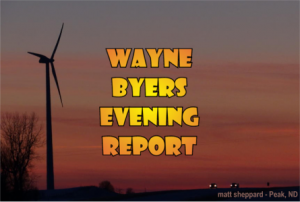 CSi Weather…
…WIND CHILL ADVISORY IN EFFECT FROM 9 PM CST /8 PM MST/ FRIDAY  EVENING TO NOON CST /11 AM MST/ SATURDAY…INCLUDES THE JAMESTOWN AND VALLEY CITY AREAS…
TONIGHT…Clear. Lows around 10 below. West winds 10 to 15 mph.
Wind chills around 30 below.
.SATURDAY…Sunny. Highs around 10. West winds 10 to 15 mph.
Lowest wind chills around 30 below in the morning.
.SATURDAY NIGHT…Partly cloudy. Lows zero to 5 above. West winds
10 to 15 mph.
.SUNDAY…Partly sunny. Highs around 15. Northwest winds 10 to
15 mph.
.SUNDAY NIGHT…Increasing clouds. Lows around 10 below.
Northwest winds 5 to 10 mph.
.MONDAY…Mostly cloudy. A 20 percent chance of snow in the
afternoon. Highs around 10.
.MONDAY NIGHT…Decreasing clouds. Lows near zero.
.TUESDAY…Sunny. Highs in the lower 20s.
.TUESDAY NIGHT…Partly cloudy. Lows 10 to 15.
.WEDNESDAY…Partly sunny. Highs in the upper 20s.
.WEDNESDAY NIGHT…Mostly cloudy with a 40 percent chance of
snow. Lows zero to 5 above.
.THURSDAY…Partly sunny. Highs around 15.
.THURSDAY NIGHT…Decreasing clouds. Lows near zero.
.FRIDAY…Mostly sunny. Highs 15 to 20.
Below normal temperatures and generally dry conditions through the weekend, followed by a slight moderation of temperatures Tuesday through Thursday.
A chance for snow Monday and again Wednesday, however both appear to have limited moisture potential so see no significant winter weather at this time.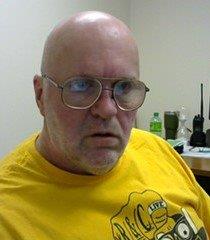 Jamestown  (CSi)  The Jamestown Police Department is warning residents of a high risk sex offender who is living in Jamestown.
Marty Allen Gefroh lives at 102 4th Avenue, Southwest, Jamestown, ND
He presently has no vehicle.
Gefroh is a 52 year old white male 6 feet 2 inches tall, weighing 220 pounds with blue eyes, and gray hair.
He has been assigned a high risk assessment by the North Dakota Risk Level Committee of the North Dakota Attorney General's Office.
Gefroh was convicted of surreptitious intrusion concerning window peeping, when confronted by police.
The Conviction Date was February, 2009 in Ward County, North Dakota, District Court.
Disposition:  One year, 351 days suspended, 14 days credit, 2 years supervised probation.
He is currently on probation with North Dakota Probation and Parole.
Gefroh is not wanted by police at this time and has served the sentence imposed by the Court.
This notification is meant for public safety and not to increase fear in the community, nor should this information be used to threaten, assault, or intimidate the offender.
Any attempts to harass, intimidate or threaten these offenders, their families, landlords, or employers will be turned over for prosecution.
Printed handouts of the demographics of Gefroh are available at the Jamestown Police Department.
More information on registered sex offenders is available at the North Dakota Attorney General's web site: www.sexoffender.nd.gov
Valley City  (CSi)  Valley City announces that permanent flood protection project work resumes  on Monday February 12th
Beginning then, Main Street will be closed between Central Avenue and 5th Avenue Northwest.
Local traffic will be allowed to businesses inside the road closure and business signage will be provided.
The contractor will resume pile driving and  will need again to have their crane and staging and other materials on Main Street.
Motorists will be detoured onto 2nd Street Northwest during the closure. Those with truck deliveries are encouraged to seek alternative routes.
KLJ reports the road closure will last until February 16th.
Later, that portion of Main Street will again close in March to continue work on Phase Two, of the permanent flood protection project.
HORACE, N.D.  – Farm Rescue, a nonprofit organization that provides planting, harvesting, haying and hay hauling assistance free of charge to farm and ranch families who have experienced a major illness, injury or natural disaster, received a generous boost to operations through Giving Hearts Day.
Giving Hearts Day is an annual fundraising campaign that benefits charitable organizations in North Dakota and western Minnesota. The 24-hour online day of giving allows individuals to maximize their contributions thanks to matching funds provided by generous donors.
This year, Farm Rescue supporters raised $28,324.12 for the North Dakota-based nonprofit, which is the largest Giving Hearts Day contribution to date. The record setting amount comes at an important time for Farm Rescue as the organization recently completed its busiest year ever. In 2017, more than 125 farm and ranch families received assistance through volunteer planting, haying, harvesting and hay hauling efforts. Farm Rescue also assisted its 500th family in crisis since operations first began in 2006.
All donations received on Giving Hearts Day will be used to continue Farm Rescue's altruistic mission in 2018, as more rural families realize assistance following unexpected crises.
"The compassion and generosity shown by donors on Giving Hearts Day is truly wonderful." said Bill Gross, Founder & President, Farm Rescue. "It has a very positive impact on our ability to continue helping farm and ranch families throughout the region. Thank you to all who support our altruistic mission."
FARGO, N.D. (AP) — Fargo police are searching for a man who robbed a convenience store at gunpoint.
Authorities say the man walked into a Casey's General Store about 7:30 p.m. Thursday, showed a gun and demanded money.
The man fled on foot with an undisclosed amount of cash. A police dog was unable to track the suspect.
No one was injured.
BISMARCK, N.D. (AP) — Attorneys for a Florida-based environmental publication want a federal judge in North Dakota to sanction the Texas-based developer of the Dakota Access oil pipeline in a dispute over whether the publication can be sued.
Energy Transfer Partners has sued Greenpeace, BankTrack and Earth First for allegedly trying to undermine the $3.8 billion pipeline project. The company contends Earth First has been served with the lawsuit via Earth First Journal.
Journal attorney Pamela Spees says the two aren't the same and the company attorneys are showing "reckless disregard of their duties."
She wants a judge to order the plaintiffs to pay her fees and to educate lawyers in their firms about following rules.
Company attorney Michael Bowe calls the request "incomprehensible" and "itself sanctionable."
BISMARCK, N.D. (AP) — North Dakota Gov. Doug Burgum has named Cody Schulz as the state's new homeland security director.
Burgum made the announcement on Friday. Schulz will succeed Greg Wilz, who is retiring after more than 12 years in the position.
Schulz has served as disaster recovery chief for the North Dakota Department of Emergency Services since July 2014, managing and coordinating disaster recovery operations for the state.
Schulz is a New Salem native who lives in Mandan. He is currently a Morton County commissioner.
BISMARCK, N.D. (AP) — The North Dakota Department of Health says the weekly number of flu cases has declined for the first time this season.
The number of cases reported for the week ending Feb. 3 was 748, compared to 816 cases the week before. But, health officials say it's too soon to tell if the flu season has peaked in North Dakota. There have been 20 flu-related deaths so far in North Dakota and 196 hospitalizations.
The health department is reporting 4,937 flu cases.
MINOT, N.D. (AP) — An autopsy may shed light on what caused a man's death in Minot.
That autopsy is scheduled for Friday. Police responded to a report of an unresponsive male at a Minot intersection Wednesday afternoon. The man was taken to the hospital where he was pronounced dead a short time later.
Police released no further details.
BISMARCK, N.D. (AP) — North Dakota Deputy Tax Commissioner Joe Morrissette will be the next director of the state's Office of Management and Budget.
Gov. Doug Burgum has appointed Morrissette to succeed Pam Sharp, who recently retired after three decades in state government. Morrissette begins his new duties March 1.
Burgum cites Morrissette's "broad expertise in government finance and deep knowledge of the state's budget and taxes."
Before becoming deputy tax commissioner in 2014, Morrissette worked as a fiscal and management analyst for OMB from 2002 to 2013 and as a fiscal analyst for the Legislative Council from 1994 to 2002.
In world and national news…
WASHINGTON (AP) — President Donald Trump says he hopes an aide who resigned this week in the wake of domestic abuse allegations has "a great career ahead of him." Trump tells reporters at a surprise appearance Friday that former Staff Secretary Rob Porter did "a very good job while he was in the White House" and adds: "We wish him well." Porter has been accused of domestic abuse by two ex-wives and a former girlfriend. He has denied the charges.
NEW YORK (AP) — The flu has further tightened its grip on the U.S. This season is now as bad as the swine flu epidemic nine years ago. A government report out Friday shows 1 of every 13 visits to the doctor last week was for fever, cough and other symptoms of the flu.
UNDATED (AP) — Stocks are struggling to stabilize in unsteady trading on Wall Street as investors sent stocks climbing, then sharply lower. The up-and-down trading comes a day after the market entered its first correction in two years. That means a drop of 10 percent from a recent peak. The market is on pace for its worst weekly losses since October 2008. Major U.S. indexes set their latest record highs just two weeks ago. The Dow has had two 1,000-point drops this week.
PYEONGCHANG, South Korea (AP) — The U.N. says Secretary-General Antonio Guterres had a brief exchange with North Korea's nominal head of state and "reiterated his expectation and hope that all parties will use dialogue to achieve the denuclearization of the Korean Peninsula." U.N. deputy spokesman Farhan Haq told reporters at U.N. headquarters that Guterres sat near 90-year-old Kim Yong Nam at a dinner Friday night
LANSING, Mich. (AP) — Michigan State University will fire the former dean of its osteopathic medicine college and has suspended the radiology chairman in the wake of former sports doctor Larry Nassar's sentencing for molesting young female athletes. The university said Friday it has taken the first step to revoke Dr. William Strampel's tenure and will not cover his legal expenses. Strampel has been sued by girls and women who were sexually assaulted by Nassar.