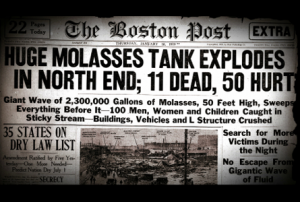 CSi is proud to present The Folklorist. It airs on CSi TV 10  – The Replay Channel . Consult schedule for additional air times.
Episode 1:  Host John Horrigan explores an unlikely and sticky disaster in Boston, the famous incident that ignited a revolution, a mysterious weather change that sent people into a panic, and a group of opposing soldiers who found a way to celebrate a holiday together in the midst of war. Also featuring Campfire segments on Babe Ruth, Neil Armstrong, Santa Claus, The Titanic, and Demons.
Watch The Replay Channel for future episodes.  The Folklorist is the Emmy® Award-winning television series that offers a captivating look at some of the lesser-known occurrences in history. Whether it's a tale of a legendary lost city, a forgotten hero, or a hoax beyond belief, The Folklorist brings audiences back to each story's origins and uncovers what's been left out of text books, and what lives on as folklore.
A NewTV Original Program
Produced by Jesse Kreitzer
Directed by Jesse Kreitzer & Andrew Eldridge
Written by John Horrigan
Hosted by John Horrigan
Created by John Horrigan & NewTV
Executive Producer: Robert Kelly
SPECIAL THANKS
Taj Campman
Melinda Garfield
Shelly Kamanitz
Tyson Frantz
The Chelmsford Minute Men
Steve Puleo, "Dark Tide"
Woodland Scenics
O.K. Toys, INC.
Malt Products Corporation
Be Amazing! Toys
Archive.org
Madison Floral
Panera Bread
Boston Historical Society
BOSTON MOLASSES FLOOD CAST: 
Jack Goldman as "Arthur Gell"
David McDivitt as "Contractor"
Petey Bouras as "Isaac Gonzalez"
Jason Lucas as "Child 1"
Aingealica Venuto as "Child 2"
Olivia Venuto as "Child 3"
Denise Lawrence as "Misses Cloherty"
Mary Weller as "Misses O'Brien"
Ava Caiola as "Maria"
Gerry Marrocco as "Lawyer"
Gusto as "Peter the Cat"
BOSTON MOLASSES FLOOD CREW: 
Production Manager: Andrew Eldridge
Cinematographers: Jesse Kreitzer and Andrew Eldridge
Editor: Jesse Kreitzer
Sound Design: Jesse Kreitzer
BOSTON MASSASCRE CAST
Robert Sigman as "Colonist"
Jim Curley as "Colonist"
Marcie Rizzo as "Colonist"
Julia Swift as "Colonist"
Andrew Finn as "Colonist"
Christain Finn as "Colonist"
Alan Canova as "Colonist"
Richard Mackay as "Colonist"
Dale Vedder as "Colonist"
James Caruso as "Colonist"
Jason Klevan as "Colonist"
Gerry Marrocco as "Redcoat"
Andrew Eldridge as "Redcoat"
Mike Crossen-Sills as "Redcoat"
Bob Conley as "British Sympathizer"
Alexi Reibman as "Assassinated Boy"
BOSTON MASSASCRE CREW
Production Manager: Andrew Eldridge
Cinematographors: Jesse Kreitzer and Andrew Eldridge
Editor: Jesse Kreitzer
Sound Design: Jesse Kreitzer
Sound: Steve Russo
NEW ENGLAND'S DARK DAY CAST
David Wilson as "Preacher"
Paul Sears as "Parishioner 1"
Irwin Sterbakov as "Parishioner 2"
Abigail Bower as "Young Woman"
Matt Rouillard as "Viator"
Jesse Kreitzer as "Friend"
NEW ENGLAND'S DARK DAY CREW
Production Manager: Andrew Eldridge
Cinematographers: Andrew Eldridge & Jesse Kreitzer
Editor: Andrew Eldridge
Sound Design: Andrew Eldridge
Production Assistants: Alina Kulpaviciute and Liz Eldridge
CHRISTMAS TRUCE CAST
Stephen Kessinger as "German Soldier 1"
Jesse Kreitzer as "German Soldier 2"
Robert Santonastaso as "British Soldier 1"
Andrew Eldridge as "British Soldier 2"
Steve Russo as "Commander"
CHRISTMAS TRUCE CREW
Production Manager: Andrew Eldridge
Cinematographers: Jesse Kreitzer and Andrew Eldridge
Assistant Director: Steve Russo
Sound: Steve Russo
Editor: Jesse Kreitzer
Sound Design: Jesse Kreitzer