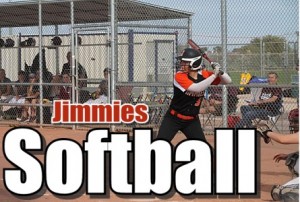 JAMESTOWN  (uj.edu)  — After the 2017 North Star Athletic Association Postseason Conference Tournament championship and an NAIA National Tournament Opening Round berth, the Jimmie softball team opens this season as the preseason favorites to win the NSAA softball title.
Jamestown received eight of nine first place votes for a total of 80 points in the NSAA Preseason Coaches' Poll. Bellevue (Neb.) received the other first-place vote and was second with 73 points. Valley City State (N.D.) was third with 61 points, followed by Dickinson State (N.D.) in fourth with 52 points.
Mayville State (N.D.), with 43 points, came in fifth. Viterbo (Wis.) was sixth with 37 points, and Waldorf (Iowa) finished with 25 points in the seventh spot. The final teams in the poll were Dakota State (S.D.), eighth with 17 points; and Presentation (S.D.), ninth with 15 points. Each of the conference's coaches ranked the teams from 1-8 and were not allowed to vote for their own team.
The Jimmies finished 41-21 in 2017, posting Jamestown's first 40+ win season since 2003. The 2017 trip to the opening round of the national tournament was UJ's second, with the first coming in 1992. Head coach Kevin Gall returns for his 18th season and has a career record of 481-312 (.607). His 481 wins are 22nd among active NAIA coaches.
Numbers-wise, Jamestown did not suffer from a large graduating class, as just two players finished their eligibility. Impact-wise, however, is another story.  Linda Ontiveros, who played the final two years of her career at Jamestown after transferring from College of the Desert (Calif.); provided a solid defensive presence at third base; and Hanna Dunnigan, who finished her career as the Jimmies' all-time leader in wins, strikeouts, innings pitched, and appearances, and is the only UJ hurler to toss two no-hitters, set positive examples on and off the field for seasons to come.
Luckily for the Jimmies, many key contributors from a year ago are back, and when paired with one of the more talented recruiting classes in recent years, a return trip to nationals is not out of the question.
Gall and his squad will lean heavily on seniors Tifani Schorzman (SR/Coeur d'Alene, ID), who transferred from Big Bend CC following the 2016 season and hit .326 with a team-leading 52 RBI, will be behind the plate; RHP Brittany Rheault (SR/West Fargo, ND) (14-5, 2.45 ERA, 19 GS, 3 SHO, 2 SV, 124 SO) has 47 career wins, which ties her for third-most in Jimmie history, and 419 strikeouts which are second, as are her 96 appearances. Rheault is third on the all-time career innings pitched with 423 1/3, and is only 64 1/3 innings away from taking possession of second place. OF/P Emma Keller (SR/Poulsbo, WA) saw her average increase for the third straight season, finishing at .374 with a team-best seven home runs. She posted a 6-5 won-loss record in 26 appearances, pitching to a 4.33 earned run average.
OF Kylie Macaig (JR/Airdrie, AB), who swiped a team-high 18 bases while posting a .348 average, leads the returning juniors. IF Miriah Yoder (JR/Devils Lake, ND) (.273, 22 R, 6 SB), IF Kelly Halverson (JR/Surrey, BC) (.267, 52 H, 31 RBI), and OF Meghan Ramage (JR/Grand Forks, ND) (.211, 5 RBI) all played significant roles in 2017 and figure to be in the mix in 2018. OF Katlyn Buethner (JR/Hillsboro, ND) (9 G, 3 R) made her varsity debut in 2017 and will vie for a corner outfield spot.
The Jimmies' returning sophomores include IF Mikayla Frost (SO/Melba, ID), who batted .416 in her first season and set a new Jimmie single-season record with 89 hits; OF Emma Gilbert (SO/Kelowna, BC), who hit.308 and stole six bases; IF Samm Hamilton (SO/Boise, ID) (.176, 2 SB); IF Shayla Tyerman (SO/Kelowna, BC) (9 AB, 2 SB), C/IF Tiffany Buis (SO/New Lenox, IL), IF Caitlyn Courtney (SO/Caldwell, TX); LHP/OF Toree Rensmon (SO/Helena, MT); and RHP Callie Wemple (SO/Milford, CA). Both Rensmon and Wemple saw action in the circle as freshmen.
New to the team in 2018 are freshmen Ann-Marie Crandlemire (FR/Sicamous, BC), Eleanor Demchenko (FR/Saskatoon, SK), Morgan Flann (FR/Lake Lillian, MN), Morgan Geiszler (FR/Horace, ND), Jayllan Krause (FR/Woodland Park, CO), Kelsey Marschke (FR/Alice, ND), Jasmine Pipella (FR/Boissevain, MB), Sydney Prussia (FR/Detroit Lakes, MN), Katie Reisdorfer (FR/Fresno, CA), and Kassi Ward (FR/Olympia, WA). Transferring in are P Kat Miska (SO/Pequot Lakes, MN) (St. Cloud State University), and OF Allie McCain (JR/Duvall, WA) (Clark College).
The 2018 season begins this weekend as Jamestown will play five games over two days at the Presentation (S.D.) College Dome Tournament in Aberdeen, S.D. The Jimmies face the host Saints Saturday in a doubleheader beginning at 10:00 a.m., then play three games Sunday–Dakota Wesleyan (S.D.) at 10:00 a.m., Valley City State (N.D.) at 4:00 p.m., and Dakota State (S.D.) at 6:00 p.m