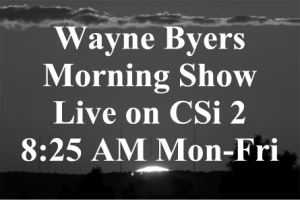 CSi Weather…
.REST OF TODAY…Mostly sunny. Highs 5 to 10 above. West winds around
5 mph shifting to the southwest in the afternoon. Lowest wind
chills around 30 below in the morning.
.TONIGHT…Mostly cloudy. Lows near zero. South winds 5 to
10 mph.
.TUESDAY…Sunny. Not as cold. Highs in the mid 20s. Southwest
winds 10 to 15 mph.
.TUESDAY NIGHT…Mostly clear. Not as cold. Lows 15 to 20.
Southwest winds 10 to 15 mph.
.WEDNESDAY…Mostly sunny. Highs in the upper 30s. West winds
10 to 15 mph.
.WEDNESDAY NIGHT…Mostly cloudy. Chance of snow in the evening,
then snow likely after midnight. Lows zero to 5 above. Chance of
snow 60 percent.
.THURSDAY…Cloudy with a 30 percent chance of snow in the
morning, then partly sunny in the afternoon. Highs 5 to 10 above.
.THURSDAY NIGHT…Mostly clear. Lows around 5 below.
.FRIDAY…Mostly sunny. Highs in the lower 20s.
.FRIDAY NIGHT…Increasing clouds. Lows 10 to 15.
.SATURDAY…Partly sunny. Highs in the lower 30s.
.SATURDAY NIGHT…Mostly cloudy. A 20 percent chance of snow
after midnight. Lows around 15.
.SUNDAY…Mostly cloudy with a 30 percent chance of snow. Highs
in the mid 20s.
There will be a good chance of rain and snow to accompany A warm  front, beginning in northern North Dakota daytime Wednesday, becoming widespread across the state Wednesday night, before tapering off Thursday morning.
At this time, it appears the potential for widespread snow amounts ranges
from less than an inch south to 2 inches northern North Dakota.
Colder Thursday, then a quick warmup Friday ahead of a clipper
system diving southeast across south central Canada into northern
Minnesota Friday night.
A larger system takes shape for Saturday night and Sunday snow chances.
Jamestown  (CSi)  The Jamestown Police Department is warning residents of a high risk sex offender who is living in Jamestown.
Marty Allen Gefroh lives at 102 4th Avenue, Southwest, Jamestown, ND
He presently has no vehicle.
Gefroh is a 52 year old white male 6 feet 2 inches tall, weighing 220 pounds with blue eyes, and gray hair.
He has been assigned a high risk assessment by the North Dakota Risk Level Committee of the North Dakota Attorney General's Office.
Gefroh was convicted of surreptitious intrusion concerning window peeping, when confronted by police.
The Conviction Date was February, 2009 in Ward County, North Dakota, District Court.
Disposition:  One year, 351 days suspended, 14 days credit, 2 years supervised probation.
He is currently on probation with North Dakota Probation and Parole.
Gefroh is not wanted by police at this time and has served the sentence imposed by the Court.
This notification is meant for public safety and not to increase fear in the community, nor should this information be used to threaten, assault, or intimidate the offender.
Any attempts to harass, intimidate or threaten these offenders, their families, landlords, or employers will be turned over for prosecution.
Printed handouts of the demographics of Gefroh are available at the Jamestown Police Department.
More information on registered sex offenders is available at the North Dakota Attorney General's web site: www.sexoffender.nd.gov
Edgeley  (CSi)  The North Dakota Highway Patrol reports, a two vehicle crash at 3:37-p.m., Friday on Highway 281, 13 miles north of Edgeley injured a LaMoure women.
The report says a Kia SUV operated by 44 year old Michele Eckman of LaMoure was northbound when she sneezed, causing her SUV to drift onto the southbound lane and into the path of a Mack truck pulling a tanker trailer driven by 47 year old Timothy Salberg of Aberdeen.
Salberg attempted to avoid the collision by steering the truck and trailer away from the SUV.  Eckman's SUV struck the tanker trailer loaded with gasoline before coming to rest in the center of the roadway.  Salberg maintained control of the truck and trailer as it entered the ditch.
Eckman was transported by Edgeley Ambulance to JRMC.  No gasoline spilled from the trailer. The crash remains under investigation by the Highway Patrol.
Assisting at the scene were:  The LaMoure County Sheriff's Office, and Edgeley Fire and Rescue.
Valley City  (CSi)  Valley City announces that permanent flood protection project work resumes on Monday February 12th
Beginning then, Main Street will be closed between Central Avenue and 5th Avenue Northwest.
Local traffic will be allowed to businesses inside the road closure and business signage will be provided.
The contractor will resume pile driving and  will need again to have their crane and staging and other materials on Main Street.
Motorists will be detoured onto 2nd Street Northwest during the closure. Those with truck deliveries are encouraged to seek alternative routes.
KLJ reports the road closure will last until February 16th.
Later, that portion of Main Street will again close in March to continue work on Phase Two, of the permanent flood protection project.
JAMESTOWN, ND  (UJ)  Over the weekend of January 28, the Nursing Student Associations (NSA) of North Dakota met for their annual convention in Dickinson, ND. Each of the schools of nursing in North Dakota is represented at this event.
The University of Jamestown's NSA received the Most Active District award based on an assembled scrapbook depicting events held throughout the past year.
Teree Rittenbach, Professor of Nursing at UJ, says, "The Most Active District award is a coveted award because it reflects the involvement and work of several students. It represents a balance of education, community service, social opportunities among nursing students and fundraising activities."
In addition to the group award, two UJ students received honors. Senior nursing student, Logan Wang, received the State Leadership Award, and Megan Bidwell, a sophomore nursing student, gained a position on the State Board as Community Health Director.
The primary purpose of NSA is to promote socialization into the nursing profession through education, leadership and service. The organization provides the opportunity for development of collegial and mentoring relationships among nursing students of all levels. Baily Lublin, a junior nursing student, is President of the UJ Nursing Student Association and Teree Rittenbach is the faculty advisor.
FARGO, N.D. (AP) — Police say a customer in a Fargo convenience store foiled an armed robbery.
Authorities say the customer confronted a rifle-toting masked man who entered a Tesoro store about 8:30 a.m. Sunday and was able to grab the gun.
The 18-year-old suspect fled the store on foot but was arrested a few hours later.
The customer suffered a few minor scrapes in the scuffle.
LISBON  (KFGO) – Court documents say a Lisbon, North Dakota man charged with setting fire to an apartment building Monday afternoon admitted to several people that he was responsible for the blaze.
KFGO reports, 20 year-old Quentin Leonard faces charges of felony arson, reckless endangerment and endangering by fire. Leonard is also charged with criminal mischief for hitting and breaking a window with his head at a home in Sheldon. A report from the Ransom County Sheriff's department says Leonard was upset because he thought another man had been sleeping with his girlfriend.
Five people who were living the four-plex in Lisbon that was destroyed by fire, they lost everything. Leonard is in the Barnes County jail with bail set at $200-thousand dollars.
FARGO, N.D. (AP) — A man accused in a fatal brawl outside a downtown Fargo bar last year has been scheduled for trial.
Darren Patterson faces manslaughter and assault charges that together carry a maximum punishment of 20 years in prison. Court documents say Patterson is from Las Vegas.
Authorities allege he beat up three men including James Grant outside the HoDo bar on May 27, 2017. Grant died the following month.
A nine-day trial has been scheduled beginning June 19.
BISMARCK, N.D. (AP) — A two-day event that features local and national community development experts is coming to North Dakota's capital city.
The Main Street ND Summit begins Monday at the Bismarck Event Center.
It's part of Gov. Doug Burgum's so-called Main Street Initiative that aims to turn downtown areas into vibrant social and economic hubs that are attractive to live in.
The Republican governor is scheduled to give the keynote address. Burgum touted the initiative during his campaign alongside promises to cut spending and halt property tax increases.
The state Commerce Department is one of the event's sponsors. Sandy McMerty, the agency's deputy commissioner, says Burgum and other state officials have visited 14 communities in the past six months to help local leaders with planning goals.
MINOT, N.D. (AP) — Minot Air Force Base contributed more than half a billion dollars to the local economy last year, but the base's economic impact dropped slightly from 2016.
The Minot Daily News reports that Maj. Douglas Bauer presented the annual economic impact analysis report to the Minot Area Chamber of Commerce's Military Affairs Committee this month. The base's economic impact for fiscal year 2017 totaled $580.4 million, which is slightly under the $591.5 million in 2016.
Bauer says the decrease in construction projects is a key factor to the drop, which was offset by an increase in procurements, including health care and educational services. Construction expenditures amounted to $46.4 million in fiscal year 2017, compared to $64.4 million the previous year.
Bauer says the base will continue to have a positive impact on the city.
SABIN, Minn. (AP) — Authorities say a Clay County deputy shot at a man who was armed with a knife at a home in the northwestern Minnesota town of Sabin.
The Clay County Sheriff's Office says in a statement that deputies were dispatched just before 8:45 p.m. Saturday on a report of a suicidal male. It says deputies encountered him on arrival, and one deputy fired at him.
The statement does not say whether the man was hit by the gunshot. It says he was taken to a Fargo, North Dakota, hospital and is now in the Clay County Jail in Moorhead, pending charges.
The deputies' names have not been released.
The Bureau of Criminal Apprehension and Moorhead Police Department are investigating.
The statement says more information will be released at a later date.
OMAHA, Neb. (AP) — The officials who manage the reservoirs along the Missouri River say the system is in good shape to handle this spring's runoff.
John Remus with the U.S. Army Corps of Engineers says the reservoirs are ready to reduce flood risk in the region even though runoff is expected to be slightly above average at 104 percent of normal.
Some of the Plains snowpack has already melted and entered the reservoir system because of recent warmer periods.
The releases from Gavins Point dam near the South Dakota-Nebraska border are expected to remain at winter levels of 18,000 cubic feet per second during February.
The Missouri River should have enough water for full service navigation through at least the first half of the 2018 season.
MANDAN, N.D. (AP) — A North Dakota group of Marines has nearly completed a clubhouse after two years of renovations and 5,000 volunteer hours.
The Dakota Leathernecks plan to host meetings and gatherings with families and the community at the new Marine House in Mandan.
The Bismarck Tribune reports that the Dakota Leathernecks Detachment No. 1419, a local Marine Corps League organization, has refurbished the former VFW building, built in 1915. They lifted the floor, replaced windows and painted the walls in colors representing Marine uniforms.
Commandant Ray Morrell says they'll need another $20,000 to complete the space, including repairing the basement's concrete floors, adding a handrail to the entry ramp and replacing appliances.
The clubhouse will be available for rent, and the downstairs will be used as the group's personal recreation space.
In sports….
Jamestown  (CSi) The Jamestown Civic Center hosts the 2018 North Dakota Class B District 5 Girls
Opening round Friday, February 9:
No. 4 Oakes (3-3)  42  No.5 Ellendale (2-4)  34.
No.2 Edgeley-Kulm-Montpelier (5-1)   66   No.7 Midkota (0-6) 22.
No.3 Carrington (4-2) 70  vs. No.6 Barnes County North (1-5) 40
Saturday
Loser-Out: Barnes County North 65 Midkota 58
Semifinal #1: #3 LaMoure-Litchville/Marion 55 Oakes 46
Semifinal #2: #7 Carrington 61 #4 Edgeley-Kulm-Montpelier 44
Monday
Games one and two is Region III qualfying contests
4:30-p.m.,  EKM vs. Ellendale at 4:30,
6:00-p.m., Oakes vs. BCN.
7:30-p.m., District 5 Championship  LLM vs. Carrington.
JAMESTOWN, N.D. (VCSU) – A sluggish first half put the Valley City State women's basketball team in a hole they couldn't climb out of Saturday in Jamestown.
The Vikings shot just 28 percent in the first half as they fell behind 35-23 to rival University of Jamestown and were never able to recover, dropping a 70-62 contest to the Jimmies.
Valley City State drops to 21-4 overall and 12-3 in the North Star Athletic Association. University of Jamestown improves to 26-3 overall and 15-0 in the NSAA.
The Viking have one regular season game remaining, closing with a conference game Friday, Feb. 16, at Waldorf University. VCSU will host a first-round playoff game on Wednesday, Feb. 21.
University of Jamestown held a 16-13 lead after the first quarter and then expanded that lead in the second quarter. The Jimmies outscored VCSU 19-10 in the second period to open up a 35-23 halftime advantage. The Vikings shot just 28 percent in the first half (9-32), including a 1-for-5 performance from 3-point range.
Jamestown extended it's lead to 60-38 after the third quarter, outscoring the Vikings 25-15 in the third. The Vikings were able to make a fourth-quarter run to tighten up the score but ran out of time.
Valley City State finished the game shooting 39 percent overall (24-61) and 72 percent at the line (13-18). The Vikings went just 1-for-8 from 3-point range. University of Jamestown shot 37 percent in the victory (23-62) and went 8-for-27 from 3-point range.
Mackenzie Huber led the Viking offense with a double-double of 14 points and 10 rebounds. Lexi Lennon scored 15 points for VCSU, and Kaitlin Connor had 11 points off the bench.
McKayla Orr led Jamestown with 21 points and four assists. She went 10-for-13 on free throws and finished with four steals.
GAME NOTES: With the win, Jamestown clinched the outright NSAA regular season conference championship… It was the first meeting of the rivalry inside Jamestown's new Harold Newman Arena…The Jimmies played the game without leading scorer Bryn Woodside, their senior point guard who is currently out with an injury…Despite the loss, Valley City State is slotted into the No. 2 seed for the conference tournament… If the Jimmies and Vikings meet in the postseason, it would be in Jamestown for the NSAA Tournament Championship
Up next: Valley City State wraps the regular season Feb. 16 with a road game at Waldorf University. The Viking women have wrapped up the No. 2 seed for the conference tournament and will host a first-round game Wednesday, Feb. 21, at 7 p.m.
More weekend sports scores on line at CSiNewsNow.com under Sports…
JAMESTOWN  (uj.edu)  — After the 2017 North Star Athletic Association Postseason Conference Tournament championship and an NAIA National Tournament Opening Round berth, the Jimmie softball team opens this season as the preseason favorites to win the NSAA softball title.
Jamestown received eight of nine first place votes for a total of 80 points in the NSAA Preseason Coaches' Poll. Bellevue (Neb.) received the other first-place vote and was second with 73 points. Valley City State (N.D.) was third with 61 points, followed by Dickinson State (N.D.) in fourth with 52 points.
Mayville State (N.D.), with 43 points, came in fifth. Viterbo (Wis.) was sixth with 37 points, and Waldorf (Iowa) finished with 25 points in the seventh spot. The final teams in the poll were Dakota State (S.D.), eighth with 17 points; and Presentation (S.D.), ninth with 15 points. Each of the conference's coaches ranked the teams from 1-8 and were not allowed to vote for their own team.
The Jimmies finished 41-21 in 2017, posting Jamestown's first 40+ win season since 2003. The 2017 trip to the opening round of the national tournament was UJ's second, with the first coming in 1992. Head coach Kevin Gall returns for his 18th season and has a career record of 481-312 (.607). His 481 wins are 22nd among active NAIA coaches.
Numbers-wise, Jamestown did not suffer from a large graduating class, as just two players finished their eligibility. Impact-wise, however, is another story.  Linda Ontiveros, who played the final two years of her career at Jamestown after transferring from College of the Desert (Calif.); provided a solid defensive presence at third base; and Hanna Dunnigan, who finished her career as the Jimmies' all-time leader in wins, strikeouts, innings pitched, and appearances, and is the only UJ hurler to toss two no-hitters, set positive examples on and off the field for seasons to come.
Luckily for the Jimmies, many key contributors from a year ago are back, and when paired with one of the more talented recruiting classes in recent years, a return trip to nationals is not out of the question.
Gall and his squad will lean heavily on seniors Tifani Schorzman (SR/Coeur d'Alene, ID), who transferred from Big Bend CC following the 2016 season and hit .326 with a team-leading 52 RBI, will be behind the plate; RHP Brittany Rheault (SR/West Fargo, ND) (14-5, 2.45 ERA, 19 GS, 3 SHO, 2 SV, 124 SO) has 47 career wins, which ties her for third-most in Jimmie history, and 419 strikeouts which are second, as are her 96 appearances. Rheault is third on the all-time career innings pitched with 423 1/3, and is only 64 1/3 innings away from taking possession of second place. OF/P Emma Keller (SR/Poulsbo, WA) saw her average increase for the third straight season, finishing at .374 with a team-best seven home runs. She posted a 6-5 won-loss record in 26 appearances, pitching to a 4.33 earned run average.
OF Kylie Macaig (JR/Airdrie, AB), who swiped a team-high 18 bases while posting a .348 average, leads the returning juniors. IF Miriah Yoder (JR/Devils Lake, ND) (.273, 22 R, 6 SB), IF Kelly Halverson (JR/Surrey, BC) (.267, 52 H, 31 RBI), and OF Meghan Ramage (JR/Grand Forks, ND) (.211, 5 RBI) all played significant roles in 2017 and figure to be in the mix in 2018. OF Katlyn Buethner (JR/Hillsboro, ND) (9 G, 3 R) made her varsity debut in 2017 and will vie for a corner outfield spot.
The Jimmies' returning sophomores include IF Mikayla Frost (SO/Melba, ID), who batted .416 in her first season and set a new Jimmie single-season record with 89 hits; OF Emma Gilbert (SO/Kelowna, BC), who hit.308 and stole six bases; IF Samm Hamilton (SO/Boise, ID) (.176, 2 SB); IF Shayla Tyerman (SO/Kelowna, BC) (9 AB, 2 SB), C/IF Tiffany Buis (SO/New Lenox, IL), IF Caitlyn Courtney (SO/Caldwell, TX); LHP/OF Toree Rensmon (SO/Helena, MT); and RHP Callie Wemple (SO/Milford, CA). Both Rensmon and Wemple saw action in the circle as freshmen.
New to the team in 2018 are freshmen Ann-Marie Crandlemire (FR/Sicamous, BC), Eleanor Demchenko (FR/Saskatoon, SK), Morgan Flann (FR/Lake Lillian, MN), Morgan Geiszler (FR/Horace, ND), Jayllan Krause (FR/Woodland Park, CO), Kelsey Marschke (FR/Alice, ND), Jasmine Pipella (FR/Boissevain, MB), Sydney Prussia (FR/Detroit Lakes, MN), Katie Reisdorfer (FR/Fresno, CA), and Kassi Ward (FR/Olympia, WA). Transferring in are P Kat Miska (SO/Pequot Lakes, MN) (St. Cloud State University), and OF Allie McCain (JR/Duvall, WA) (Clark College).
The 2018 season begins this weekend as Jamestown will play five games over two days at the Presentation (S.D.) College Dome Tournament in Aberdeen, S.D. The Jimmies face the host Saints Saturday in a doubleheader beginning at 10:00 a.m., then play three games Sunday–Dakota Wesleyan (S.D.) at 10:00 a.m., Valley City State (N.D.) at 4:00 p.m., and Dakota State (S.D.) at 6:00 p.m
DEVILS LAKE, N.D. (AP) — Lake Region State College says the starting guard on its men's basketball team has suffered significant injuries in what it says was an accident.
Jordan Bolton is hospitalized in the Twin Cities following the incident on campus early Saturday. No further information has been released on the extent of Bolton's injuries or the circumstances that led to his injuries.?
KFGO reports Devils Lake Police arrested a student on drug and alcohol charges following an investigation.
Bolton is a sophomore at the college in Devils Lake.
NATIONAL BASKETBALL ASSOCIATION
MINNEAPOLIS (AP) — Karl-Anthony Towns scored 29 points, Jeff Teague added 12 points and 10 assists and the Minnesota Timberwolves overcame an uncharacteristic sloppy performance at home to beat the Sacramento Kings 111-106. Minnesota had 17 turnovers and allowed Sacramento 22 second-chance points.
There's a new leader in the NBA's Eastern Conference after the revamped Cleveland Cavaliers knocked the Boston Celtics out of the top spot.
LeBron James delivered 24 points, 10 assists and eight rebounds as the Cavs crushed the Celtics, 121-99 in Boston. James overcame an early leg injury to score 13 points in the second quarter, eight coming in a 13-2 run that put Cleveland ahead by 10.
Final Toronto 123 Charlotte 103
Final Atlanta 118 Detroit 115
Final Indiana 121 N-Y Knicks 113
Final Oklahoma City 110 Memphis 92
Final Houston 104 Dallas 97
Final Utah 115 Portland 96
NATIONAL HOCKEY LEAGUE
Final Pittsburgh 4 St. Louis 1
Final N-Y Rangers 3 Winnipeg 1
Final OT Detroit 5 Washington 4
Final Vancouver 6 Dallas 0
Final Calgary 3 N-Y Islanders 2
Final Boston 5 New Jersey 3
Final Colorado 5 Buffalo 4
Final Philadelphia 4 Vegas 1
Final SO San Jose 3 Anaheim 2
TOP-25 COLLEGE BASKETBALL
Final (6) Cincinnati 76 SMU 51
Final (9) Duke 80 Georgia Tech 69
Final (20) Michigan 83 Wisconsin 72
T25 COLLEGE BASKETBALL-SELECTION PREVIEW
UNDATED (AP) — Virginia is the first overall seed in preliminary NCAA Tournament rankings, with Villanova, Xavier and Purdue earning the other top seeds.
The Cavaliers are ranked second in the AP poll and are currently slotted as the South Region's top seed in rankings released by the NCAA on Sunday. Villanova is No. 1 in the East, Xavier tops the Midwest Region and Purdue heads the West Region.
OLYMPICS-DAY 3
PYEONGCHANG, South Korea (AP) — The United States has come away with a bronze medal in team figure skating during Day 3 of the Winter Games.
The Americans led Italy by four points heading into the ice dancing finale. The Italian dancers did not score well enough to win, turning the performance by Maia and Alex Shibutani into an exhibition.
Mirai Nagasu has become the first American woman and third overall to land a triple axel in the Olympics, accomplishing the rare feat in the women's free skate at the team competition.
Canada clinched the gold before the final discipline. The Russians took silver.
Also at the Winter Games:
— American Jamie Anderson won her country's second gold medal at the Pyeongchang Games, taking the women's slopestyle snowboarding amid blustery conditions. Anderson is the first woman to win multiple gold medals in women's snowboarding at the Olympics. The win comes a day after teenager Red Gerard won the men's slopestyle for the first U.S. gold medal.
— The women's giant slalom has been postponed and rescheduled for Thursday because of strong wind. The event was set to be U.S. star Mikaela Shiffrin's first event of these Olympics.
— German biathlete Laura Dahlmeier became the first double gold medalist of the Olympics by capturing the women's 10-kilometer pursuit at the Pyeongchang Games.
— Due to gusty conditions, only 34 of 55 ski jumpers have participated in training for the individual Gunderson normal hill event at the Pyeongchang Olympics, part of Nordic combined. Two of three scheduled practice runs were canceled. Nordic combined features ski jumping followed later the same day by a 10-kilometer cross-country race.
— Winners at the Pyeongchang Olympics don't immediately receive their medals after an event. First, they get Soohorang, the Winter Games mascot. The cute little stuffed tiger has become ubiquitous during Pyeongchang's joyous moments.
— Chloe Kim and three other Americans are through to the finals in women's halfpipe snowboarding. Maddie Mastro was fourth in qualifying, with 2002 Olympic champion Kelly Clark 11th and Arielle Gold 12th.
NFL-COLTS-REICH
INDIANAPOLIS (AP) — The Indianapolis Colts finally have a head coach in place, and this one actually signed his contract.
The Colts have hired Frank Reich (ryk), who spent the past season as offensive coordinator of the Super Bowl-champion Eagles. The hiring came five days after Patriots offensive coordinator Josh McDaniels accepted the job, only to back out hours later. This time, Colts officials posted a photo on the team's website of Reich inking the deal.
Reich first became an offensive coordinator with the 2014 Chargers and stayed in San Diego before joining Doug Pederson's staff in Philadelphia two years ago.
NASCAR-DAYTONA 500
DAYTONA BEACH, Fla. (AP) — Alex Bowman will start from the pole in the Daytona 500 next Sunday.
Bowman won Sunday's qualifier in his debut as the official driver of the No. 88 Chevrolet, talking over for the just-retired Dale Earnhardt Jr. Bowman will be competing in NASCAR's season-opening race for just the second time.
Denny Hamlin qualified second in a Toyota from Joe Gibbs Racing. The rest of the field will be decided later this week.
PGA-PEBBLE BEACH
PEBBLE BEACH, Calif. (AP) — Ted Potter Jr. has earned his first PGA victory since a broken ankle threatened to end his career.
Potter outplayed world No. 1 Dustin Johnson while closing with a 3-under 69 to capture the Pebble Beach Pro-Am. Potter finished at 17-under and earned $1,332,000, nearly half of his career earnings going into the week.
Johnson shot a 72 that left him in a second-place tie with Phil Mickelson, Jason Day and Chez Reavie (REE'-vee), three shots off the lead.
PGA TOUR CHAMPIONS
BOCA RATON, Fla. (AP) — Mark Calcavecchia took advantage of Bernhard Langer's messy finish to complete a wire-to-wire victory in the PGA Tour Champions' Boca Raton Championship.
The 57-year-old Calcavecchia closed with a 2-under 70 to finish 16 under for his fourth senior title. Langer finished two strokes back and one ahead of Fred Funk.
TENNIS-FED CUP
ASHEVILLE, N.C. (AP) — Venus Williams defeated Richel Hogenkamp 7-5, 6-1 as the United States clinched a Fed Cup victory against the Netherlands.
Williams gave the Americans an insurmountable 3-0 lead, one day after she and Coco Vandeweghe (VAN'-deh-way) won singles matches.
Serena Williams was a loser in her first competitive tennis match since winning the Australian Open 13 months ago. Williams and her sister lost their doubles match.
In world and national news…
WASHINGTON (AP) — The Senate begins a rare, open-ended debate on immigration and the fate of the "Dreamer" immigrants on Monday. Republican senators say they'll introduce President Donald Trump's plan. Though his proposal has no chance of passage, Trump may be the most influential voice in the conversation. That's because no Senate deal is likely to see the light of day in the more conservative House without the president's blessing and promise to sell compromise to his hard-line base.
MOSCOW (AP) — Emergency teams are combing snowy fields outside Moscow for debris of the Russian airliner and remains of 71 people who were killed in the crash. The An-148 twin-engine regional jet bound for Orsk in southern Urals went down minutes after taking off from Moscow's Domodedovo airport Sunday. Still the crash re-ignited questions about the An-148, since the model's safety record is spotty, with one previous crash and several major incidents in which pilots struggled to land safely.
PYEONGCHANG, South Korea (AP) — Kim Jong Un scored badly needed publicity points by sending his little sister to the Pyeongchang Olympics and extending an invitation to South Korean President Moon Jae-in to come to Pyongyang. But parlaying photo ops and handshakes into a summit _ or a lasting, positive change in the regional security situation _ is quite another matter.
NEW YORK (AP) — An attorney for disgraced movie producer Harvey Weinstein is talking about his client after New York's attorney general filed a lawsuit over the weekend. The suit says the Weinstein Co. "repeatedly broke New York law by failing to protect its employees from pervasive sexual harassment, intimidation and discrimination." Weinstein's lawyer Ben Brafman says that while Weinstein "was not without fault, there certainly was no criminality."
YANGON, Myanmar (AP) — Far from the violence and vengeance unfolding in Myanmar's far west, Rohingya Muslims who once felt relatively safe in Yangon describe a sense of rising persecution and hatred, of vanishing freedoms and opportunities, of Buddhist neighbors and friends who are suddenly much more willing to voice sympathies with the military's campaign in Rakhine state. As one Rohingya man described it: "I feel trapped."