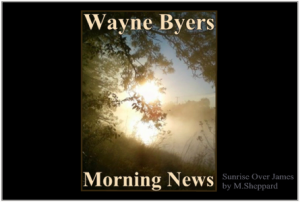 CSi Weather…
.REST OF TODAY…Sunny. Patchy blowing and drifting snow through the day.
Not as cold. Highs in the upper 20s. Southwest winds 15 to 20 mph.
.TONIGHT…Mostly clear. Lows 15 to 20. Southwest winds 10 to 15 mph.
.WEDNESDAY…Mostly sunny. Highs in the upper 30s. West winds
10 to 15 mph.
.WEDNESDAY NIGHT…Cloudy. Chance of snow in the evening, then
snow likely after midnight. Patchy blowing and drifting snow
after midnight. Lows 5 to 10 above. North winds 10 to 15 mph.
Chance of snow 60 percent in the Jamestown area, 70 percent in the Valley City area.
.THURSDAY…Mostly cloudy with a 50 percent chance of snow. Areas
of blowing and drifting snow. Much colder. Highs 5 to 10 above.
North winds 20 to 25 mph.
.THURSDAY NIGHT…Mostly clear. Lows around 5 below.
.FRIDAY…Increasing clouds. Highs in the lower 20s.
.FRIDAY NIGHT…Decreasing clouds. Lows 10 to 15.
.SATURDAY…Partly sunny. Highs in the upper 20s.
.SATURDAY NIGHT…Mostly cloudy. Lows 10 to 15.
.SUNDAY…Mostly cloudy. Highs 15 to 20.
.SUNDAY NIGHT…Mostly cloudy. A 20 percent chance of snow in the
evening. Lows near zero.
.WASHINGTONS BIRTHDAY…Partly sunny with a 30 percent chance of
snow. Highs 5 to 10 above.
Periods of snow are expected to continue overnight Wednesday and into Thursday morning, with generally an inch or two possible over most areas
north of I-94, maybe up to 3 inches over some northern counties.
Areas south of the interstate are expected to receive an inch or
less snow accumulations Wednesday night through Thursday morning.
The cold air spreads south across the state, with lows Wednesday
night from 5 below zero north to around 10 above south. Highs
Thursday should range from the single digits above zero north to 10
to 15 above south.
Wind chills in the 25 to 35 below range will return for the
nighttime and morning hours later this week.
Warming trend the re-develops for the end of the work week into
the start of the weekend.
Additional snow will be possible into the coming weekend.
Update
Jamestown  (CSi)  The Jamestown City Fire Department was called to 154 Sunnyside Trailer Court at 1:56 p.m. on Monday, where a mobile home was destroyed by fire.
When the five fire units and 26 fire fighters arrived on the scene there was extensive smoke with fire coming from the attic area of the home.
The home was not occupied, with a neighbor calling 9-1-1.
Lt. Sheldon Mohr says heat caused siding damage to an adjacent mobile home.
He says a mixture of water and about 5 gallons of foam were used to fight the fire, provided through the tank truck, with another tank called to the scene for additional water.
The fire hydrant north of  15th Street Northwest was being used with hoses extending to the north end of Sunnyside.
Jamestown Public Works informed motorists that  4th Ave Northwest was closed to through traffic between 15th St & 19th Street  Northwest during the fire fight, and was reopened around 4:30-p.m.
No injuries, reported and the cause is under investigation..
Otter Tail Power and Montana Dakota Utility crews were dispatched to the scene for disconnects.
The Red Cross is giving assistance to the displaced residents.
City fire fighters remained on the scene later into the late afternoon, packing up a large amount of hose that was needed from the hydrant near 15th Street, all the way to the north end of Sunnyside.
The fire scene was cleared at 4:48-p.m.
CSiNewsNOW.com photos
Jamestown  (CSi)  The Jamestown City Park Board has agreed with Pepsi as the beverage provider for Parks and Recreation Department vending machines and concessions.
The vote was 3-1. Commissioner Ron Olson moved to approve the bid from High Country Coke, however the motion died due to lack of a second.
Under the agreement, Pepsi Cola of Jamestown pays $15,000 annual for five years and 20 percent of  the vending machine sales, minus sales tax.
Coca Cola High Country's five-year bid offering to pay $12,000 a year and 20 percent of vending machine sales, minus sales tax.
Jamestown  (JRMC)  — Jamestown Regional Medical Center (JRMC) raised more than $75,000 on Giving Hearts Day – setting a new organizational record.
More than 200 donors gave on Giving Hearts Day, supporting hospital initiatives including the Xenex LightStrike germ-zapping robot.
Lisa Jackson, JRMC Foundation Director, says, "Every gift to Jamestown Regional Medical Center counts because it improves the quality of care for more than 55,000 people in our region. Thank you for being there for us and for our patients."
Ultraviolet light from the Xenex LightStrike Robot reduces the risk of surgical site infections. This technology eliminates bacteria, viruses and protozoa and eradicates dangerous microorganisms such as drug-resistant superbugs including C. Diff, MRSA and VRE. As part of the fundraising campaign, JRMC is asking the public to vote for the winning name in the Name The Robot contest.
Jackson adds, "The Name The Robot contest is a great way to get the word out about this new, germ-zapping technology.  Plus it ties into the need during cold and flu season."
The Centers for Disease Control and Prevention is reporting widespread influenza across the United States, and the rate of hospitalization from the flu is at an all-time high.
Several hospitals are using Xenex LightStrike Robots to help stop the spread of the flu within their facility.
The robot uses a high-intensity pulsed-xenon UV light to disinfect hospital rooms in five-minute cycles. Over 400 hospitals are currently using this technology, and customers have published peer-reviewed studies showing reductions in infection rates from 50% – 100%!
The technology can be used in any department or any unit at JRMC, including isolation rooms, operating rooms, general patient care rooms, contact precaution areas, emergency rooms, bathrooms and public spaces. Each robot costs about $100,000.
To vote for winning robot name in the Name The Robot contest, visit www.jrmcnd.com/giving. Voting deadline is 12:00 p.m. on Sunday, Feb. 18. The winning name will be announced Monday, Feb. 19.
To learn more, call (701) 942-4880.
Valley City  (CSi)  The 29th Annual North Dakota State Pinochle Tournament is at the Valley City Eagles Club, February 17 & 18.
Registrations can be obtained at the Valley City Area Chamber of Commerce, and forms are on line at
Valleycitychamber.com.
For more information call 701-845-1891.
Jamestown  (CSi)  The Jamestown Arts Center's Annual Gala is set for Saturday February 17th starting at 6-p.m., at the University of Jamestown's Harold Newman Arena.
This year's theme is Heart & Soul Remembering the Groovy 70's.
Social Hour, Dinner, Live & Silent Auctions, Raffles, Live Music and Dancing.
Call 701-251-2496 or email info@jamestownarts.com to reserve tickets.
Valley City  (CSi)  The Future of Retail is a 30 minute Webinar and Discussion to be held on Tuesday February 27th  at noon and again at 5:30-p.m., at the Vault in Valley City.
The presentation is free to Valley City Area Chamber of Commerce members, non-chamber members $3.
Mainstay Breads will have food and drink available for purchase.
RSVP the Chamber, chamber@valleycity.com or call 845-1891.
Bismarck  (CSi)   The North Dakota Department of Human Services' Aging Services Division is hosting statewide public listening and comment meetings in February and March about services for older adults and adults with physical disabilities that help them remain living independently in their homes and communities.
Several generations of people may qualify for Older Americans Act-funded services and other supportive in-home services and may have different ideas about what services they want and need, and how those services are provided, said Aging Services Division Director Nancy Nikolas Maier, who encouraged people age 60 and older, family caregivers, advocates, service providers and others to attend.
A public meeting is scheduled in the region Monday, February 19, from noon to 1-p.m., at the Valley City Senior Center, 139 2nd Ave. SE.
Valley City  (CSi)  Valley City Auditor Avis Richter encourages citizens to take out a petition to get the necessary signatures to run in this year's city elections. She said Valley City residents seeking to run for any of the positions must get their petition with the necessary signatures returned to the city auditor's office by April 9th at 4pm.
The citywide election will held June 12th at Barnes County Courthouse.  Absentee ballots for city residents will be available May 3rd through June 11th at the Barnes County Auditor's Office in the Barnes County Courthouse.
Up for election this year, are the City Commission President (Mayor) two City Commission seats, and three City Parkboard seats.
City Commissioner, Matt Pedersen says he will not seek another term on the Commission.
Bismarck  (CSi)  Jamestown will be a host site as the North Dakota Protection and Advocacy Project holds an interactive discussion on supported decision making on Thursday February 22nd at 7 p.m. at sites across the state.
Supported decision making is a model that allows trusted friends and family members and professionals to help older adults and people with disabilities make significant decisions about their lives. Supported decision making is an alternative  to guardianship, is flexible and can change  with the needs of the individual. The project is funded by the North Dakota  State Council on Developmental Disabilities.
The presentation will be shown at the following locations:
* Bismarck State College, Technical Center Rooms 238 and 246, 1200 College Dr., Bismarck;
* Williston State College, Stevens Hall Room 108, 1410 University Ave., Williston;
* Minot State University, MiSU Memorial Hall Room 207, 500 University Ave. W, Minot;
* Lake Region State College, Admin Room 171, 1801 College Dr., Devils Lake;
* Turtle Mountain Community College, Room 211, 10145 BIA Road 7, Belcourt;
* University of North Dakota, Gamble Hall Room 130, 293 Centennial Dr., Grand Forks;
* North Valley Career & Technology Center, 1540 School Rd., Grafton, use west doors;
* North Dakota State University, EML 183, 1310 Centennial Boulevard, Fargo;
* North Dakota State College of Science, Library 117, 800 6th St. N, Wahpeton;
* James Valley Career & Technology Center, 910 12th Ave NE, Jamestown;
* Dickinson State University, Klinefelter Hall Room 120, 291 Campus Dr., Dickinson.
If accommodations are needed as a result of a disability, call 1-800-472-2670.
The presentation may also be watched at http://bit.ly/2nWrgSM, use login email guest@meeting.edu and password: meeting.
FARGO, N.D. (AP) — Police say a customer in a Fargo convenience store foiled an armed robbery.
Authorities say the customer confronted a rifle-toting masked man who entered a Tesoro store about 8:30 a.m. Sunday and was able to grab the gun.
The 18-year-old suspect fled the store on foot but was arrested a few hours later.
The customer suffered a few minor scrapes in the scuffle.
DICKINSON, N.D. (AP) — Trial is underway in Dickinson for the two suspects in a homicide in a Bowman motel in August 2016.
Twenty-three-year-old Chase Swanson of Bowman and 27-year-old Madison West of Dickinson both are charged with conspiracy to commit murder in the death of 23-year-old Rhame resident Nicholas Johnson.
Authorities say housekeeping staff at the El-Vu Motel found his body in a room where Swanson and West had been staying. The two suspects were later arrested in Denver, where authorities say they had driven Johnson's pickup truck. They're also charged with theft and a weapons count.
KXMB-TV reports that jury selection began Monday. The trial is expected to last into next week. Both suspects face up to life in prison if convicted.
Bismarck  (CSi)  – Gov. Doug Burgum Monday challenged communities to get involved now in envisioning their futures during his keynote address at the first-ever Main Street ND Summit, hosted by the North Dakota Department of Commerce at the Bismarck Event Center.
Welcoming the more than 650 community members, students and state team members who registered for the two-day event, Burgum promoted the three pillars of the Main Street Initiative: a skilled workforce; smart, efficient infrastructure; and healthy, vibrant communities to help North Dakota compete in a 21st century economy in which rapid technological advancement is changing every job, industry and organization.
Burgum said."Our state's unlimited promise and potential can only be reached if every community reaches their fullest potential. Each community faces unique challenges and opportunities, and the Main Street Initiative is about empowering local leaders to find creative solutions that capitalize on their strengths to create smart, financially solvent communities for the future."
Burgum also unveiled the beta version of the Main Street Community Dashboard, an online tool developed by the Department of Commerce, Information Technology Department and other state agencies to provide community leaders with publicly available – but not always easy to find – information that can be used to help grow healthy, vibrant, financially solvent communities. The dashboard, which includes community profile information and state, county and city financial information, is viewable at www.mainstreetnd.com and will continue to evolve over the next several months.
BISMARCK, N.D. (AP) — An $11 million project is planned to improve Interstate 94 in the Bismarck area for next year.
The project comes just two years after an $11.4 million upgrade. The proposed enhancements include concrete pavement repair, asphalt overlay, slurry seals, bridge deck overlays, bridge deck replacements and the installation of a permanent traffic signal system at an interchange.
Chad Frisinger is a design division transportation engineer with the North Dakota Department of Transportation. Frisinger tells the Bismarck Tribune that construction is tentatively scheduled for 2019, but could be pushed back depending on funding.
Frisinger says the project is routine maintenance. He says the traveling public can expect some delays during construction.
The project's local cost share is 10 percent or about $79,000 for Bismarck and $35,000 for Mandan.
BISMARCK, N.D. (AP) — Bismarck School Superintendent Tamara Uselman is resigning at the end of June.
Uselman says she's moving back to Minnesota to be closer to family and to do consulting work.
She's been the head of Bismarck's public schools system for seven years.
FARGO, N.D. (AP) — A man accused in a fatal brawl outside a downtown Fargo bar last year has been scheduled for trial.
Darren Patterson faces manslaughter and assault charges that together carry a maximum punishment of 20 years in prison. Court documents say Patterson is from Las Vegas.
Authorities allege he beat up three men including James Grant outside the HoDo bar on May 27, 2017. Grant died the following month.
A nine-day trial has been scheduled beginning June 19.
WASHINGTON (AP) — The Interior Department says it is replacing an Obama-era regulation aimed at restricting harmful methane emissions from oil and gas production on federal lands.
A rule being published in the Federal Register this week will replace the 2016 rule with requirements similar to those in force before the Obama administration changed the regulation.
Interior had previously announced it was delaying the Obama-era rule until January 2019, arguing the rule was overly burdensome to industry. Officials said the delay would allow the federal Bureau of Land Management time to review the earlier rule while avoiding tens of millions of dollars in compliance costs to industry.
Methane, the main component of natural gas, is frequently wasted through leaks or intentional releases during drilling operations.
The public has 60 days to comment.
In sports…
Jamestown  (CSi)  The  Jamestown Rural Fire Department's, annual Ice Fishing Tournament, is Saturday February 17th, at Jamestown Reservoir.
38 total cash prizes, totals $127,000.
Rural Fire Chief Ben Maulding points out that, funds raised through the tournament are traditionally used for equipment purchases.
More information on the ice fishing tournament, at the rural fire department's Facebook page, and at www.jrfd.org
Funding provided in part by Jamestown Tourism.
BISMARCK, N.D. (AP) — North Dakota's spring light goose hunting season gets underway later this week.
The state Game and Fish Department says the season opens Saturday and continues through May 13.
It's open for light geese — snows, blues, and Ross's. The season is closed to whitefronts, Canada geese, swans and all other migratory birds.
Game and Fish will provide hunters with migration updates once geese have entered the state. Hunters can access the department's website or call 701-328-3697 to receive generalized locations of bird sightings in North Dakota until the season ends or geese have left the state.
BISMARCK, N.D. (AP)- The St. John boys basketball team has the top spot in the latest Class B Boys Basketball poll; as voted on by members of the North Dakota Associated Press Sportscasters and Sportswriters Association.
First place votes are in parenthesis, followed by the team's record, and the number of total points received.
The final Class B Girls poll of the 2017-18 season will be released during the middle of this week.
1. St. John (16) 17-0 177
2. Hillsboro-Central Valley (1) 16-1 162
3. Thompson (1) 16-2 140
4. Fargo Oak Grove 16-2 115
5. Stanley 15-2 98
6. Minot Bishop Ryan 16-2 95
7. Wyndmere-Lidgerwood 15-2 46
8. Beulah 14-3 42
9. New Town 16-2 40
10. Grafton 15-3 33
Others receiving votes: votes: Carrington (15-2), Dunseith (13-4), Bismarck Shiloh Christian (12-5), Minot Our Redeemer's (14-2), Maple Valley (14-2).
Jamestown  (CSi) The Jamestown Civic Center hosted  the 2018 North Dakota Class B District 5 Girls Basketball Tournament
Monday
Games one and two is Region III qualfying contests
EKM 53  Ellendale 17
Oakes 61 BCN 48
District 5 Championship 
LLM vs. Carrington 61  LLM 54.
The 2018 Class B Region III Tournament is  February 19, 20 and 22 at the Jamestown Civic Center.
February 19th…
3-p.m.
Carrington vs Napoleon-Gackle/Streeter.
4:30-p.m.
Kidder County vs Edgeley/Kulm/Monpelier.
6- p.m. #2 Medina-Pingree/Buchanan vs Oakes
7:30-p.m.
LaMoure-Litchville/Marion vs Linton-HMB.
Boy's Hockey…
Williston 7, Hazen/Beulah 1
NATIONAL BASKETBALL ASSOCIATION
Final Philadelphia 108 N-Y Knicks 92
Final New Orleans 118 Detroit 103
Final L.A. Clippers 114 Brooklyn 101
Final Chicago 105 Orlando 101
Final Utah 101 San Antonio 99
Final Golden State 129 Phoenix 83
NATIONAL HOCKEY LEAGUE
Final Toronto 4 Tampa Bay 3
Final Florida 7 Edmonton 5
Final Arizona 6 Chicago 1
TOP-25 COLLEGE BASKETBALL
Final (14) North Carolina 83 Notre Dame 66
Final (20) West Virginia 82 TCU 66
NBA…
MINNEAPOLIS (AP) — The Minnesota Timberwolves have recalled center Justin Patton from their NBA G League affiliate, the Iowa Wolves. Patton is averaging 11.9 points over 25 games for Iowa. He has yet to appear in an NBA game. Patton was the 16th overall pick in the draft last year. He broke his left foot last summer during a workout.
UNDATED (AP) — The 76ers have signed veteran 3-point specialist Marco Belinelli, whose contract was bought out by the Atlanta Hawks.
Belinelli was averaging 11.4 points in 23.3 minutes per game with the Hawks, who bought him out to allow him to join a contending team.
Big 10…
MINNEAPOLIS (AP) — Minnesota's Destiny Pitts has been picked as the Big Ten's freshman of the week award winner for a sixth time this season. Last week, she had 18 points and seven rebounds in a 78-74 win at Purdue and 17 points and seven rebounds in a 101-68 win over Penn State. Pitts is eighth in the conference in 3-point shooting, 13th in rebounding average and 20th in scoring average.
OLYMPICS-DAY 4
PYEONGCHANG, South Korea (AP) — Snowboarder Chloe Kim has delivered the third gold medal for the United States at the Pyeongchang Olympics.
The 17-year-old Californian dominated the field in winning the halfpipe, posting a score of 93.75 during the first of her three runs in the finals and a 98.25 in the last run. Kim was the only rider to post a score over 90 during the first two rounds.
American Arielle Gold won bronze, edging out three-time Olympic medalist Kelly Clark.
Elsewhere at Pyeongchang:
— Alpine skiing is finally underway amid blue skies and sunshine at the wind-buffeted Olympics. Marcel Hirscher of Austria has won the men's Alpine combined event, the first career Olympic gold medal for one of skiing's greats. Hirscher used his elite skills in the slalom leg to rise from 12th place after the opening run of downhill. The men's downhill and women's giant slalom both have been postponed because of gusty winds.
— The U.S. is still seeking its first speedskating medal after being held off the podium for the third straight event. World champion Heather Bergsma finished eighth in the 1,500 meters. U.S. teammate Brittany Bowe was fifth.
— Ryan Zapolski will be the starting goaltender for the U.S. men's hockey team opener against Slovenia. The 31-year-old Zapolski has been among the best players in the Kontinental Hockey League this season.
— Canada has beaten Finland 4-1 in pursuit of the country's fifth straight gold medal in women's hockey
COLLEGE BASKETBALL POLLS
NEW YORK (AP) — Virginia has climbed to No. 1 in the latest Associated Press men's basketball poll despite Saturday's loss to Virginia Tech.
The Cavaliers received 30 of 65 first-place votes to reach the top of the poll for the first time since December 1982.
Second-ranked Michigan State is second in the poll with 21 first-place votes and is followed in the poll by former No. 1 Villanova, Xavier and Cincinnati.
Purdue is sixth, ahead of Texas Tech, Ohio State, Gonzaga and Auburn.
UConn remains the unanimous No. 1 team in the AP women's poll. Mississippi State, Baylor, Louisville and Notre Dame round out the top five.
And Belmont is in the AP poll for the first time in school history, checking in at No. 24.
MLB-NEWS
UNDATED (AP) — Former National League Rookie of the Year Wally Moon has died at 87.
Moon was the 1954 NL Rookie of the Year after hitting .304 with 12 homers and 76 RBIs. He also won three World Series with the Dodgers from 1959-65.
Moon batted .289 with a .371 on-base percentage, 142 homers and 661 RBS in 1,457 career regular-season games.
Twins  AAA Team…
ROCHESTER, N.Y. (AP) — The Twins AAA Team the Rochester Red Wings have signed a lease deal with Monroe County, New York, to keep the minor league baseball team at Frontier Field for at least another decade.
The lease agreement comes after months of uncertainty over the future of the Red Wings in Rochester.
Under the deal, Monroe County will make continuous capital improvements to Frontier Field. Rochester Community Baseball will pay the county $100,000 a year in rent.
The Red Wings — an affiliate of the Minnesota Twins — will begin their 2018 season at Frontier Field on April 6 against Buffalo.
In world and national news…
NEW YORK (AP) — Few fiscal conservatives are cheering the release of President Donald Trump's $4 trillion-plus budget, which would create trillions in red ink over the next decade if adopted by Congress. They believe the spending binge threatens to stain a cherished pillar of the modern-day Republican Party. Deficit hawks in Congress and conservative activists who railed against President Barack Obama's spending plans are calling the GOP debt explosion "dangerous," "immoral" and "a betrayal."
JOHANNESBURG (AP) — South Africa's ruling party says it expects President Jacob Zuma to respond tomorrow to its declaration that he leave office after rising public anger over multiple scandals. Ace Magashule, secretary-general of the African National Congress, says the party's national executive committee has decided to "recall" Zuma. If Zuma refuses his party's instruction, the matter could go to parliament for a vote on a motion of no confidence.
WASHINGTON (AP) — The Senate's Republican and Democratic leaders say it's going to be tough to broker a successful deal on immigration policy. Their comments came Monday as the Senate began a debate expected to end this week with a vote on President Donald Trump's own proposal. The Republican majority leader, Sen. Mitch McConnell of Kentucky, says Democrats need to back up their demand for action with hard work on finding a solution that Congress will pass and Trump will sign.
JERUSALEM (AP) — The Israeli military judge overseeing the trial of Palestinian teenager Ahed Tamimi has ordered all proceedings to take place behind closed doors. The 17-year-old girl, on trial for slapping a pair of Israeli soldiers outside her West Bank home in December, walked into the packed courtroom as her trial began. The judge then ushered out reporters, saying the trial would be closed "for the protection of the minor." Tamimi, who has been incarcerated for nearly two months, looked in good spirits.
KIRKLAND, Wash. (AP) — Bill and Melinda Gates are rethinking their philanthropic work in America as they confront the country's growing inequity and a president they disagree with. The couple says in their foundation's annual letter that they're turning their attention in the United States toward poverty and economic mobility. The foundation says it's studying related issues such as employment, race and housing, but it has no plans for any particular initiatives yet.