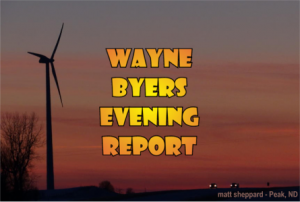 CSi Weather…
.TONIGHT…Mostly clear. Lows 15 to 20. Southwest winds 10 to 15 mph.
.WEDNESDAY…Mostly sunny. Highs in the upper 30s. West winds
10 to 15 mph.
.WEDNESDAY NIGHT…Cloudy. Chance of snow in the evening, then
snow likely after midnight. Patchy blowing and drifting snow
after midnight. Lows 5 to 10 above. North winds 10 to 15 mph.
Chance of snow 60 percent in the Jamestown area, 70 percent in the Valley City area.
.THURSDAY…Mostly cloudy with a 50 percent chance of snow. Areas
of blowing and drifting snow. Much colder. Highs 5 to 10 above.
North winds 20 to 25 mph.
.THURSDAY NIGHT…Mostly clear. Lows around 5 below.
.FRIDAY…Increasing clouds. Highs in the lower 20s.
.FRIDAY NIGHT…Decreasing clouds. Lows 10 to 15.
.SATURDAY…Partly sunny. Highs in the upper 20s.
.SATURDAY NIGHT…Mostly cloudy. Lows 10 to 15.
.SUNDAY…Mostly cloudy. Highs 15 to 20.
.SUNDAY NIGHT…Mostly cloudy. A 20 percent chance of snow in the
evening. Lows near zero.
PRESIDENT'S DAY…Partly sunny with a 30 percent chance of
snow. Highs 5 to 10 above.
Periods of snow are expected to continue overnight Wednesday and into Thursday morning, with generally an inch or two possible over most areas
north of I-94, maybe up to 3 inches over some northern counties.
Areas south of the interstate are expected to receive an inch or
less snow accumulations Wednesday night through Thursday morning.
The cold air spreads south across the state, with lows Wednesday
night from 5 below zero north to around 10 above south. Highs
Thursday should range from the single digits above zero north to 10
to 15 above south.
Wind chills in the 25 to 35 below range will return for the
nighttime and morning hours later this week.
Warming trend the re-develops for the end of the work week into
the start of the weekend.
Additional snow will be possible into the coming weekend.
Valley City (CSi) City Commissioner, Matt Pedersen says he will not seek another term on the Commission.
He says he will continue with his role in permanent flood protection in Valley City and has accepted a position on the North Dakota State Water Commission.
Commission President, Mayor Dave Carlsrud has indicated that  plans to seek re- election to a full term.
He was elected two years ago to fill out the unexpired term of former Mayor Bob Werkhoven, who resigned.
Valley City Auditor Avis Richter encourages citizens to take out a petition to get the necessary signatures to run in this year's city elections. She said Valley City residents seeking to run for any of the positions must get their petition with the necessary signatures returned to the city auditor's office by April 9th at 4pm.
The citywide election will held June 12th at Barnes County Courthouse. Absentee ballots for city residents will be available May 3rd through June 11th at the Barnes County Auditor's Office in the Barnes County Courthouse.
Up for election this year, are the City Commission President (Mayor) two City Commission seats, and three City Parkboard seats.
Jamestown  (Cassie DuBray) 50 years after doing business, Stutsman County Housing Authority has changed its name to Great Plains Housing Authority.
The Stutsman County Commission approved the name change and additional housing board members at its meeting on February 6, 2018.
The U.S. Department of Housing and Urban Development (HUD) approved the transfer of voucher programs from Foster County Housing and Wells County Housing effective January 1, 2018. This was the first HUD voucher program transfer to happen in North Dakota.  Logan County merged with Stutsman County two decades ago to help with their voucher program. With the addition of the two new counties, Executive Director David Klein moved forward with the request for the name change as the housing assistance was no longer related only to Stutsman County.
Great Plains Housing Authority will continue to administer Section 8 Housing Assistance in Dickey, Foster, Logan, Sargent, Stutsman and Wells counties as well as administer the HOME deposit assistance across Region VI. It is the continued mission of Great Plains Housing Authority provide safe, affordable housing opportunities for persons with low and moderate income and to promote economic self-sufficiency of families.
If you would like more information about this topic, please contact David Klein at 701-252-1098 or email at david@gphc.biz.
Bismarck  (CSi)  The North Dakota Attorney General's Office reports, ten teams of students from seven North Dakota High Schools including Jamestown will compete in the LifeSmarts state finals in Bismarck, Wednesday.
In a news release Attorney General Wayne Stenehjem says, the competition will be held on at the Heritage Center on the capitol grounds in Bismarck, beginning at 9:00 AM.
This year each team is guaranteed to participate in at least two rounds, with the highest scoring teams advancing to the final round. The winning state team will compete in the national finals in San Diego, California, in April. The high schools competing in the state competition are Jamestown, Flasher, TGU Granville, Burke Central, North Sargent, Tioga, and TGU Towner.
The state competition tests teens in grades 9-12 about personal finance, health and safety, the environment, technology, and consumer rights and responsibilities. The Attorney General's Office hosts the annual event, now in its 21st year.
The LifeSmarts state final competition is supported by many North Dakota groups, including the ND Securities Department, Capital Electric Cooperative, Inc., ND Association of Rural Electric Cooperatives, Capital Trophy and Cash Wise Foods.
The public is invited to watch the competition.
BISMARCK, N.D. (AP) — The North Dakota Legislature says an attorney general's opinion does not resolve lawmakers' ongoing veto fight with Gov. Doug Burgum.
The Legislature in court papers filed Monday says the opinion "does not constitute law."
Lawmakers allege Burgum violated his line-item veto power last spring by deleting words or phrases on several spending bills in a way that changed intent.
Attorney General Wayne Stenehjem is defending Burgum in the lawsuit. Stenehjem says he will base his state Supreme Court argument on an opinion he authored that actually favors the Legislature on some of the vetoes. But Stenehjem also argues that lawmakers ceded too much power by giving a subset of the Legislature "significant budgetary decisions" that were not authorized.
Oral arguments are tentatively scheduled March 19 in state's high court.
BISMARCK, N.D. (AP) — New campaign disclosure reports show Democratic U.S. Sen. Heidi Heitkamp's campaign treasury dwarfs Republican challenger Tom Campbell's by more than $4 million.
Federal Election Commission filings show Heitkamp has raised about $7.7 million for her re-election bid, and has about $4.4 million cash on hand.
Campbell has raised a little more than $1 million for his U.S. Senate campaign, with nearly three-quarters coming from himself.
The North Dakota state senator and Grafton potato farmer put $745,000 of his own money into the race. He had about $321,700 cash on hand in the report through year-end.
Former North Dakota Republican Party chairman Gary Emineth announced last month he is seeking the GOP nomination but he has not reported any contributions.
Update…
DICKINSON, N.D. (AP) — A trial is underway in Dickinson for the two suspects in a homicide in a Bowman motel in August 2016.
Twenty-three-year-old Chase Swanson of Bowman and 27-year-old Madison West of Dickinson both are charged with conspiracy to commit murder in the death of 23-year-old Rhame resident Nicholas Johnson.
Authorities say housekeeping staff at the El-Vu Motel found his body in a room where Swanson and West had been staying. The two suspects were later arrested in Denver, where authorities say they had driven Johnson's pickup truck. They're also charged with theft and a weapons count.
KXMB-TV reports that jury selection began Monday. The trial is expected to last into next week. Both suspects face up to life in prison if convicted.
BISMARCK, N.D. (AP) — A private security firm hired by the developer of the Dakota Access oil pipeline wants a judge to restrict evidence during an October civil trial over whether it operated illegally in North Dakota.
North Dakota's Private Investigative and Security Board maintains TigerSwan operated without a license during protests against the pipeline. It wants a judge to ban TigerSwan from the state.
TigerSwan attorney Lynn Boughey (BOO'-ee) says the company provided consulting services that don't require a North Dakota license, and that any investigative work occurred at the company's North Carolina headquarters.
Boughey wants the case dismissed. If that doesn't happen, he wants the judge to bar any evidence about TigerSwan activities conducted outside of North Dakota.
Board attorney Monte Rogneby (RAWG'-nuh-bee) says the state disagrees with Boughey's assessment.
WASHINGTON (AP) — FBI Director Christopher Wray is providing new details that call into question the White House timeline leading up to the departure of former staff secretary Rob Porter. Wray tells senators that the FBI administratively closed its file on Porter, who was operating under a temporary security clearance, in January, a month before he departed amid domestic abuse allegations.
JERUSALEM (AP) — Israel's prime minister, Benjamin Netanyahu, says police recommendations to indict him on corruption charges "will end with nothing." In a nationwide TV address, a stern-looking Netanyahu denied allegations that he accepted lavish gifts, including champagne and expensive cigars, from Hollywood mogul Arnon Milchan in exchange for doing favors. He also is suspected of offering preferential treatment to a newspaper publisher in exchange for favorable coverage.
MOSCOW (AP) — An unknown number of private Russian military contractors were killed by a U.S. strike in Syria, Russian media reported Tuesday in a development that could further inflame Russia-U.S. tensions. Officials in both Moscow and Washington remained coy about the deaths, which would be an embarrassment for both countries if it turns out that Russian fighters were part of a unit that attacked a military force with American troops.
LONDON (AP) — A British judge has upheld an arrest warrant for WikiLeaks founder Julian Assange, who has spent more than five years evading the law inside Ecuador's London embassy. Judge Emma Arbuthnot wasn't persuaded by arguments by Assange's lawyers that it was no longer in the public interest to arrest him for jumping bail in 2012 and seeking shelter in the embassy to avoid extradition to Sweden.
GANGNEUNG, South Korea (AP) — There is a decidedly different soundtrack to figure skating at the Pyeongchang Olympics. Everybody is now allowed to use music with lyrics. On one end of the spectrum is a jazzy Paul Anka cover of "Wonderwall." On the other a haunting heavy metal version of Paul Simon's hit "The Sound of Silence."