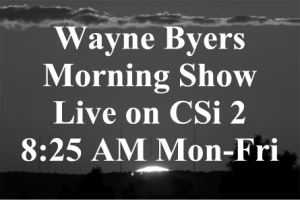 CSi Weather…
.TONIGHT…Cloudy. Snow likely after midnight. Snow accumulation around 1 inch. Lows 5 to 10 above. West winds around 10 mph shifting to the north after midnight. Chance of snow 70 percent in the Jamestown area, 80 percent in the Valley City area.
.THURSDAY…Cloudy with snow likely in the morning, then partly
sunny in the afternoon. Patchy blowing and drifting snow through
the day. Much colder. Highs 10 to 15. North winds 15 to 20 mph.
Chance of snow 60 percent.
.THURSDAY NIGHT…Mostly clear. Lows around 5 below. West winds
10 to 15 mph. Wind chills around 20 below.
.FRIDAY…Mostly sunny. Highs in the lower 20s. Southwest winds
10 to 15 mph.
.FRIDAY NIGHT…Mostly cloudy. Lows 10 to 15. West winds 10 to
15 mph.
.SATURDAY…Mostly sunny. Highs in the lower 20s.
.SATURDAY NIGHT…Increasing clouds. Lows 5 to 10 above.
.SUNDAY…Mostly cloudy with a 40 percent chance of snow. Highs
around 15.
.SUNDAY NIGHT…Mostly cloudy. Lows around 5 below.
PRESIDENT'S DAY …Mostly cloudy. A 20 percent chance of
snow in the morning. Highs zero to 5 above.
.MONDAY NIGHT…Mostly cloudy. A 20 percent chance of snow after
midnight. Lows around 10 below.
.TUESDAY…Mostly cloudy. A 30 percent chance of snow in the
morning. Highs 5 to 10 above.
.TUESDAY NIGHT…Mostly cloudy. Lows around 5 below.
.WEDNESDAY…Mostly sunny. Highs around 15.
Light snow will begin to move into the area tonight with a cold front and continue into tomorrow morning.
Amounts will range from 1 to 3 inches, mainly near the Highway 2 corridor. Increasing north winds will bring some blowing snow and lowered visibilities
during the early morning hours on Thursday, possibly during the morning commute.
Wind chills in the 25 to 35 below zero range will return across
portions of northeastern North Dakota and northwestern Minnesota
Thursday morning. Low wind chills will again be possible Friday
morning.
Additional accumulating snow will be possible over the weekend,
although amounts and placement are still uncertain at this point.
Valley City (CSi) City Commissioner, Matt Pedersen says he will not seek another term on the Commission.
He says he will continue with his role in permanent flood protection in Valley City and has accepted a position on the North Dakota State Water Commission.
Commission President, Mayor Dave Carlsrud has indicated that  plans to seek re- election to a full term.
He was elected two years ago to fill out the unexpired term of former Mayor Bob Werkhoven, who resigned.
Valley City Auditor Avis Richter encourages citizens to take out a petition to get the necessary signatures to run in this year's city elections. She said Valley City residents seeking to run for any of the positions must get their petition with the necessary signatures returned to the city auditor's office by April 9th at 4pm.
The citywide election will held June 12th at Barnes County Courthouse. Absentee ballots for city residents will be available May 3rd through June 11th at the Barnes County Auditor's Office in the Barnes County Courthouse.
Up for election this year, are the City Commission President (Mayor) two City Commission seats, and three City Parkboard seats.
Jamestown  (Cassie DuBray) 50 years after doing business, Stutsman County Housing Authority has changed its name to Great Plains Housing Authority.
The Stutsman County Commission approved the name change and additional housing board members at its meeting on February 6, 2018.
The U.S. Department of Housing and Urban Development (HUD) approved the transfer of voucher programs from Foster County Housing and Wells County Housing effective January 1, 2018. This was the first HUD voucher program transfer to happen in North Dakota.  Logan County merged with Stutsman County two decades ago to help with their voucher program. With the addition of the two new counties, Executive Director David Klein moved forward with the request for the name change as the housing assistance was no longer related only to Stutsman County.
Great Plains Housing Authority will continue to administer Section 8 Housing Assistance in Dickey, Foster, Logan, Sargent, Stutsman and Wells counties as well as administer the HOME deposit assistance across Region VI. It is the continued mission of Great Plains Housing Authority provide safe, affordable housing opportunities for persons with low and moderate income and to promote economic self-sufficiency of families.
If you would like more information about this topic, please contact David Klein at 701-252-1098 or email at david@gphc.biz.
Bismarck  (CSi)  The North Dakota Attorney General's Office reports, ten teams of students from seven North Dakota High Schools including Jamestown will compete in the LifeSmarts state finals in Bismarck, Wednesday.
In a news release Attorney General Wayne Stenehjem says, the competition will be held on at the Heritage Center on the capitol grounds in Bismarck, beginning at 9:00 AM.
This year each team is guaranteed to participate in at least two rounds, with the highest scoring teams advancing to the final round. The winning state team will compete in the national finals in San Diego, California, in April. The high schools competing in the state competition are Jamestown, Flasher, TGU Granville, Burke Central, North Sargent, Tioga, and TGU Towner.
The state competition tests teens in grades 9-12 about personal finance, health and safety, the environment, technology, and consumer rights and responsibilities. The Attorney General's Office hosts the annual event, now in its 21st year.
The LifeSmarts state final competition is supported by many North Dakota groups, including the ND Securities Department, Capital Electric Cooperative, Inc., ND Association of Rural Electric Cooperatives, Capital Trophy and Cash Wise Foods.
The public is invited to watch the competition.
Horace  (Farm Rescue)  Farm Rescue, the nonprofit organization that provides planting, harvesting, haying and hay hauling assistance free of charge to farm and ranch families who have experienced a major illness, injury or natural disaster, received a grant totaling $100,000 from the Otto Bremer Trust.
Dan Erdman reports that Farm Rescue just completed its busiest year to date, with over 125 farm and ranch families receiving assistance from the nonprofit's Angels in Blue volunteers. The organization also reached another milestone by assisting its 500th family since operations first began in 2006. Farm Rescue is grateful for the business sponsors, grantors and individual donors who make it possible to provide timely assistance to farmers and ranchers during times of unexpected crises.
The Otto Bremer Trust was among Farm Rescue's earliest sponsors and continues to be a strong supporter of rural communities throughout the region. They are also one of the largest sponsors of the one-of-a-kind nonprofit organization, with investments totaling more than $650,000 throughout Farm Rescue's history.
Farm Rescue Founder & President, Bill Gross says, "The Otto Bremer Trust has been instrumental in the success of our mission. We thank them for helping us to assist hundreds of farm families in crisis."
Co-CEO and Trustee, Otto Bremer Trust  Brian Lipschultz, says, "We believe Farm Rescue is an important asset to the region and value the work they are doing.  Our investment in Farm Rescue's programs help farm and ranch families across the region who are facing difficult economic challenges."
Jamestown (JRMC)  Local healthcare organizations are looking to see how they can improve, and they're asking the community for help.
In a collaboration between public and private health, Central Valley Health, Jamestown Regional Medical Center and the Community Health Partnership are asking the community to complete the Community Health Assessment survey.
The Community Health Partnership offers the survey once every three years. Both public and private healthcare organizations use the results as part of their strategic plans.
Robin Iszler, unit administrator for Central Valley Health  says "These surveys help us prioritize what the community needs.  Because of survey feedback, we made changes to the community regarding healthier choices or health concerns."
Completing the survey takes about 15 minutes. Questions ask the community to choose the best things about the community including services and resources, quality of life, activities and availability of health services.
Trisha Jungels, Chief Nursing Officer of Jamestown Regional Medical Center  says, "We're asking all of Stutsman County to complete this survey. Your opinion is so important.  Our leadership makes important decisions based on this data, so we want a sample that accurately represents our community."
Surveys are available online They're also available in hard copy form and can be picked up at Central Valley Health, Jamestown Regional Medical Center and the James River Senior Center. The deadline to submit is March 15.
BISMARCK, N.D. (AP) — Rep. Kevin Cramer says he may get into North Dakota's U.S. Senate race after all.
Cramer was Republicans' preferred candidate against Democratic Sen. Heidi Heitkamp in a race the GOP regarded as one of its best chances to flip a seat nationwide. He announced last month he was skipping the race and would run for another House term instead.
But Cramer has come under intense pressure to reconsider. He told KFGO-AM radio station in Fargo that he's doing so and will have a decision in coming days.
State Sen. Tom Campbell is currently the only Republican challenging Heitkamp. But Campbell trails her significantly in name recognition and financial support.
Former state Republican Party Chairman Gary Emineth dropped out of the race Tuesday because he expects Cramer to get in.
BISMARCK, N.D. (AP) — The North Dakota Legislature says an attorney general's opinion does not resolve lawmakers' ongoing veto fight with Gov. Doug Burgum.
The Legislature in court papers filed Monday says the opinion "does not constitute law."
Lawmakers allege Burgum violated his line-item veto power last spring by deleting words or phrases on several spending bills in a way that changed intent.
Attorney General Wayne Stenehjem is defending Burgum in the lawsuit. Stenehjem says he will base his state Supreme Court argument on an opinion he authored that actually favors the Legislature on some of the vetoes. But Stenehjem also argues that lawmakers ceded too much power by giving a subset of the Legislature "significant budgetary decisions" that were not authorized.
Oral arguments are tentatively scheduled March 19 in state's high court.
BISMARCK, N.D. (AP) — A private security firm hired by the developer of the Dakota Access oil pipeline wants a judge to restrict evidence during an October civil trial over whether it operated illegally in North Dakota.
North Dakota's Private Investigative and Security Board maintains TigerSwan operated without a license during protests against the pipeline. It wants a judge to ban TigerSwan from the state.
TigerSwan attorney Lynn Boughey (BOO'-ee) says the company provided consulting services that don't require a North Dakota license, and that any investigative work occurred at the company's North Carolina headquarters.
Boughey wants the case dismissed. If that doesn't happen, he wants the judge to bar any evidence about TigerSwan activities conducted outside of North Dakota.
Board attorney Monte Rogneby (RAWG'-nuh-bee) says the state disagrees with Boughey's assessment.
FARGO, N.D. (AP) — Hector International Airport is expected to begin construction on a $13 million to $15 million skyway in 2019.
Airport director Shawn Dobberstein says the skyway will be eligible for 90 percent federal funding. The skyway will allow travelers to walk inside from the parking lot to the terminal at the Fargo airport.
KVRR reports the skyway will be about 500 feet and have five different entrances in the parking lot.
BISMARCK, N.D. (AP) — Campers can now make reservations at North Dakota state parks for the upcoming camping season.
The state's reservation system for camp sites at the 13 state parks opened Tuesday. The Parks and Recreation Department says that allows reservations to be made 95 days in advance of the summer season.
State park full services begin Friday, May 18. Reservations can be made through Sept. 3. All campsite stays are limited to 14 consecutive days in any 30-day period.
More information can be found on the Parks and Recreation website.
SABIN, Minn. (AP) — Authorities say a Clay County deputy shot and wounded a 19-year-old Sabin man after the man shot the deputy with another officer's Taser.
The Minnesota Bureau of Criminal Apprehension identifies the officers as Deputy Ryan Sinclair and Sgt. Gabriel Tweten. The agency says Sinclair fired his gun.
Deputies were called Saturday night about a suicidal man with a knife. Investigators say the deputies found the man, who ignored orders to drop the knife and punched Tweten, knocking a Taser from his hands.
The 19-year-old grabbed the stun gun and fired, striking Sinclair, who shot and struck the man.
The man was treated at a Fargo, North Dakota, hospital and is now in the Clay County Jail, pending charges.
Both deputies are on standard administrative leave. The BCA is investigating.
In sports…
BOY'S HOCKEY…
Fargo Davies 7, Grafton-Park River 2
Fargo North 6, Devils Lake-Cando 2
Grand Forks Central 7, Sheyenne 0
Grand Forks Red River 7, Fargo South 0
GIRLS HOCKEY
Devils Lake 4, Jamestown 0
Minot 5, Mandan 1
West Fargo 7, Grand Forks Knightriders 0
Boys Basketball…

Beach 74, Trenton 62
Carrington 74, Harvey-Wells County 26
Central Cass 70, Sargent Central 42
Divide County 51, Ray 41
Dunseith 81, Dakota Prairie 62
Fargo Davies 83, Wahpeton 53
Garrison 70, Drake/Anamoose 43
Grant County 65, Center-Stanton 32
Hillsboro/Central Valley 58, Thompson 57
Kidder County 48, Ellendale 45
Maple Valley 75, Medina 46
Medina-Pingree-Buchanan 75, Maple Valley 46
New Rockford-Sheyenne 74, Griggs County Central 39
Oakes 59, Lisbon 45
Watford City 82, Parshall 69
Wyndmere-Lidgerwood 49, Milnor-North Sargent 28
Girls Basketball…

Bismarck Century 49, Bismarck Legacy 44
Fargo Shanley 72, Fargo South 54
Glen Ullin-Hebron 58, Dickinson Trinity 48
Mandan 73, Dickinson 36
NATIONAL BASKETBALL ASSOCIATION
MINNEAPOLIS (AP) — James Harden had 34 points, 12 assists and six rebounds, and the Houston Rockets beat the Minnesota Timberwolves 126-108 for their ninth straight victory. Ryan Anderson scored 21 points off the bench as the Rockets (43-13) snapped Minnesota's 13-game home winning streak and pulled within a half-game of the Golden State Warriors for the best record in the NBA.
Final Toronto 115 Miami 112
Final Cleveland 120 Oklahoma City 112
Final Milwaukee 97 Atlanta 92
Final Sacramento 114 Dallas 109
Final Denver 117 San Antonio 109
NATIONAL HOCKEY LEAGUE
ST. PAUL, Minn. (AP) — Devan Dubnyk made 32 saves, and Minnesota's early three-goal lead held up in 3-2 win over the New York Rangers. Eric Staal, Zach Parise and Marcus Foligno all scored in the first 6:17 for Minnesota, which ran its home point streak to a franchise-record 13 games. John Gilmour scored his first NHL goal in his third game for New York, and Kevin Hayes added his 13th goal of the season. Henrik Lundqvist stopped 26 shots for the Rangers.
Final Carolina 7 L.A. Kings 3
Final Columbus 4 N-Y Islanders 1
Final Pittsburgh 6 Ottawa 3
Final Buffalo 5 Tampa Bay 3
Final Boston 5 Calgary 2
Final SO New Jersey 5 Philadelphia 4
Final Detroit 2 Anaheim 1
Final OT Nashville 4 St. Louis 3
Final OT Winnipeg 4 Washington 3
Final Vegas 5 Chicago 2
Final Arizona 2 San Jose 1
TOP-25 COLLEGE BASKETBALL
MINNEAPOLIS (AP) — Jaren Jackson Jr. scored a career-high 27 points on 10-for-14 shooting for second-ranked Michigan State, and the Spartans cruised to their ninth consecutive victory by beating Minnesota 87-57. The Spartans (25-3, 13-2) notched their best 28-game record under coach Tom Izzo. They also pulled within a half-game of first-place Ohio State in the Big Ten race, despite just five points in 25 minutes from star Miles Bridges. The Gophers (14-14, 3-12) lost their eighth straight game.
Final (1) Virginia 59 Miami 50
Final (7) Texas Tech 88 (23) Oklahoma 78
Final (13) Kansas 83 Iowa St. 77
Final (16) Rhode Island 85 Richmond 67
Final (18) Tennessee 70 South Carolina 67
Final Missouri 62 (21) Texas A&M 58
OLYMPICS- DAY 5
Three-peat for White
PYEONGCHANG, South Korea (AP) — Shaun White has become the first American male to win gold at three Winter Olympics.
White put together an epic final run to capture the halfpipe with a score of 97.75. The 31-year-old White trailed Japan's Ayumu Hirano going into the last of the three runs in the 12-man final. The Flying Tomato closed with a daring set that included consecutive 1440-degree spins.
It was the 100th Winter Olympic gold medal for the U.S.
Hirano finished second, followed by Scotty James.
Shaun White has dismissed sexual misconduct allegations made against him in a 2016 lawsuit as "gossip."
White was criticized on social media and questioned in a press conference about allegations made in a lawsuit by a former drummer in White's rock band.
The woman says White sexually harassed and refused to pay her. The lawsuit was settled last May.
White was asked in a media conference if the lawsuit might tarnish his reputation.
He said, "I'm here to talk about the Olympics, not gossip and stuff." He added, "I don't think so."
Reporters attempted to follow up about the lawsuit, but the conference moderator shut them down. White rushed off stage as reporters questioned him about the allegations following the conference.
Also at Pyeongchang:
— Defending champion Eric Frenzel of Germany has won the gold medal in the Nordic combined normal hill. Frenzel erased a 36-second deficit after the ski jumping stage and surged ahead of Akito Watabe on the last uphill of the 10-kilometer cross-country race to finish 4.8 seconds ahead of his Japanese rival. Austria's Lukas Klapfer took the bronze.
— American Mikaela Shiffrin's debut in the Pyeongchang Olympics has been put on hold once again because of high winds. The women's slalom was postponed to Friday following a one-hour delay at the start. Shiffrin is the defending Olympic champion. She already had her giant slalom race postponed to Thursday, when winds are expected to ease.
— The Chinese figure pair of Sui Wenjing and Han Cong lead Russian skaters Evgenia Tarasova and Vladimir Morozov by less than a point after the short program. Meagan Duhamel and Eric Radford of Canada are third with 76.82 points.
NBA-KNICKS-PORZINGIS
Porzingis has successful ACL surgery
NEW YORK (AP) —The Knicks say All-Star forward Kristaps Porzingis (pohr-ZIHN'-gihs) has undergone successful surgery to repair a torn ACL in his left knee and is expected to be sidelined for much of next season.
Porzingis was hurt Feb. 6 when he landed after a dunk and crashed to the court against Milwaukee. The 7-foot-3 Latvian was averaging 22.7 points and an NBA-leading 2.4 blocked shots. He had been chosen for his first All-Star Game.
NHL….SEATTLE…
— A person with direct knowledge of the situation tells The Associated Press the group looking to bring professional hockey to Seattle has formally filed its expansion application with the NHL. Seattle Mayor Jenny Durkan also tweeted that Oak View Group had submitted the filing with the NHL. The Oak View Group and its prospective NHL ownership group has submitted the $10 million filing fee and is led by billionaire David Bonderman and filmmaker Jerry Bruckheimer.
MLB…
CHICAGO (AP) — Yu Darvish and the Chicago Cubs have finalized their six-year, $126 million contract, by far the largest deal in a slow-moving free agent market.
Darvish joins a rotation that includes Jon Lester, Kyle Hendricks, Jose Quintana and Tyler Chatwood, who agreed to a three-year, $38 million package in December.
The 31-year-old Darvish finished last season with the Dodgers, helping them knock out the defending champion Cubs in the playoffs to reach the World Series. The four-time All-Star is expected to take the rotation spot of Jake Arrieta (ar-ee-EH'-tuh), who became a free agent.
In world and national news…
PYEONGCHANG, South Korea (AP) — Shaun White says the sexual misconduct allegations made against him in a 2016 lawsuit are "gossip." Just hours after White won his third gold medal in the men's halfpipe, he was asked if he thought the allegations might tarnish his reputation. White said, "I'm here to talk about the Olympics, not gossip and stuff." A former drummer in White's rock band accused him of sexually harassing and refusing to pay her wages after firing her. The suit was settled in May.
PYEONGCHANG, South Korea (AP) — Shaun White climbed back to the top by winning a halfpipe contest nobody will soon forget. He captured his third Olympic gold medal to close out a pressure-packed, thrilling final with a combination of tricks he had never landed until he did it with the title on the line.
JERUSALEM (AP) — Education Minister Naftali Bennett says Prime Minister Benjamin Netanyahu is "not living up to the standard" expected of the office, but stopped short of calling for his resignation. Bennett, a key Netanyahu ally, spoke for the first time since police announced they are recommending Netanyahu be indicted for corruption. Bennett says he believes in Netanyahu's "sincere motives," but "taking gifts in large sums over a long period of time is not living up to this standard" expected of the premier.
BEIRUT (AP) — Fighting has subsided in many areas of Syria, giving the impression that the war is winding down but violence has exploded in other areas with renewed ferocity, killing and wounding hundreds of people in a new and unpredictable spiral of bloodshed. The United States, Israel and Turkey all have deepened their involvement, seeking to protect their interests in the new Syria order. Meanwhile, President Bashar Assad, backed by Russia, is pushing toward victory in the last, rebel-held province.
JOHANNESBURG (AP) — South African President Jacob Zuma says ruling party leaders have not given him clear reasons for why he should resign and he calls his treatment "unfair." Zuma is breaking his silence in a live interview with state broadcaster SABC. The ruling African National Congress wants parliament to vote Thursday on a motion of no confidence if he doesn't resign Wednesday. The president has not commented in the ongoing interview on whether he will resign.