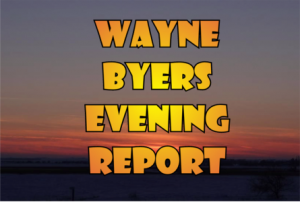 CSi Weather…
REST OF TODAY…Mostly sunny. Highs in the upper 30s. West winds 10 to 15 mph.
.TONIGHT…Mostly cloudy. 70 percent chance of snow in the evening, then
snow after midnight. Snow accumulation up to 1 inch. Lows 5 to
10 above. West winds around 10 mph shifting to the north after
midnight.
.THURSDAY…Mostly cloudy. A 50 percent chance of snow in the
morning Patchy blowing and drifting snow through the day. Much
colder. Highs 5 to 10 above. North winds 15 to 20 mph. Wind
chills around 20 below.
.THURSDAY NIGHT…Mostly clear. Lows around 5 below. West winds
10 to 15 mph.
.FRIDAY…Mostly sunny. Highs around 20. Southwest winds 10 to
15 mph.
.FRIDAY NIGHT…Mostly cloudy. Lows around 10.
.SATURDAY…Mostly sunny. Highs in the lower 20s.
.SATURDAY NIGHT…Mostly cloudy. Lows 5 to 10 above.
.SUNDAY…Mostly cloudy with a 50 percent chance of snow. Highs
15 to 20.
.SUNDAY NIGHT…Mostly cloudy. Lows around 5 below.
PRESIDENT'S DAY…Partly sunny. Highs 5 to 10 above.
.MONDAY NIGHT…Mostly cloudy. A 20 percent chance of snow in the
evening. Lows around 5 below.
.TUESDAY…Mostly cloudy. Highs around 10.
Light snow will begin to move into the area Wenesday night with a cold
front and continue into Thursday morning.
Amounts will range from 1 to 3 inches, mainly near the Highway 2 corridor. Increasing north winds will bring some blowing snow and lowered visibilities
during the early morning hours on Thursday, possibly during the morning commute.
Wind chills in the 25 to 35 below zero range will return across
portions of northeastern North Dakota and northwestern Minnesota
Thursday morning. Low wind chills will again be possible Friday
morning.
Additional accumulating snow will be possible over the weekend,
although amounts and placement are still uncertain at this point.
Jamestown  (CSi)  The Jamestown City Council met in Special Session on Wednesday at 1:30-p.m.. at City Hall.  All members were present.
The Council members discussed:
The 2018 State Transportation Improvement Program (STIP) List
The I-94 Exit 257 – Draft Decision Document  IM-2-094(157)257
and, Bids for the Water Treatment Plant Roofing Project.
With the 2018 State Transportation Improvement Program State Transportation Improvement Project List.
Mayor Andersen said the city receives $850,000 per year in federal funds, through the NDDOT,at an 80 federal 20 city, split in costs.
She said the city currently has $4.3 million not spent in federal dollars.
In 2019 the 17th Street Southwest project will not be included, instead be put into the city's mill and overlay project.
In 2020 the projects of the bridges on 5th Street and 4th Avenue Northwest will be the responsibility of Stutsman County.
The priority discussed was for 2020 for  the 12th Avenue and 3rd Street Southeast railroad grade separation project, with the majority of the project in 2020.
Council Member Gumke said he favors that project being number one on the priority list.
Council Member Phillips also agreed.
Mayor Andersen moved to list the 12th Avenue and 3rd Street project for as the priority for 2020, the 17th Avenue Southwest, I-94 overpass project to 2025, and eliminate other projects.
The priority list needs to be submitted by the city.
The Council voted 3-2 in favor of the priority, with Council Members Brubakken, and Buchanan voting in opposition.
With the I-94 Exit 257 – Draft Decision Document:
The City Council voted to approve the alternate plan to keep open I-94 Exit 257 open, and install traffic signals and perform bridge work on Highway 281 over I-94, and mill and overlay of the frontage road.
The vote was unanimous.
With bids for the Water Treatment Plant Roofing Project, the City Council approved the bid of Lindfoot  in the amount of $195, 674.
The meeting was shown live on CSi 67, followed by replays.
Jamestown  (CSi)  The Jamestown Regional Entrepreneur Center and SCORE presents the Small Business Financing Workshop on Tuesday February 20th at the University of Jamestown's Unruh-Sheldon Center, room 132.
On Wednesday's Wayne Byers Show on CSi Cable 2 Ken Astup from the local SCORE chapter said the workshop is for those that currently have a small business, or those thinking about starting a small business.
Learn about start-up financing, expansion financing and managing cash flow.
Panelists will include:
Cory Shevlin, Jamestown Stutsman Development Corporation, with information including, Flex Pace Loans, and working with the Bank of North Dakota.
Stacy Bowerman, South Central Dakota Regional Council
Alan Haut, Director of the Small Business Administration
Kelly Rachel, President, Unison Bank
Peter Shaw, Partner at B2B CFO
Light refreshments will be provided.
Ken added that a head-count is need to provide accomodations.
To do that and for more information call:  701-253-4112
Register on line:  www.JRECenter.com
Jamestown (CSi)  The 2018 Annual Polar Pig, Walk the Plank to raise donations for the JRMC Hospice program  raised a total of $14,000.
Organizer Don Wegner says the figure represents donations, plus a $4,000 matching grant, with Giving Hearts Day.
He pointed out the number of plungers this year was down from last year when a total of $19,000 was raised for the JRMC Hospice Program.
He says on the day of the event, February 3rd, the cold temperature of two above Zero, and the wind chill of 21 below contributed to the decrease in the numbers.
Jamestown (CSi)  The University of Jamestown will host a Retirement Celebration for President Robert Badal on Monday Feburary 19th from 5-p.m., to 7-p.m., at UJ's Harold Newman Arena lobby.
The program starts at 5:30-p.m.
Refreshments will be served.
Jamestown  (CSi)  Victory Lutheran Church will host a Sheepdog Seminar on Saturday February 17, from 8 a.m. to 5 p.m. The seminar will address the issue of violence which has been occurring more and more in churches, schools and public places. A new record of 108 was set for violent deaths on faith-based property in 2017.
The seminar is for church staff personnel, ushers, teachers, principals, police, first responders, pastors, youth leaders and all who are concerned about the rapid increase of violence in communities. Texas police officer Gregory Stevens will also be present. Stevens stopped two terrorists in the Dallas area in May of 2015. For his heroics, he was awarded the Medal of Valor.
Lunch will be served at the church with a suggested donation of $5 a meal. Registration is $59 and may be completed online at sheepdogseminars.com. For more information, call 817-437-9693.
Victory Lutheran Church is located at 510 9th Ave. SW.
COLFAX, N.D. (AP) — A small North Dakota school where alleged student misbehavior is the subject of a criminal probe has decided to have an independent investigation conducted.
The board of the Richland 44 School in Colfax approved the move Tuesday night.
School district Superintendent Tim Godfrey has said the alleged misbehavior happened in the boys' locker room. Neither the school nor the sheriff's department will comment on rumors that younger students were sexually violated in a darkened locker room by older students.
Some students were suspended last month after a school investigation. The county sheriff's office and state crime bureau are continuing their investigation.
The grade 7-12 school has about 160 students. About 150 people live in the town 30 miles south of Fargo.
BISMARCK, N.D. (AP) — A Brazilian woman has been sentenced to serve more than three years in prison for a drunken driving accident in North Dakota that killed a passenger in her vehicle.
Twenty-four-year-old Bruna De Paula Cardoso pleaded guilty in federal court to involuntary manslaughter for the September 2016 incident in Parshall.
Authorities say Cardoso was driving about 40 mph in a 25 mph zone. Her blood-alcohol content was .130 percent, above the legal limit of .08 percent.
U.S. District Judge Daniel Hovland ordered Cardoso to serve three years and one month in prison, to be followed by three years of supervised probation.
In world and national news…
PARKLAND, Fla. (AP) — Authorities Wednesday say the shooter at a South Florida high school is now in custody.
The shooting occurred at Marjory Stoneman High School in Parkland, Florida.
The Broward County Sheriff's Office gave no details in briefly tweeting that development. It did not identify the shooting suspect nor say how the person was taken into custody.
Television footage showed police putting a person in the back of a police car outside the high school.
NEW ORLEANS (AP) — New Orleans' police chief says investigators believe gang enmity was behind the worst of the city's shootings on Mardi Gras.
That shooting a few miles from the parade route killed two men and wounded three other people Tuesday night. Superintendent Michael Harrison gave no details about the suspected gang links.
Harrison says arguments among acquaintances apparently touched off two earlier shootings along Tuesday's parade route. The first wounded two teenagers. The second killed a man.
Harrison made the statements Wednesday during a news conference livestreamed on the department's Facebook site.
The coroner's office identified those killed as 29-year-old Maurice Williams, 21-year-old Byron Jackson and 26-year-old Jamar Robinson. Police have a warrant for 21-year-old Eddie Dingle in Williams' death and have released a photo of a possible suspect in the other parade-route shooting.
FORT MEADE, Md. (AP) — Three people were in a vehicle the National Security Agency says tried to make an unauthorized entry onto the spy agency's campus Wednesday morning in an incident that led to gunfire and left three people injured. FBI Special Agent in Charge Gordon Johnson told a news conference that the three injured were the driver of the vehicle, an NSA police officer and a civilian onlooker. Johnson says two other people who were in the vehicle have been taken into custody and were being questioned.
NEW YORK (AP) — Stormy Daniels, the porn star whom President Donald Trump's personal attorney acknowledged paying $130,000 just before Election Day, believes she is now free to discuss her alleged sexual encounter with the president. A manager for the adult film stars told The Associated Press on Wednesday the actress believes Trump's lawyer invalidated a non-disclosure agreement by discussing the payment.
WASHINGTON (AP) — Vice President Mike Pence is offering White House chief of staff John Kelly a vote of confidence, saying the retired Marine general has "done a remarkable job" for President Donald Trump. Pence is reiterating his earlier comments that the White House could have done a better job of handling the matter of former staff secretary Rob Porter, who resigned last week following allegations of domestic violence.
WASHINGTON (AP) — An internal investigation says Veterans Affairs Secretary David Shulkin improperly accepted Wimbledon tennis tickets and his staff lied that he was getting an award to justify his wife accompanying him at taxpayer expense on an 11-day European trip that mixed business and sightseeing. Shulkin says he doesn't agree with the audit's findings but will consult with the VA's general counsel and reimburse the government for his wife's airfare and pay for the Wimbledon tickets if advised to do so.
SALT LAKE CITY (AP) — Former GOP presidential nominee Mitt Romney is running for the Senate in Utah. Three people with direct knowledge of the plan say Romney will formally launch his campaign in a video on Thursday. His first public appearance as a Senate candidate will come Friday in Utah. The 70-year-old Republican is seeking to replace Republican Sen. Orrin Hatch, who is retiring after more than 40 years in the U.S. Senate.