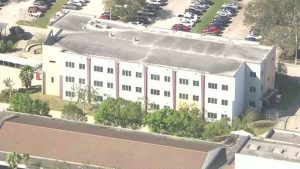 PARKLAND, Fla. (AP) — Authorities responded to a shooting at a Florida high school Wednesday afternoon and the school was placed on  locked down.
The school District Superintendent Wednesday afternoon indicated multiple fatalities, and that the alleged  shooter identified as Nicholas Cruz,  was taken into custody, without incident, an 18 year old former student.  He was located off campus, and has been taken to a hospital for apparent injuries.
A federal official has identified the Florida school shooting suspect.

Fox News reported Wednesday afternoon that at least 20 people were wounded.
The Broward Sheriff's Office has told news outlets the shooting happened Wednesday afternoon at Marjory Stoneman Douglas High School in Parkland.
TV footage showed at least one person being wheeled to an ambulance on a gurney while emergency workers appeared to be helping others on the sidewalk.
The shooting at the South Florida high school sent students rushing into the streets as SWAT team members swarmed in and locked down the building.  Emergency workers appeared to be treating those possibly wounded.
At least one person was seen being wheeled to the ambulance on a gurney.
Aerial television news footage showed police in olive fatigues, with weapons drawn, entering the Marjory Stoneman Douglas High School in Parkland. Then dozens of students could be seen frantically running and others quickly walking out. A police officer waved the students on, urging them to quickly evacuate the school.
Some students exited the building in single-file rows with hands raised overhead to show they carried no weapons. Others held onto other students as they made their way out past helmeted police in camouflage with weapons drawn.
Parents described a chaotic and frightening situation as they rushed to find their children in the frantic minutes after reports of a shooting at a South Florida high school began to spread.
Caesar Figueroa says he was one of the first parents to arrive at Marjory Stoneman Douglas High School in Parkland. He says he saw police officers bringing out big weapons as they approached the school.
Figueroa's office is only five minutes from the school where he sends his 16-year-old daughter.
"My wife called me that there was an active shooter and the school was on lockdown. I got on the road and saw helicopters, police with machine guns. It was crazy and my daughter wasn't answering her phone."
According to Figueroa, she texted him that she was hidden inside a closet at school with friends: "She was in a classroom and she heard gunshots by the window. She and her friends ran into the closet."
Another parent, Beth Feingold, says her daughter sent a text at 2:32 p.m. saying "We're on code red. I'm fine." But she then sent another text soon afterward saying, "Mom, I'm so scared." The girl was later able to escape the school unharmed.