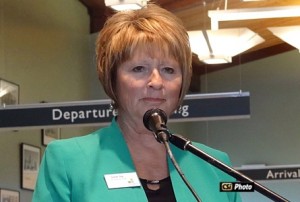 Jamestown  (CSi)  JSDC is urging the community to participate in Gov Doug Burgum's Main Street Initiative.
JSDC/CEO, Connie Ova says,  community leaders have chosen to participate in Governor Burgum's Main Street initiative. Every community has unique opportunities and challenges, and a survey is available and is one tool being used to help identify strategies for the community.
This survey asks questions about livability, why you live in your community and what amenities would make it better.
She says, by joining the process it will help shape the future of the  community. The insight gathered will help leaders and a cross-agency state team, develop collaborative strategies to create vibrant cities poised to attract and retain a 21st century workforce.
She pointed out that the better the response rate, the more on-target future goals will be.
She asks that the survey be completed ASAP and preferably before 2/23/18. Take the survey now at: